Cinemascope
Bollywood panorama
Seema Sachdeva
From song sequences to movies in exotic foreign locales, the Indian film industry has been a window to the world for the average cinegoer. Many countries are now tying up with filmmakers to showcase their land and tap the potential Indian market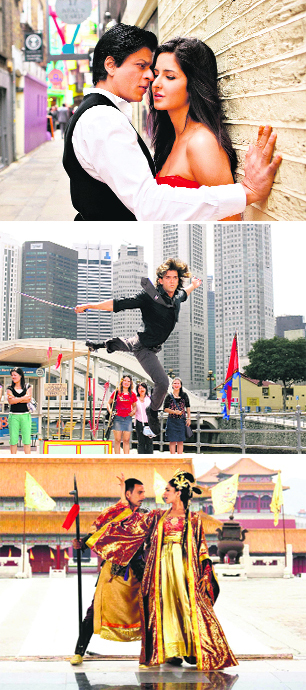 1) A still from Jab Tak Hai Jaan. Most of Yash Chopra's films have been shot in Europe.
2) Krrish, which gave India its first Superman, was shot mainly in Singapore
3) The Forbidden City was seen for the first time in an Indian film in Chandni Chowk to China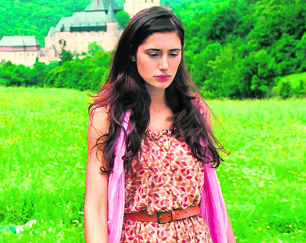 Rockstar explored the hitherto untouched locations in Prague, the Czech Republic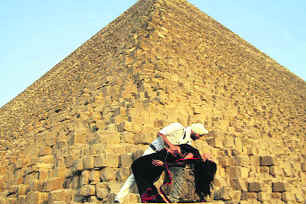 The song 'Teri Ore' from Singh is Kinng was shot at the Pyramids in Giza, Egypt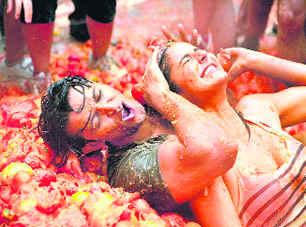 Zindagi Na Milegi Dobara was dubbed as a three-hour advertisement for Spain Tourism


From the picture-perfect locales of Europe to the Amazon rainforests, the Great Indian Traveller is everywhere. Be it marvelling at the Great Barrier Reef, taking in a slice of history at the Pyramids of Egypt, or venturing out to lesser-known lands like the Caribbean or Africa, Indians are exploring the globe like never before.
However, before they visited these picturesque lands, Indians saw these through Bollywood. From song sequences in exotic locales in films like Lamhe, Sangam, Darr to movies with travel as an important element like Dilwale Dulhania Le Jayenge, Zindagi Na Milegi Dobara, etc. the Indian cinegoer was introduced to a beautiful world through the big screen.
Beginning with shooting at picturesque Indian locations like Srinagar for films like Kashmir Ki Kali (1964), foreign lands soon emerged as a favoured destination for filmmakers. The trend was started by master showman Raj Kapoor, when he shot his film Sangam (1964) in Europe. It was for the first time that Indian audiences were introduced to the exotic locales of Switzerland, besides the cities of Venice in Italy and Paris in France.
Then came the Joy Mukherji and Asha Parekh-starrer Love in Tokyo (1966), which opened up Japan to the Indians. The film was shot extensively in Tokyo and Hiroshima. Shakti Samanta's An Evening in Paris (1967) followed. The song "Akele Akele Kahan Ja Rahe Ho", in which Shammi Kapoor romances the beautiful Sharmila Tagore among the Swiss Alps, remains etched in the memory of every cinema buff.
Many other directors followed suite. However, it was Yash Chopra who used the international canvas extensively to shoot his films. Beginning with films like Silsila (1981), followed by Chandni (1989), Lamhe (1991), Darr (1993), Dilwale Dulhania Le Jayenge (1995), Dil to Pagal Hai (1997), besides his swan song Jab Tak Hai Jaan (2012), foreign locations became an integral part of his films, particularly the songs. The success of Dilwale Dulhania Le Jayenge is said to have given a major fillip to tourism in Europe, particularly Switzerland. So much so that in 2011, Chopra was honoured with the title of Ambassador of Interlaken, and given the Swiss Ambassador's Award in 2010 for promoting 'Brand Switzerland' through his movies. His affair with Switzerland remained till his end when he scheduled the concluding song of his last film Jab Tak Hai Jaan in his country of choice. On its part, the Swiss tourism board, too, pulled out all the stops to support Yash Chopra in filming his movies. Travel companies like SOTC have been associating with Yash Raj Films and organising film location-wise trips to European cities that featured in his films.
Another director who generously uses foreign locales in his films is Karan Johar. Johar, whose films are a hit with the NRIs, used Scotland for Kuch Kuch Hota Hai (1998), London for Kabhi Khushi Kabhie Gham (2001), New York City for Kabhi Alvida Naa Kehna (2006), San Francisco for My Name is Khan (2010), Las Vegas for Ek Main Aur Ekk Tu (2012), besides others.
Cashing in on the success of these films, many other filmmakers too tried to ape the formula. The picturesque Mykonos Island in Greece formed the background for Shah Rukh Khan to romance Rani Mukerji to the tunes of "Tauba Tumare Yeh Ishare" in Aziz Mirza's Chalte Chalte (2003). Meanwhile, the beautiful landscape also provided relief to those watching Ashwini Chaudhary's Jodi Breakers (2012) starring Bipasha Basu and R. Madhavan. Most of Anees Bazmee's film Singh is Kinng (2008) was shot in Australia but Akshay Kumar and Katrina Kaif danced to the tunes of "Teri Ore" at the Great Sphinx and Pyramids in Giza, Egypt. Similarly, director Kunal Kohli set his Hum Tum (2004), starring Saif Ali Khan and Rani Mukerji, in The Netherlands.
Picturised on Aishwarya Rai at the wonders of the world, including the Pyramids in Egypt, Leaning Tower of Pisa in Italy and Colosseum in Rome, the song "Ajooba" from Shankar's Tamil romantic drama Jeans (1998) broke all records for the number of foreign locations featured in an Indian film. The dubbed Hindi version of the South Indian film, however, failed to do well at the boxoffice.
Among the foreign location films which made big money is Kaho Na...Pyar Hai (2000). Hrithik Roshan became an overnight star with his debut film, which was extensively shot in New Zealand. His Krrish (2003), which gave Indian audiences its first Superman, was shot mainly in Singapore. The Forbidden City made an appearance in an Indian film for the first time in Akshay Kumar-starrer Chandni Chowk to China (2009). While many fight scenes in the film were shot at the Great Wall of China, parts of the film were shot in Bangkok too.
Many directors have tried to explore newer locations to shoot their films. For instance, Imtiaz Ali's Rockstar (2011), starring Ranbir Kapoor and Nargis Fakhri, explored the hitherto untouched location of Prague in the Czech Republic.
The year 2012 saw Kabir Khan shooting his Ek Tha Tiger in Cuba, Turkey and Ireland while Abbas-Mustan used Wellington, Auckland and St Petersburg as a setting for his Players. Homi Adajania's Cocktail was shot in London and Cape Town, Africa. The borough of Manhattan in New York City came alive once again in Gauri Shinde's English Vinglish. The yet-to-be released Susi Ganesan's romantic thriller Shortcut Romeo has been shot in Masai Mara and Nairboi, Africa.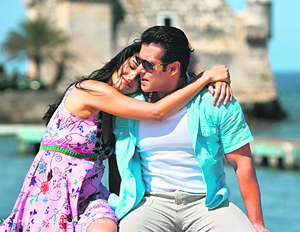 Ek Tha Tiger was shot in Cuba, Turkey and Ireland

A major reason for filmmakers going to shoot abroad is that besides the picturesque backdrops, most of these countries have well-equipped infrastructure and ready availability of well-trained technicians.
Most of the filmmakers also get subsidies from foreign governments to shoot their films in those locations. For instance, the German government is said to have given a subsidy between Rs 12 crore and Rs 15 crore for shooting Don 2 (2011) in their country.
A recent example of a tourism boost due to Bollywood is that of Zindagi Na Milegi Dobara (2011). The film about three friends on a holiday in Spain was dubbed as a three-hour advertisement for Spain Tourism. The film is said to have fetched an increased tourist influx of more than 32 per cent to the country, particularly at the film locations during the first half of 2011. The tourism board of Spain, which collaborated with the filmmakers to promote brand Spain, gave its new slogan, "I need Spain".
Various tour operators are now organising exclusive trips to La Tomatina, the tomato festival in Spain, besides adventure tour packages that include deep sea diving, skydiving and bull fighting. They are all out to cash in on the desire of movie buffs to be at the places which they have seen on screen. With Indian travel market likely to grow at 14 per cent by 2015 and as many as 50 million Indians expected to travel abroad in 2020, tour operators as well as tourism boards of various countries are not leaving any stone unturned to woo the great Bollywood traveller.
Film tourism genre
The success of tourism in Spain after Zindagi Na Milegi Dobara has prompted countries like Fiji, Oman, Cyprus, Egypt and Korea to explore this potential. Fiji Islands has even declared a 50 per cent subsidy for filmmakers shooting in their country. This has given rise to a new genre of film tourism as was evident at the recent three-city India International Film Tourism Conclave (IIFTC). Promoted by the Film Federation of India, the conclave, which was held in Chennai, Hyderabad and Mumbai, aimed to bring together different tourism boards, producers and directors on a single platform. The country's first magazine on film tourism CinePort was also launched there. The event aimed to promote locations and services catering to foreign shooting requirements.