Valley vignettes
Taru Bahl
After years of militancy and turmoil in the state, Kashmir's reputation as a tourist destination is being revived. Many tourists are venturing out once again to the picturesque Gulmarg, Sonmarg and Pahalgam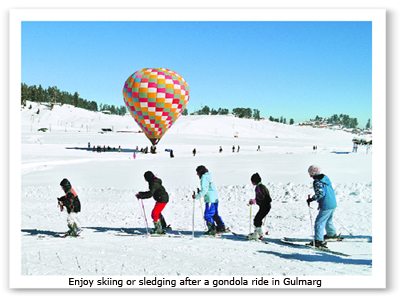 For most of us, images of Srinagar evoke the era of the 1960s in Bollywood when Shammi Kapoor serenaded his lady loves on houseboats, shikaras and the Sal lake. From being such a preferred destination with filmmakers, honeymooners and all those in search of "heaven on earth", the Valley turned silent. Today, after many decades, it has once again started buzzing with activity. From a trickle of bold tourists, braving the taut and curfew-ridden environment, tourist groups have finally started venturing once again to Gulmarg, Sonmarg and Pahalgam.
From Srinagar, each of these destinations can be a day trip. The JKSRTC offers convenient return-trip day tours and tickets can be booked at the TRC. It is recommended to book tickets at least one day in advance. Buses depart around 8:30 am and return back to Srinagar by 9 pm.
Gulmarg, a famous winter resort is snow-capped through the year, barring perhaps September and October. You enter Gulmarg after crossing thick carpeted forests. Even if you are not a golfer, you can savour the experience of soaking in the vast tracts of undulating greens that are a veritable treat to the city-fatigued eyes. Dotted by some exotic cottages, you wonder if there are golf enthusiasts who spend a good part of their lives here. For the average tourist, however, there are the pony rides that work up a good trot as they ferry you from the main bus station to the "Glacier" type snow meadows. You would be advised to negotiate hard with the pony man, since their strategy is to evaluate you and then put a price to the ride in question. The option of walking is always there and most foreigners prefer the walk to the pony ride. Though nothing like the Venetian gondola ride, Gulmarg's gondola experience has a different flavour. You are taken to the top of the mountain from where you are given a liberal view of Pakistan. As you begin your descent, you can try some skiing or sledging. Otherwise, the gondola has two halt stations. The second, which is at a higher vantage point, is at a height of about 3000 m where oxygen supply is less and you are advised to go slow. If the cold is biting and you are ill-equipped, you can hire fur coats and boots.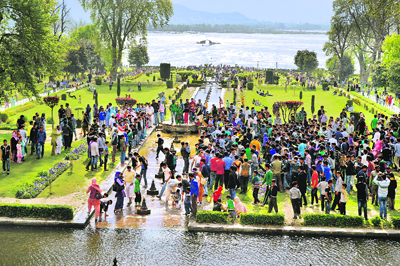 You may take a walk through the Nishat Gardens in Srinagar.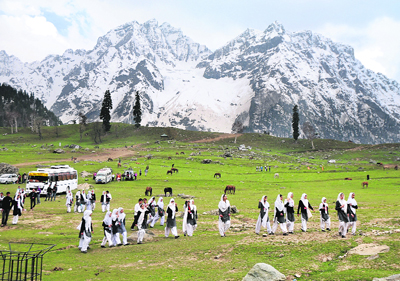 Sonamarg or the 'golden meadow' is indeed a treat to the eyes Tribune Photos: Amin War

Picture perfect Pahalgam is also a gateway for the Amarnath yatra. About 100 km from Srinagar, it takes between two and three hours to reach and is at an altitude of 7200 ft. Along the Lidder river, few know that it is famous for trout-fishing. Those who have done their homework well will also know that there is some river rafting to be done in the Lidder river. The garden at Pahalgam, courtesy Hindi films, may not be as well kept as it used to be but the legendary stories of spoilt heroines and boisterous heroes is part of its folklore. The Betaab valley where the movie Betaab was shot is a popular destination. The Kolhoi glacier is another attraction. A taxi ride to Aru is also recommended. The town has the look of a European city in the evening with quaint shops and a completely laidback ambience. The place is crammed with hotels of all shapes, sizes and tariffs. There is plenty of food. The favourites are Mughlai and, of course, Wazvan. En route to Pahalgam is Pampore of saffron fields' fame and Avantipur, which has a large share of Hindu temples in a region where Shiva devotees predominate. Dry fruits and shawls will greet you all over, tempting, coaxing and coercing you to buy. The prices are obviously inflated. You are advised to bring these down by half.
Sonamarg or the 'golden meadow' as it is called, is indeed a treat to the eyes. The alpine valley that is located at the bank of Nallah Sindh, 87 km north-east from Srinagar, has the imposing snow-clad Himalayan peaks as a backdrop. The river Sindh runs along. You can see many foreigners sitting with their fishing hooks and line, heaping trout and mahseer in their baskets. In late April, when Sonamarg is open for road transport, adventure sports lovers come in droves for skiing. Trekkers also trudge along to Thajiwas glacier. Ponies are a common sight, lugging people and food supplies. But do know, that this pony ride is nothing like the one that you may have in, say Shimla or Kufri. The ride is steep and follows a zig zag route and the beauty of the place and silence around you casts its own spell. There are hotels along the Sindh nallah, which runs alongside the Jhelum river and a little ahead is the village of Sonmarg. At one time, all these hotels used to be booked and getting a room was difficult but today you can bargain and get a good discount for the rooms, which may not be very plush and well-maintained but where hosts are still very hospitable and chatty. This road takes you to Zoji La en route Ladakh. Ideal time to visit is the summer months. You can do a sleep over or just spend the day and get back to Srinagar in time for dinner.