Mowgli days
Renu Manish Sinha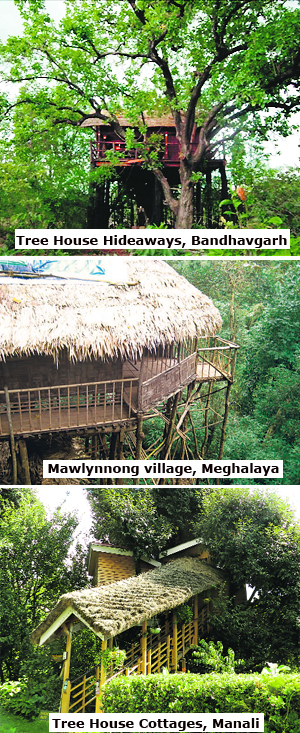 Come summer vacations and the trees in the lawn beckoned the school-weary kids. The mango trees in the backyard offered a perfect getaway in the long summer afternoons. The more enterprising of us climbed these perches armed with a few books and goodies to enjoy a longer stay. A few enterprising hoteliers have tried to encash this fairy tale for grown-ups who have not the let the child within them die. Here is our selection:
Tree House Hideaway, Bandhavgarh, Madhya Pradesh
Located in The Vindhya hills of Madhya Pradesh, Bandhavgarh National park is the ultimate tiger country. The Tree House Hideaway resort is spread across 21 acres of dense forest. It has five tree houses with all the trappings of luxury. The balconies offer fantastic views. Visitors can even see the big cat itself at the nearby watering hole from the safety of their perches. Made from natural materials, these blend in perfectly with the surroundings.
Tariff: Rs 13,000 for a single room to Rs 22,000-25,000 for a double room.
Green Magic Nature Resort, Wayanad, Kerala
The resort is tucked away in the middle of a tropical rainforest amidst pepper vines and cardamom shrubs. Located 65 km away from Calicut, en route Bangalore-Ooty-Mysore, it offers four tree houses. Made of eco-friendly, biodegradable material, all tree houses are built on live trees. With heights varying between 60 feet and 115 feet, these are one of the tallest tree houses in India. Access is either by a lift or a rope bridge. A must for nature lovers.
Tariff: Starts from Rs 11,000 onwards
Vythiri Resort, Wayanad, Kerala
Wayanad is situated on the higher slopes of the Nilgiris. Part of the Deccan plateau, the Nilgiri biosphere forms a part of the Unesco World Network of Biosphere Reserves in India. The Vythiri resort offers five tree houses situated at varying heights between 35 and 80 feet. Heavy luggage is not allowed. It is a haven for a naturalist or wildlife enthusiast.
Tariff: Rs 13,000-Rs 14,000 (single) and Rs 15,000 to Rs 16,000 (double).
The Machan, Lonavala, Maharashtra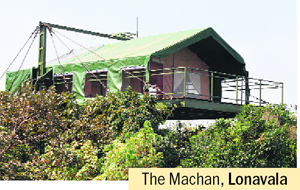 This eco-friendly resort has the advantage of being situated in the 25 biological hotspots of the world in the Sahyadri Hills of the Western Ghats. It has four tree houses catering to various family sizes. The largest Heritage Machan is built on a wild fig tree, 45 feet above ground and hangs over the edge of a precipice. All tree houses offer beautiful panoramic views of the valley below and the evergreen Western Ghats around. It is a 2.5-hour drive from Mumbai and 1.5 hour from Pune, making it a popular getaway for the Mumbaites and Pune people. The tariffs are high on weekends.
Tariff: Rs 25,000 to Rs 30,000 (Fri-Sat) for the largest to Rs 10,000 to Rs 12,000 (Fri-Sat) for the smallest.
Tree House Cottages, Manali, HP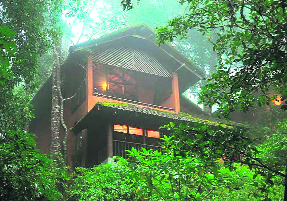 Vythiri Resort, Wayanad


The Tree House Cottages near Manali in Katrain village offer a tree house accommodation. A family-run service, the single cottage is the part of a homestay. Popular among honeymooners, it nestles in the middle of an apple and plum orchard and offers lovely views of the picturesque Kulu-Manali valley.
Tariff: Rs 3,200
Fort Ramgarh treetop room, Panchkula, Haryana
Nearer home, Fort Ramgarh Heritage Hotel in Panchkula, located in the Shivalik foothills, offers Treehouse, a double-bedroom dreamhouse atop a centuries-old banyan tree. It is especially popular among honeymooners who book it quite in advance at times. When there is a strong breeze, the treehouse swings gently, as if it is lulling you to sleep.
Tariff: Rs 3,600
Some other tree house cottages in India: Rainforest Boutique Resort, Athirappilly, Kerala; Carmelia Haven Resort, Idukki, Kerala; Tranquil Resort-Plantation Hideaway, Wayanad, Kerala; Vanya Tree House, Thekkady, Kerala; Safari Land Tree House, Masinagudi, Tamil Nadu; Sunset Bay, Srirangapatna, Mysore Karnataka and Mawlynnong village, Meghalaya.