Globetrotter
Continental collage
Winging across time and space, we savour the wonders of five continents and bring back picturesque memories
by Hugh & Colleen Gantzer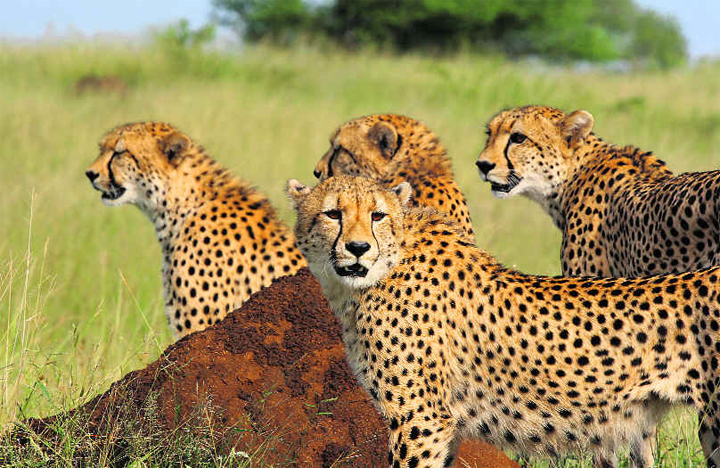 A mother cheetah with three sons
Salman Khan discovered Cuba long after we did. His Ek Tha Tiger had been shot in that beautiful Caribbean republic. It was a great choice. Cuba is warm, welcoming and bubbling with life. Beyond the huge picture windows of our room in the Havana Riviera hotel, Cuba's capital spread in the highrises and broad roads of a sanitised Mumbai. A blue-eyed blonde girl and a statuesque ebony man strolled hand-in-hand on the marina, her head on his shoulder, cocooned in their own world. We held hands, visited the Hemmingway Museum, shopped for the rare black-coral, drank rum and Coca Cola, and admired their clothes: severe, svelte and savage for women, and with an elegant military cut for men. We unwound on immaculate Varadero beach with basking Canadians and Americans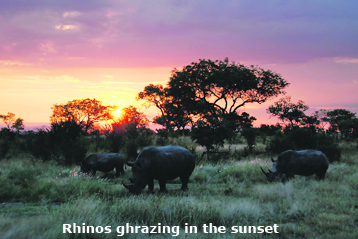 Africa: The Mala Mala private reserve shares the fence with South Africa's Kruger Park. It is home to the big five of Africa: Lion, leopard, elephant, rhino and the cape buffalo


Then we visited their extravagant Tropicana. It's a fabulous nightclub with performers dressed in carnival plumes and glitter, pulse-throbbing music, vibrant in a jungle setting, exuberant with the raw vitality of South America
The final bouquet came when we rose, reluctantly, to leave this magical island. A woman, sitting at our festive table, had been looking at us speculatively all evening. Then, she reached out, touched our hands and said "You look Cuban, you dress Cuban, you behave Cuban .. how you no speak Spanish?"
We said that we were Indians but, here, we never felt that we were outsiders.
European flavours
Across the Pacific to southern Europe, the sound of castanets, guitars and the compulsive tempo of the flaring skirts, the quick claps and the staccato tattoo of the heels of Flamenco dancers. These gypsy people are said to be descendants of Jat tribes who had migrated from India, generations ago. We were in Spain's Seville immersed in a gracious culture influenced by centuries of Islamic rule. Even their great cathedral was once a beautiful mosque, its original Islamic minar has now become the cathedral's tower. Also retained from Islamic times is the original mirhab indicating the direction of Mecca. It became The Chapel of Our Lady of Discovery where Christopher Columbus and his crew had prayed.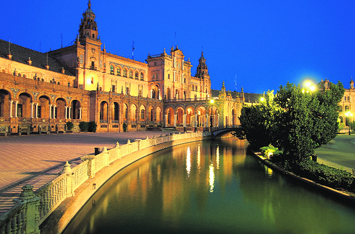 Europe:

Plaza de Espana Square at night, Seville, Spain. Centuries of Islamic rule has left its mark on the architecture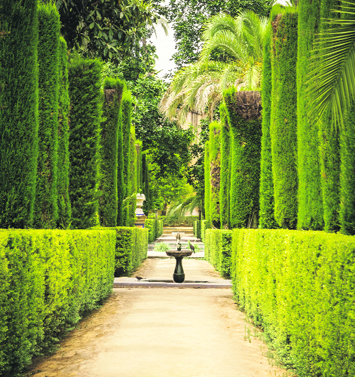 Europe: Garden of the Poets in Alcazar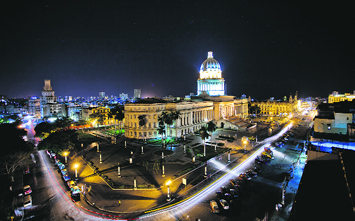 North America: Capitol Building, Havana, Cuba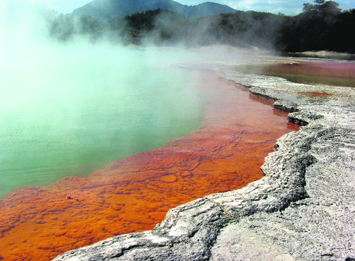 Australia:

Champagne Pool, Rotarua Geothermal area. Maoris cook in and use scalding waters of this volcanic sulphorous vapours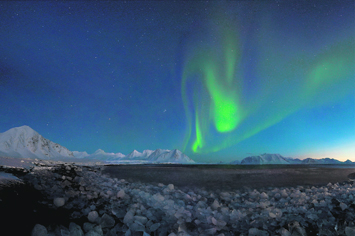 Arctic region: Northern Lights in Lapland, in the Arctic, are a dazzling sight. Thinkstockphotos/ getty Images

We crossed over to the old Moorish palace: the Alcazar re-designed by a Catholic king. When Columbus sailed through the rocks called the Pillars of Hercules, which were said to mark the edge of the world, his feat was acclaimed. A depiction of his fearless achievement was incorporated into a crest, installed in the formal gardens of the Alcazar. The Americans adopted the crest, '$', as the emblem of their dollar.
The Spanish, like us, dine late and volubly. They also do an evening tapas bar crawl: Tapas are snacks decreed by a wise old king. In one bar we drank the delectable Sandman Sherry created by a canny Scotsman using techniques developed by north African Arabs. The Sandman winery is a pleasant drive from Seville and next door to the famous Royal Spanish Riding School with its world-famous equestrian performance. But that's another story and we have to move on.
A different Asia
Now we travelled across the narrow Bosphorus straits that divide the European segment of Turkey from its major Asian part, the great plateau of Anatolia. A Turkish archaeologist had said "You must see the ancient underground city of Kayamkali. It has been carved into tuff: the froth of volcanoes and it is wonderful." We did, and it was.
We climbed a flight of steps and stood in front of a barred gate. Only a limited number of visitors can enter at any one time, and they are recounted, carefully, on their return. When we went in, it was cool, and the air was remarkably fresh, ventilated by ancient air-shafts carefully concealed on the surface. This was a subterranean fortress-city.
Our guide's voice echoed in the hollowed out passages and tunnels, evoking the laughter of children at play; the sizzle-slap of cooking kebabs and Tandoori rotis, still popular fare in Turkey; the chant of worshippers in the cavern-church of Kilise; the lowing of cattle asking to be milked and the neighing of horses in the first cave after the entrance; the rumble of great boulders being rolled to cover shafts leading to the lower levels.
The city descends to eight levels but the last two are out of bounds because they are considered to be dangerous. The first four are easy but, even so, when we emerged into the sunlight and fresh air and birdsong, we were relieved.
Wandering in the past is fascinating, but the present is reassuringly familiar.
Arctic wonders
Now we visited the Arctic in Finland's Lapland and it panned out very well for us: quite literally. To our surprise, we discovered that the Arctic wasn't all bare, glittering, stretches of ice and snow but vast expanses of taiga: firs, pines and spruce clustered together in dense forests. We were in reindeer country where every one of these wide-antlered deer was owned by a Sami family. Other people believe that the Sami shamans tap magical powers when they use their reindeer hide drums and go into trances. The Samis assert that they are the original, the aboriginal, people of this land and their wealth lies in their reindeer herds. Once a year, the reindeer are corralled, their ears are marked with notches registered with individuals and families.
Clearly the lands within the Arctic Circle were richer than we had been led to believe.
Once more we drove back onto a highway, stopped and trekked through the forest down to a rocky stream. This was a gold mine, literally. The man who had staked a claim to this tumble of rocks and gravel was the grizzled Paavo Holmisto, Gold Prospector .. as his business card proclaimed! He wasn't a magician but, with a little bit of help from him, we panned gravel in a shallow basin and …wow! .. we found two, minuscule, almost microscopic, nuggets of gold.
Later we crunched through snow and searched for Arctic amethysts and then we shook hands with Santa Claus in his village. That great, white-bearded, man boomed "Namaste. I have been to your country," but as he didn't lend us his sleigh we had to cross the equator on our own to have a special wildlife encounter in Mala Mala
Into Africa
This is a private game reserve which has an unfenced boundary with South Africa's famed Kruger National Park. It is home to Africa's Big Five: the Lion, Leopard, Rhino, Elephant and the scimitar-horned, irascible, Cape Buffalo. If you manage to see them on a single visit you join a privileged band of achievers and are honoured with a certificate. We had less than 24 hours, so we hurried into our Land Rover with our Ranger and a Spotter and sped into forest.
That drive returns in flicker-fast images.
It's hot in the bush. Insects buzz. Stop. A leopard perched on a termite's nest. A wart hog inside, its cruel tushes sticking out. Waiting game for us and the leopard. The leopard gives up.
Bump, thud, scrape. Jounce. Slow. Stop. A double-horned rhino, a calf by its side. They turn their pig's eyes on us. We pour sweat. Mother rhino lowers her head. Bad sign. They start grazing. We release our breath, move on.
Plunge into a stream, out the other side. "Elephants!" Matriarch turns to face us, ears extended. The low sun limns them. "Don't move! She's bad tempered!" We hold our breaths. Slowly-slowly-slowly we reverse, turn, race out. "That was a close shave that was, that certainly was!" We hyperventilate.
We plunge into and out of another stream and drive into a herd of bovines. What on earth are village cattle doing in Mala Mala? "Be very careful." The ranger enunciates each word.. "These are Cape Buffalo" Slowly, cautiously, we inch through them, a sick-salt taste in our mouths, hearts thudding. We crawl out of the herd. Relief shivers over us.
On a plateau the Ranger says, "We have cold champagne and short eats. Should we set out tables and chairs and have a sundowner here? It's customary."
"We've not seen lions. We must see lions!"
We speed along the unfenced boundary of Kruger, our radio chattering. Dusk settles in. Night falls: we drive through the bright tunnel of our headlights.
The lights of Mala Mala glimmer ahead. We slow, stop. A pride of lions, their eyes luminous, amble across our path. They are so close that the bonnet of the Land Rover cuts our line of sight. But, in a single drive, we have spotted the Big Five.
Australian delight
Out of Africa. We span two oceans, spot Australasia, land in its islanded country of New Zealand, drive to Rotarua.
The Rotaruans would make good politicians: they spend their entire lives in a volcanic land. We step out of the coach, shake hands and rub noses with a burly Maori receptionist and are cautioned not to stray off the fenced areas. We soon learn why. Sulphurous steam swirls around us and vapours gush out of the ground.
In a pit below, mud splutters and boils, spits and springs up in brief cobra heads, flops back and spreads in gelatinous ripples like bubbling chocolate. We plod over a bridge spanning this Devil's Cauldron touched by shifting veils of hot, acrid, mist. Sweat pours off us in rivulets.
But to some, it is home. Tough Maoris cook corn in its scalding waters, pump it into their houses, They have come to terms with this seething inferno.
For us, the exotic savours of five continents are unforgettable; but we yearn for the familiar tastes of home.