Where travellers bond
Kunzum, a hangout in Hauz Khas Village, is a tourists' delight
Pooja Dadwal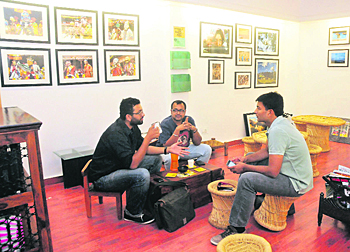 Many an anecdote is shared over coffee at Kunzum Cafe. Tribune photo: Manas Ranjan Bhui

In the kitsch, ever-popular by-lanes of Hauz Khas Village, New Delhi, there are myriad options for lounging around. The Village turns you into an infidel of sorts, if with nothing else then a night's furtive rendezvous with each place to tick off your bucket list.
Standing tall, and crazy, on the idea it was first conceptualised on, Kunzum Travel Café is one place you are bound to hit during one of your sojourns. If you are a traveller and have the proverbial itchy feet, you will find it sooner than later.
Established in the year 2010, the café is the extension of the concept that had its humble beginnings as a travel blog. Kunzum Travel Café, whose name finds inspiration from the high-altitude pass of the same name in Lahaul Spiti, is unique in many ways. "From day one, we wanted a model where there were no entry barriers for guests coming in. Hence, we follow a pay-what-you-like formula. Our guests determine the price for the tea, coffee, and cookies consumed and drop it in the box provided. Wi-Fi is free too. No one has to order anything, they can literally bum around all day if they like. There are no barriers and conditions to stepping in and this is what makes it truly a social space," says owner Ajay Jain. An author, a journalist, and a photographer, who has recently wrapped up shooting for a TV series shot by NatGeo.
As you climb the steps leading to Kunzum, you enter a relaxed, easy, laid-back ambiance. With assorted seating arrangements thrown everywhere and excellent coffee and to-die-for cookies, you realise this is the place where conversations brew and stories get told. "The inspiration behind Kunzum Café was to create a world community for those who love to travel, to celebrate the spirit of travel, both formally and informally. We are also motivated to create a space where creativity and communities flourish. At Kunzum, you can easily strike up conversations with anyone and talk travel, informs Ajay. The endeavour was to make it a Face-to-Facebook of travel, a place where people can meet and share experiences.
The walls are adorned with images from travels and a library with travel books and magazines and postcards and bookmarks on every table. The most heart-warming part: Fellow visitors/patrons always ready to share an anecdote or a tip or two. As Ajay says, "We are always willing to answer any travel-related queries, and if we don't have the answers, then we try to connect guests with those who may have. We even have brochures and information provided by hotels, airlines, travel companies, and tourism boards."
The café has reinvented itself to cater to the clientele's growing needs. While it started with the theme of travel, over time the place has developed into a micro-culture hub covering entertainment and creativity. Customers participate in live music gigs, film screenings, photography and writing workshops, book readings and launches, travel talks, and more. The biggest contribution of the café is providing a space for such interactions in a city where real estate is expensive and hard to come by. Ajay recalls, "Very early on, we had the Delhi Drum Circle drop by on a rainy day. They were to perform in the Deer Park but could not due to the weather. We opened the doors to them. The café was packed with musicians playing the Djembe, Didgeridoos, flutes, and other instruments. The atmosphere was electric with the café resonating with the music."
And this is the spirit of Kunzum Travel Café. A place where guests not only take but also give in equal measure, if not more.