M A I N N E W S
150 Cong workers booked for Punjab election violence
Archit Watts/TNS
Lambi (Muktsar), May 20
A day after violence rocked Punjab Chief Minister Parkash Singh Badal's home turf during the Panchayat polls, the Lambi police on Monday booked 150 Congress workers and arrested five of them for attempt to murder and rioting. Twentyfive of the 150 booked have been identified and include a woman. They are all residents of Mann village in Badal's Lambi constituency, the venue of Sunday's clash between Akali and Congress workers.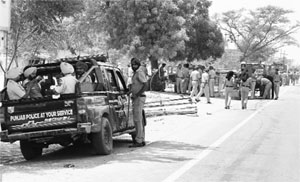 Security forces keep a vigil at Lambi on Monday. A Tribune photograph
Those booked have been charged with attempting to murder SAD polling agent Baljinder Singh and others with firearms and sharp-edged weapons, rioting, causing injury to a cop, mischief causing damage to property and wrongful restraint of government employees at a polling station in Mann village.
Congress workers have also been accused of trying to capture a polling booth in Mann village and torching vehicles belonging to SAD workers in the FIR lodged at Lambi police station. Eight cars and a police vehicle were damaged, five cars and a mobike torched, and Satinderpal Singh, a policeman, was injured on the eye in the clash.
Both Akali and Congress leaders have accused each other of booth capturing and causing injuries to their supporters. No case has been registered against any Akali worker and all of them, even those allegedly involved in Sunday's violence, were seen roaming freely and holding "closed door" meetings with the police.
Muktsar SSP Surjeet Singh, who has been camping at the Lambi police station, said, "On the statement of a wounded Akali worker, Baljinder Singh, a case under sections 307, 382, 353, 186, 332, 341, 323, 324, 427, 120-B, 148, 149 of the IPC and 25/27/54/59 of the Arms Act has been registered against 100-125 unidentified and 25 identified Congress workers. Five of them have been arrested and identified as Major Singh, Gurbhej Singh, Jaswinder Singh, Iqbal Singh and Pal Singh alias Pali, all of Mann village. No one from the Congress has lodged a formal complaint of yesterday's violence."
A large number of Congress workers led by party's Lambi in-charge Maheshinder Singh Badal protested outside the Lambi police station. They demanded registering of a criminal case against Akali workers, including SGPC member Dyal Singh Kolianwali, Badal's nephew Pawanpreet Singh 'Bobby' Badal, Sukhbir's ex-OSD Avtar Singh Vanwala, SAD Jalalabad in-charge Satinderjit Singh 'Manta' and 200-300 unidentified persons for booth capturing in a number of villages, including Mann village.
They submitted a memorandum to the SSP and sought strict and immediate legal action against the Akali workers, terming them goons. Maheshinder said, "As per the Election Commission's guidelines, nobody from any other zone can come in the 200 metre radius of a polling booth, but Akali supporters, all outsiders, entered polling booths and captured them at Mann, Mehna, Panjawa, Deon Khera, Kangankhera, Chhapianwali, Raniwala, Kabarwala, Ratta Tibba, Mohlan and Midda villages in Lambi constituency. We want legal action against the Akalis for this."
However, a police officer said a memorandum could not be considered as a written complaint. "It is just a reminder to initiate action," he said. Senior Congress leader Gurmeet Singh Khudian alleged that the police were working at the behest of the Akalis.