Sun screen
May is scorching and heat is at its peak. If one goes by the weatherman's forecast, there is more in store. Here are a few known names from the region who are beating the heat in style!
Like father like son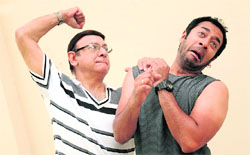 With full enthusiasm, the father-son duo has set foot in Chandigarh to shoot for their upcoming movie Ik Wari Haan Karde. We first meet Kanwarjit Paintal, better known as Paintal. While his elder brother Gufi Paintal played Shakuni in famous television serial Mahabharat, Kanwarjit played the role of Shikhandi.

ROCKING TOGETHER: Kanwarjit Paintal (L) with his son Hiten

Securing the future
Cyber crime is increasingly gathering attention and data security a matter of grave concern. KK Mukhey and Karishma Randeva Mukhey have brought a solution in the form of The Institute of Information Security opening another training centre in Chandigarh.
Master Chef
Tamarind tango!
In my ponytail days, I could pop a sticky bit of imli straight from the kitchen jar, straight into my mouth! It would have a blasting kick of acid which would have both the peepers go into squint mode in sheer ecstasy! Tamarind is a delightful component which adds spunk to many dishes.
Suitable
The true colours of India can be seen in the clothes of the country and a suit represents the purity of tradition like nothing else. While Bollywood celebrities flaunt the fresh designs making a style statement for everybody to follow, let's find out what's new in the world of suits.
pet passion
Cat call
For Geetika Raikhy, a connoisseur of thoroughbred canines, bringing the feline breed into the household was a little difficult but her little cherub Jerry wished to keep a cat and the ever indulgent grandparents gifted him one. A furry creature with wide piercing eyes made the Raikhy household his home. For Jaiveer, Tom the Persian cat was his personal possession and soon they became pals.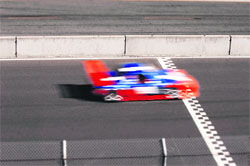 Future Shock
The race is on
Go round the hills, speed through the puddles and race for the spot! I'm talking about charming 3D car games that transport you to a world that's exciting and good looking. Some of the more advanced games take you through stunning locales, scary pits, hills and beaches. They bring alive a romance and drama that's fit to run for the Oscars.
Of religion and spirituality
As he highlights the antiquity of Hinduism and its philosophical indent, Vijay Singal, lends his creative talent to author his new book, Hinduism from Maya to Moksha. While launching it at the Press Club, Chandigarh, he justifies the title as he shares, "My book is an academic study and it details on the basic facts about Hinduism. Maya is a mysterious power and moksha is the ultimate power. This book thereby caters to the spiritual extension of religion."
Light up your world
Ankur Lighting, a high-end state-of-the-art experience Light Studio was launched recently in Chandigarh. Sprawling over an impressive 2500 sq ft in Sector 9, the new lighting destination studio offers a complete range of lighting solutions.
STAR TRACK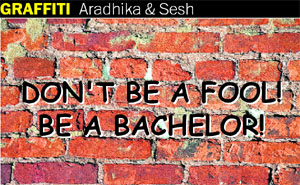 Saif to romance Priyanka?
Grace full
Time for revenge
Case study
Beyonce Knowles idolised Whitney
Finally she rocks!
Change of heart
chatter box
Pooja loves bikes!
Bollywood calling
A humble approach
The traditional twist
Getting real
Leading lady