M A I N N E W S
Axe on Everest: Sanawar boys on top of the world
Ambika Sharma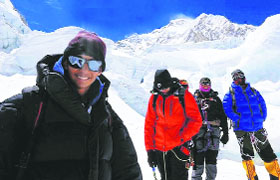 The Lawrence school team that scaled Mt Everest
on A Record high


The seven-member team aged 15-17 years is the youngest team to scale the 8,848-metre Mount Everest


The herculean feat has made Lawrence School the only boarding school in the world to conquer the peak


Raghav Joneja set an individual record and is the youngest Indian at 15 years and seven months to scale Everest
Four HP lads scale peak
Manali: A nine-member National Cadet Corps expedition scaled Mount Everest on May 19 and 20. While two of its members, Rajat and Khimi Ram, are Class XII students of the Government Senior Secondary School at Manali, Ashwani Kumar hails from Chamba and Kami Dawa from Lahaul
Sanawar, May 21
A team of seven students of Lawrence School, Sanawar, scaled Mount Everest in the early hours of Tuesday and set a record of being the youngest team to conquer the world's tallest peak. The successful expedition of the cub mountaineers, aged 15-17 years, also made the school the world's only boarding school to have achieved the feat.
Four of the seven summiteers are from Punjab and the rest from Delhi, Himachal Pradesh and Uttar Pradesh. Six of them are Class XII students — Prithvi Singh Chahal, Fateh Singh Brar, Guribadat Singh Somal (all from Punjab), Ajay Sohal (Himachal) and Shubham Kaushik (Delhi) — while Raghav Joneja (Uttar Pradesh) is a Class X student of the school. The seventh team member, Hakikat Singh Grewal (Punjab), had to stay back at balconey ahead of Camp 4 due to a technical problem.
The Sanawar Everest Expedition 2013 scaled the peak at 4.37 am this morning. They unfurled the Tricolor and the school flag atop the 8,848-metre peak. Prithvi Singh Chahal and Ajay Sohal were among the first to reach the summit at 4.37 am while the last of the team members scaled the summit around 12.30 pm.
Raghav Joneja, who is 15 years and seven months old, became the youngest Indian to scale the peak. He was the third to reach the summit.
The seed of the expedition was sown last September when a seven-member team was short-listed from among volunteers after a grueling basic mountaineering course at Himalayan Mountaineering Institute (HMI), Darjeeling. Team members underwent three-week training at the institute to enhance their endurance and fitness training under a qualified instructor.
Subsequently, the team underwent a 1,000-km cycling expedition from Suratgarh to Jaisalmer in 10 days. This was followed by intermediate and advanced courses of fortitude and acclimatisation under the supervision of the Army at the formidable heights of Khardung La in Ladakh.
Lawrence School Headmaster Praveen Vasisht had flagged-off the expedition from the school on April 2 and they arrived at the base camp in Nepal on April 19. Thereafter, the youngsters spent time acclimatising between the base camp and Camp 3. Their final ascent was scheduled for the third week of May from the southern face of the massif. Precautions, such as the weather forecast, were taken for the final climb between May 18 and 23. The team reached Camp 4 on the evening of May 20 and the final ascent began at midnight. They carried a traditional prayer flag given by the locals to revere the mountain.
A very proud and elated headmaster, Praveen Vasisht, said the conquest of Everest was not a mere step, but a giant leap for Sanawar. "They have firmly upheld their school credo 'Never Give In' in letter and spirit," he said.