M A I N N E W S
CSK honcho under Mumbai police lens


Gurunath Meiyappan is BCCI chief's son-in-law


Was in touch with Vindoo; likely to be quizzed
Shiv Kumar/TNS
Mumbai, May 22
The son-in-law of BCCI president N Srinivasan is likely to be quizzed by the police in connection with the IPL spot-fixing scandal.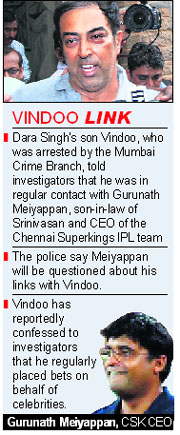 Late wrestler-actor Dara Singh's son Vindoo, who was arrested by the Mumbai Crime Branch, told investigators that he was in regular contact with Gurunath Meiyappan, son-in-law of Srinivasan and CEO of the Chennai Super Kings IPL team.
Photographs of Vindoo inside the VIP box at the Chennai stadium with Sakshi Dhoni, wife of CSK captain Mahendra Dhoni, is pointing towards the former's proximity to big names of cricket.
The police say Meiyappan will be questioned about his links with Vindoo. Vindoo is said to have called the CSK CEO minutes after speaking to bookies thus bringing into question Meiyappan's role in the scandal. Vindoo reportedly confessed to investigators that he regularly placed bets on behalf of celebrities, including actors and corporate leaders.
The police saidVindoo also played an important role in allowing two major bookies, Pavan Jaipur and Sanjay Jaipur, to flee the country shortly after the spot-fixing scandal broke. Vindoo is said to have have provided his car to the two bookies. A third bookie was arrested shortly before he was to board a flight for Dubai. This bookie gave investigators important leads about Vindoo's involvement.