PUNJAB

HARYANA

JAMMU & KASHMIR

HIMACHAL

REGIONAL BRIEFS

NATION

OPINIONS

LETTERS

BUSINESS

SPORTS

WORLD


M A I N N E W S
Turf feud results in shootout at Qadian
BJP mandal chief, Gurdaspur SAD general secretary critically injured
Ravi Dhaliwal/TNS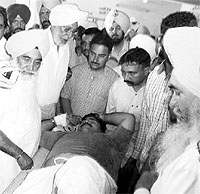 BJP leader Kamal Jyoti, who was injured in a clash at Qadian. A Tribune photograph


Qadian (Gurdaspur), May 24
At least 36 persons, several of them armed, critically injured two supporters of former Cabinet Minister Sewa Singh Sekhwan in one of the busiest localities of the town this morning.

A group of 30-odd persons attacked and injured Qadian mandal BJP chief Kamal Jyoti and Gurdaspur SAD general secretary Paramjit Singh Sohal, a former vice-president of the Youth Akali Dal (YAD). Cornered, Kamal Jyoti and Paramjit fired shots into the air to scare away the miscreants. Sekhwan rushed to the Qadian Civil Hospital where the injured were taken for treatment. A visibly shaken Sekhwan said the attackers belonged to a group owing allegiance to Jarnail Singh Mahal. The victims were taken to the Amritsar Civil Hospital as their condition worsened.

Police sources said the warring groups, one owing allegiance to Sekhwan and the other to Mahal, had a long-standing enmity.

About six months ago, Mahal's sons had attacked Kamal Jyoti's brother following which a criminal case was registered against them.

"Mahal had threatened Kamal Jyoti with dire consequences.Today, when the newly elected block samiti and zila parishad members were on their way to Gurdwara Ghallughara Sahib, armed persons known to Mahal attacked Jyoti and Paramjit who fired into the air in self-defence," said a police officer.

Eyewitnesses claimed that though the incident occurred just 100 yards from the Qadian police station, the police arrived at the scene after almost 30 minutes. But Batala Senior Superintendent of Police (SSP) Tulsi Ram, claimed that Deputy Superintendent of Police DSP, Qadian, rushed to the site and "took control of the situation." He said a case would be registered only after the statement of the injured was recorded. Syukhpak Khaira, PPCC spokesperson, criticised the police functioning. He said Deputy Chief Minister Sukhbir Badal, who holds the Home portfolio, must resign. "Akali goons are creating terror in the area. The Deputy Chief Minister should rein them in or else there will be anarchy all around," he warned.