Eyeing the stars
Though it may still be a niche hobby, stargazing has its own passionate fan following which is growing by the day
Augusto Rodrigues
It is getting close to 11.30 a.m. and the trickle is slowly beginning to swell. The gates outside are abuzz with activity as people begin to make way for the first show of the morning at Delhi's Nehru Planetarium about astral phenomenon explained in a simple, comprehensible way. Soon the 250-seater auditorium is packed with children and amateur stargazers. As the lights go off, the enthusiastic audience is transported into the world of stars.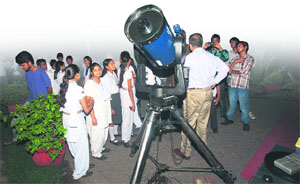 Most cities in India have amateur astronomers associations or amateur clubs because of the growing popularity of stargazing
To a stargazer, the simple pleasure of watching the night sky is akin to capturing the essence of life. Looking up at the details of the 'milky way' or the contours of lunar craters or even the blurry rings of Saturn can be mesmerising. Colours, patterns, sparkles — the universe is exciting and full of surprises. One of the unending pleasures of cosmic gazing is that it is also unpredictable. What you are watching now may not be visible for the next hundred years.
Passionate following
It is this changeable nature of the skies that makes astronomy so tantalizing. Though it may not still be a mainline hobby, stargazing has its own passionate fan following which is growing by the day. An indication of this can be had from the fact that Amazon.com, one of the world's largest e-commerce sites, has reported an increase of 500 per cent in the sale of telescopes. BBC's recent series Stargazing Live has been a thunderous success. The Greenwich Royal Observatory is seeing a huge number of visitors who come to witness the wonders of the night sky.
There are amateur clubs in all parts of the world, including India. Apart from places like Delhi, Mumbai, Kolkata, Chennai and Bangalore you will find clubs in Faridabad, Ludhiana, Roorkee, Jodhpur, Jaipur, Anand, Vadodara, Bhopal, Nagpur, Bhubaneshwar, Aurangabad, Coimbatore, Kochi — in fact, practically in every town of the country.
Lure of astronomy
"The lure of astronomy is back with a bang," says Srinivas Jawahar of the Astronomy Club of Hyderabad, which has 873 members. Each member pays an annual fee of Rs 3,500 for the pleasures of stargazing. "We use this money to buy the latest space-related equipment."
One doesn't have to be a rocket scientist to realise that astronomy is an expensive hobby. It requires sophisticated equipment like powerful telescopes and binoculars. Even the government-sponsored Nehru Planetarium cannot boast of being completely abreast with latest technology. "We do not have the latest equipment as our budget does not permit us to make very expensive purchases. But whenever we need special equipment the Amateur Astronomers Association (AAA) provides it to us," says Dr N Rathnasree, director of the Nehru Planetarium.
The Delhi-based Amateur Astronomers Association comprises a mixed bag of seasoned astronomers and enthusiasts from different walks of life who gather to gaze at heavenly bodies. The thrill runs high during a celestial event. In August 2012 in a tie-up with NASA, it set up several telescopes in the lawns of the Nehru Planetarium for people to observe American spacecraft Curiosity land on the Mars.
Pleasures of stargazing
But stargazers do not wait only for special events. For Manoj Pai, president of the Astronomy Club of Ahmedabad, the sky has no limits. "Though I have been lucky to watch the Halley's Comet in 1986, the Hyakutake Comet in 1996 and the 'Great Comet' Hale-Bopp in 1997, I find 'event-less' celestial sightings a sheer pleasure."
However, he says that the International Year of Astronomy in 2009 was one of the most exciting periods for astronomy. The European Southern Observatory (ESO) — a 15-nation inter-governmental research organisation in the Southern Hemisphere that has provided astronomers with state-of-the-art research facilities — organised a live webcast where visuals were beamed from 80 different observatories in the world.
Celestial sights
Raghu Kalra, general secretary of AAA, agees, "Stargazing does not necessarily need an event. It is the sheer joy of looking at a sky full of stars. When it is bright and clear you sometimes do not even need a telescope, you just need to have an eye for the stunning celestial sights."
However, a clear sky in big cities is a rarity. Dust, pollution and the high levels of lighting affect clarity even through a telescope. "Forget cities, today even rural India is being affected by strong urban lights that dull the sky. Many serious stargazers head for the hills for clearer skies. Dr Rathnasree feels the best place to view the universe in India is in Leh and Ladakh.
Leaving aside the Amateur Astronomers Association, the Astronomy Club of Hyderabad, the Astronomy Club of Ahmedabad and some others, most clubs around the country have from 10 to 50 members who chip in the money for basic equipment and meet from time to time to watch the night skies and sometimes the day skies for events such as sunspots and solar eclipses.
Gandhidham-based Harish Tharwani runs a club of 10 members who are avid stargazers. "We do not charge any fees and we share the equipment we have. I own a telescope that costs around Rs 40,000 others own binoculars, star charts and powerful cameras which we happily share them with each other."
Marvelling the skyline
Most clubs are generous enough to share their equipment and when they fall short, most members chip in. Says Hyderabad's Srinivas Jawahar, "One doesn't have to be necessarily rich to enjoy celestial sights. We have many members from the corporate world who are always ready to help."
Most enthusiasts say that more should be done to motivate people into this hobby. Says Raghu Kalra, "A good telescope or a binoculars have to be imported but these do not come under the ambit of educational apparatus and thus attract import duty. It will be better if the government withdraws import duty so that more people can have access to good equipment."
A good news for stargazers, the Nehru Planetarium is planning to introduce a beginner's courses for stargazers. Perhaps that would be the first step to bring to people the pleasures of stargazing and celebrating the beauty and mystery of our marvellous universe.
Stargazing equipment & prices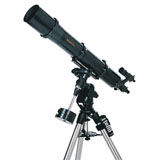 Telescope: This is one of the most important tools of astronomy and can vary in terms of power and prices. Though you can get a basic telescope for as low as Rs 2,500, a good one would cost big bucks. Companies like Galileo, Celestron, Takahashi and Orion make top quality telescopes and prices can range between Rs 30,000 and Rs 50,000.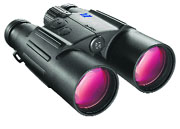 Binoculars: Though less powerful than a telescope in magnification, these are lighter and easy to carry. The quality ones cover a wide field of view and because of their twin eyepiece give a normal 3-D vision. Though there is a big variety, a quality Carl Zeiss binocular can cost between Rs 25,000 and Rs 40,000 depending upon the power.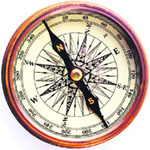 Compass: Many amateur stargazers may ignore it but a compass is vital for stargazing as it helps you find the stars you are looking for in the night sky to view through the telescope or a pair of binoculars. Some of the best compasses are made by companies like Victorinox, Gerber and Pioneer and cost around $30 to $ 50 (Rs 1,650 and Rs 2,750)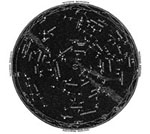 Star charts: Also called Star Atlases, these are available separately for beginners and professionals. Some, like the Orion Deep Map 600, show the sky in its entirety and others, like the Star Atlas 2000.0, is a complex set of 26 charts each specialising in a certain aspect of the sky. Most quality charts cost between $15 and $ 20 (Between Rs 825 and Rs 1,100)