ENTERTAINMENT

CHANNEL SURFER

FOOD TALK

CONSUMERS BEWARE!

GLOBOSCOPE

FITNESS MANTRA

GOOD MOTORING

LIFE'S LESSONS

MUSIC ZONE

ULTA-PULTA

FRUIT FACTS

WEBSIDE HUMOUR

CROSSWORD

WEEKLY HOROSCOPE

TELEVISION
EARLIER FEATURE

RELATIONSHIPS

DREAM THEME

TIME OFF

GARDEN LIFE

FASHION

BRIDGE

NATURE

Banda Bahadur: From ascetic to warrior
Fascinating, colourful and larger than life, Banda Singh Bahadur was a follower of Guru Gobind Singh. He started his life as an ascetic, distinguished himself as an administrator and is celebrated as a great warrior. A new work of historical fiction attempts to flesh out the story of this enigmatic person
Harish Dhillon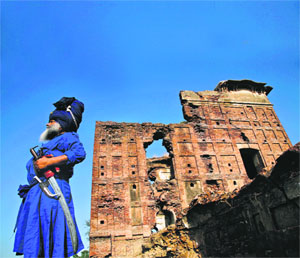 The journey had been a long and difficult one, long not so much in terms of distance as of time. He had taken almost a year to cover 1,700 kilometres. These were deeply troubled times and there was turmoil in the area between Nanded and Delhi. Banda and his group had followed the guru's advice and done everything possible to avoid suspicion and confrontation with representatives of the Mughals. They had broken up into smaller groups and leapfrogged from one destination to another, getting together and regrouping at intervals of three or four days. They studiously avoided the highways and used circuitous, rarely used tracks deep in the arid areas of Rajasthan. Banda with his group of four, after a long and tiring journey, had found shelter for the night in the ruins of an old fort that was now used as a serai, an inn.
---
Arts
The etchings of Solvyns
Balthazar Solvyns, the Flemish painter who lived in India more than 200 years ago, documented in his works the infinite variety of castes and professions, modes of conveyance and religious ceremonies besides flora and fauna, fakirs and sadhus
It was with Professor Robert Hardgrave Jr., a colleague at the University of Texas at Austin where I was teaching, that I saw my first Solvyns 'in the flesh', so to speak. I had some familiarity with the name and had seen some images in books but this was different. Here, there were slews of Solvyns etchings, and Hardgrave was the man to speak about the painter, for it was he who had brought him out of undeserved obscurity.
---
Fitness
Foods for moody you
Headaches, body aches, lethargy, mood swings and irritability are common to most women suffering from premenstrual syndrome (PMS). Some foods can help you to control these symptoms
The fairer sex is the stronger sex. This is true from a purely biological standpoint as well. Statistics show that not only do women live longer than men; the premature female infants also out-survive the premature male infants. We all know that females handle stress better than their male counterparts.

Health Capsules
---
Society
Kakar off the couch
Aruti Nayar
Meeting Sudhir Kakar, the psychoanalyst and writer who has the distinction of viewing Western Freudian psychoanalyst techniques through the prism of Indian myths and socio-cultural matrix, is a unique experience.
---
Travel
A walk back in history
The medieval city of Nizwa was the capital of Oman in the 6th and 7th centuries. The city looks like an Arabian night fantasy with its pastel pink houses and mud-coloured fort as well as domes and minarets
Kalpana Sunder
Handsome men in their flowing dishdashas and embroidered skull caps and turbans, potter around the stalls looking for a good bargain. Rows and rows of shops display pottery of all shapes and sizes, made from clay baked in the fierce Omani sun — water containers, urns, cups, utensils and incense burners. Visitors walk through the souk drooling at metal-studded dowry chests and chunky silver fashioned into rings, anklets and necklaces. The traditional Omani dagger with intricate filigree work, called khanjar is a popular souvenir. Nizwa is a medieval city in Oman, located just 165 km from the capital Muscat. Nizwa was the capital of Oman in the 6th and 7th centuries — and one of the first towns to receive Muslim emissaries. It was ruled by the Ibadhi sect of Islam (most Omanis belong to their sect). The city still has a majestic fort which looks straight out of a foreign legion movie. Gracing the skyline are also some of Oman's oldest mosques. For a long time Nizwa was at the crossroads of important caravan routes that linked the interiors with the port of Muscat.

Globetrotting
---
Entertainment
Mumbai, not India in Cannes
For the Cannes festival, India has shrunk to represent the output of just a small part of Mumbai. It may be good for filmmakers in the short term but can only have a deleterious effect on Indian cinema as a whole in the long run
Saibal Chatterjee
The 66th Cannes Film Festival was special for India, at least in numerical terms. It was even more so for one individual —Anurag Kashyap. All four Indian films that played in different sections in Cannes this year — Monsoon Shootout, Bombay Talkies, Ugly and The Lunchbox — had him as director, producer or co-producer.
Nothing great about Gatsby
Baz Luhrmann's The Great Gatsby, which opened the 66th Cannes Film Festival, dazzles but is not quite as moving. It could have done with a little more soul
Saibal Chatterjee
Baz Luhrmann's isn't one to hold back. The Moulin Rouge director is probably closest in spirit to the Bollywood idiom than any other non-Indian has ever been. His new film, The Great Gatsby, which was the opener of the 66th Cannes Film Festival, is yet another proof of that.