M A I N N E W S
game Shame

Panel to probe Guru's role in fixing: BCCI
Gaurav Kanthwal /TNS
Kolkata, May 26
Till 4 pm, the clamour for BCCI president N Srinivasan's resignation had been getting intense by every passing minute. He was facing a maelstrom. He knew it, and was ready for it. At the very start of the press conference, he admitted it rather passively. But that was the end of it.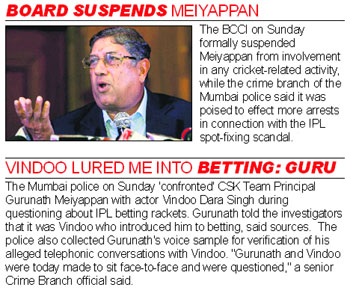 "You would appreciate that these days have also been difficult for me as father and father-in-law. However, I sit here as the BCCI president and set aside all personal feelings. I will not shirk my duties, however, difficult they might be," he read out from a prepared statement at the start. A three-member inquiry commission would probe the Chennai Super Kings (CSK) chief executive and his son-in-law Gurunath Meiyappan's role in the IPL spot-fixing scandal, Srinivasan said. The commission would consist of two members of the IPL operations committee and an independent

person in whose appointment he (Srinivasan) would have no role, he added.

"Two of them (members of the inquiry commission) along with an independent commissioner will go into the charges against Meiyappan and we will abide by their report. There will be an independent person and I will await the report as much as you. I will not shirk my duty," he said, pouring cold water over the accountability clamour.

The five members of the IPL operations committee are: Arun Jaitley, Rajeev Shukla, Sanjay Jagdale, Ajay Shirke and Ravi Shastri. Interestingly, three of these five members are those who have been firewalling attempts to dislodge the incumbent president.

As a volley of questions was thrown at him by mediapersons, Srinivasan took them one by one, albeit in a defensive way, quite uncharacteristic of him, with his body language clearly showing him out of place. He fumbled a couple of times while reading out the prepared statement earlier.

As the grilling started getting intense, he reached out for a glass of water. But, like a skilled sailor, he finally managed to weather the storm. With the two oars of procrastinating legalities and numbers in the BCCI firmly by his side, he waded through choppy waters of "trial by the media".

Time and again, he was asked about the possibility of resigning from the post and each time he kept saying, "I have done nothing wrong… I cannot be railroaded, pushed and threatened to quit".

"My support is complete and not one member in the BCCI has asked for my resignation," he said after meetings IPL chairman Rajeev Shukla and vice-president Arun Jaitley.

"I have a job and we will act strictly. I assure you, the BCCI will act without fear or favour to investigate and if player, franchises or owners have breached any rules, action will be taken," he said with a reinforced decibel power.

Just as the bulldozing and railroading tried to fizzle out, the Gurunath Meiyappan issue was brought to the fore, Srini, as he is referred to in the BCCI echelons, took refuge in legalities, "well-established processes" and "natural justice". Though Srinivasan tried to wash his hands off the controversy surrounding his son-in-law, the Gurunath tirade refused to subside: What was Gurunath doing in the CSK dugout? asked reporters. "He was enthusiastic and had been travelling with the team," Srini admitted apologetically.