M A I N N E W S
Beijing wants better trade ties with Delhi
Ashok Tuteja/TNS
New Delhi, May 26
In a follow-up to the recent talks between Prime Minister Manmohan Singh and Chinese Premier Li Keqiang, a high-level Indian official team will be in Beijing tomorrow to discuss with Chinese authorities ways and means to reduce the huge trade imbalance between the two countries.
The team, headed by Commerce Secretary SR Rao, is expected to seek easy market access for Indian products, particularly pharmaceuticals and IT-enabled services, to the vast Chinese market.
Notwithstanding their strong differences over the boundary dispute, both India and China are determined to achieve the bilateral trade target of $100 billion by 2015. They are also concerned over the fact that bilateral trade came down to nearly $ 67 billion last year from about $ 74 billion in 2011.
However, what is more worrying for New Delhi is the huge trade gap of about $ 40 billion in favour of China.
The Commerce Secretary is also likely to ask China to remove irritants to help India increase exports of buffalo meat and marine products. It is learnt that during the recent talks between the two delegations in New Delhi, China assured India that it has no intention to continue with the trade surplus in its business dealings with India. However, it would like India to substantially reduce its dependence on commodity exports by focusing more on services and manufactured products. Chinese Commerce Minister Gao Hucheng also wanted India to make its visa regulations simpler so that more Chinese tourists could visit India as that would also help reduce the trade gap.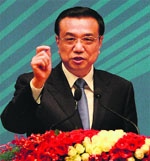 Economic talks

Indian officials say the two countries attach great importance to the role of the bilateral strategic economic dialogue in strengthening economic and trade links

New Delhi is enthused over China showing great interest in investing in India's infrastructure development and setting up industrial zones

The two sides have decided to strengthen cooperation between their financial regulators and support their banking institutions