M A I N N E W S
The new gold rush
Yellow fever: As demand shoots up, gold imports set to rise steeply
Sanjeev Sharma/TNS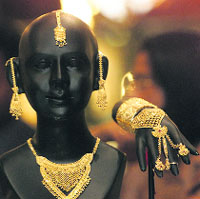 Buyers' delight


Gold prices collapsed in April from almost Rs 30,000 per 10 grams to around Rs 25,000. This was expected to lower the imports of gold into the country


That premise has been turned on its head as cheaper gold led to feverish buying leading to gold imports jumping 138% as compared to April last year


Trade deficit for April jumped to $17.8 billion, compared to $14 billion last year


The huge buying in gold has come despite several government measures to deter gold buying


Up to 400 tonnes of gold may be imported into India in April-June, almost half of the total imports in the whole of 2012
New Delhi, May 30
The old saying that nothing glitters like gold is playing out again. Following a sharp dip in gold prices in April due to a sell-off in global investment markets, India is seeing a surge in demand for physical gold, including bars, coins and jewellery. The World Gold Council (WGC) estimates that the explosion in demand could be as high as 150 per cent in April-June this year compared to the same period last year.
The WGC report on the impact of the fall in gold prices on world markets says that the demand is up sharply in India. India, which represents 28 per cent of global consumer demand, may see an increase of up to 150 per cent year-on-year in second quarter (April-June) of 2013. This suggests that up to 400 tonnes of gold may be imported into India during this period, almost half of the total imports in the whole of 2012.
In April, there was a collapse in gold prices from almost Rs 30,000 per 10 grams to around Rs 25,000. This was expected to lower the imports of gold into the country. That premise has been turned on its head as cheaper gold led to feverish buying leading to gold imports jumping 138 per cent compared to April last year. Trade deficit for April jumped to $17.8 billion, compared to $ 14 billion last year.
The huge buying in gold has come despite several government measures to deter gold buying, including raising import duties and making PAN card mandatory for cash transactions.
According to the WGC report, the sharp fall in gold prices in mid-April reflects the dichotomous nature of investment in gold, with consumers who buy bars coins and jewellery are buying more and behaving very differently from buyers of exchange traded products and investors.
The fall in prices had the effect of people rushing to buy gold which they could not at high prices last year. Rating agency, ICRA says that despite the hike in customs duty to 6% from 4% and restriction on import of gold on consignment basis by banks, the decline in gold prices is likely to boost consumption demand, thus limiting the fall in volume of gold imports in financial year 2014.
Policy managers believe that stable gold prices would bring down the demand. C Rangarajan, chairman, Prime Minister's Economic Advisory Council (PMEAC) recently said that taming the inflation and increasing the rate of return on financial products is the best way to contain demand for gold in India thereby reducing the adverse impact on current account deficit. World Gold Council's latest research carried out in May 2013 reveals that 82% of consumers in India and China believe that over the next five years the price of gold will increase, or be stable. In May 2013, 45% of Chinese and Indian consumers questioned said they had bought gold in the previous six months.
Gold-backed ETFs, which have accounted for 6.5 per cent of global gold demand over the last three years, have seen outflows of 350 tonnes out of a total of 2,700 tonnes held, from the beginning of the year through to the end of April. Concurrently, demand for gold in the form of bars, coins and jewellery, has seen a surge following the mid-April price fall.