M A I N N E W S
Gloomy picture: Growth slips to decade low of 5%


Sensex tumbles 455 points


Rupee at 11-month low
Sanjeev Sharma/TNS
New Delhi, May 31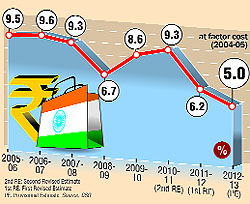 The Indian economy had its worst year in a decade as growth rate slumped to 5 per cent on account of slowing consumption hit by inflation and lack of investment due to slow project clearance and low investor confidence.
The stock markets spooked by the weak GDP numbers, weakness in the rupee and RBI's poor inflation outlook which dimmed hopes of rate cuts fell sharply with the BSE Sensex tanking by 450 points, the biggest fall in 15 months. The rupee hit a fresh 11-month low and its fall in May is the most during the last year.
It was a poor performance by major sectors like agriculture, manufacturing and mining that pulled the growth down and even this year analysts are only counting on a mild recovery.
The GDP growth rate in the fourth quarter was somewhat better 4.8 per cent showing a marginal improvement over 4.7 per cent recorded in the third quarter of 2012-13.
Policy makers acknowledged that a sharp recovery will be challenging. Commenting on the GDP numbers, Planning Commission Deputy Chairman Montek Singh Ahluwalia said: "There is evidence that the economy has bottomed out. But we still don't have evidence of a strong recovery. It is challenging to get to 6 per cent growth where last quarter is 4.8 per cent."
Analysts say that given the plethora of problems facing the economy, only a mild recovery is expected. According to Aditi Nayar, senior economist, ICRA, said while headline GDP at factor cost suggests a bottoming out, today's GDP release reinforces concerns regarding the moderation in private consumption and investment in last quarter of the financial year.
"With a persistence of concerns related to availability of inputs, clearances, and high leverage levels likely to keep private investment muted, GDP growth is expected to post a mild revival to 5.8-6.0 per cent in 2014, despite the anticipation that a normal monsoon and monetary easing would boost consumption growth", she said.
Industry said there was no visible pick up in the economy and the situation is grim. "The Q4 GDP growth figures at 4.8 per cent is disappointing, but on expected lines", said Chandrajit Banerjee, Director-General, CII.
"With no visible pick up in any key levers of the economy, the situation remains grim. Demand in the system is weak with low levels of consumption, government expenditure and investments. While the fiscal deficit situation would not allow government expenditure to go up, every means need to be explored for raising consumption and investment demand," he said.
The fall in the rupee is suggesting that the economy remains under pressure. Bundeep Singh Rangar, chairman of London-based consulting firm IndusView, said: "What's alarming is that the drop in manufacturing output suggests a decline in domestic consumption on top of a drop in foreign investment. The decline of the rupee has increased the cost of importing goods and put further inflationary pressure."
Recovery a challenge, says Montek
There is evidence that the economy has bottomed out, but we don't have evidence of a strong recovery. It is challenging to get to 6% growth where last quarter is 4.8%.
— Montek S Ahluwalia, Deputy Chairman, Planning Commission