ENTERTAINMENT

FOOD TALK

CONSUMERS BEWARE!

FITNESS MANTRA

GOOD MOTORING

LIFE'S LESSONS

MUSIC ZONE

FRUIT FACTS

GLOBETROTTING

BROADBRUSH

TELEVISION

WEBSIDE HUMOUR

CROSSWORD

WEEKLY HOROSCOPE
EARLIER FEATURE

CHANNEL SURFER

ULTA-PULTA

GLOBOSCOPE

GARDEN LIFE

FASHION

BRIDGE

NATURE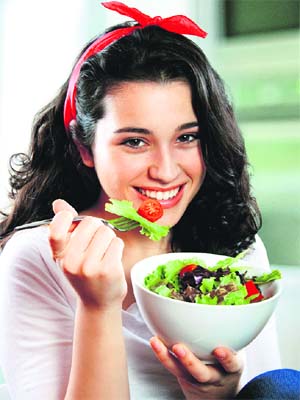 From an accompaniment to a meal, salads have come a long way. There is greater awareness about the world of greens which is now much wider and boasts of a myriad delicacies, some common others exotic, but all tempting and nourishing
Pushpesh Pant
when summer comes can salads be far behind? In our 'salad days', alas long slipped away, when we were wet behind ears, we hated uncooked vegetables. Greens were particularly abhorred. Mother who knew best, told us they were good for body, mind and soul and no leftovers on the plate were tolerated. How have the times changed. When the mercury begins to shoot up and the sunshine begins to scorch, the appetite for substantial meals is lost.
---
Arts
Master of detail
Rahi Mohinder Singh, the first Punjabi artist to do an official portrait of the President, breathes life into his subjects and unfailingly manages to bring out their most distinguishing characteristics
Nonika Singh
The more the world of art changes and finds a new vocabulary, the more he sticks to his guns. Rahi Mohinder Singh, a gifted artist, steadfastly refuses to be swept away by fads and isms. Yet the votary of realistic art finds his place under the sun. The artist, who recently had the privilege of painting the official portrait of none other than the former President of India, Pratibha Patil, has every reason to preen.
---
SPORTS
David on the field, Goliath off it
Even as poster boy David Beckham walks into the sunset, Brand Beckham is still alive and kicking
Vaibhav Sharma
Wearing his Paris Saint Germain jersey, as a teary-eyed David Beckham walked off the field after announcing his retirement from professional football, it did cut a rather moving picture. The players hugged him, and a packed Paris crowd gave him a standing ovation. Just nine games played, but it was David Beckham and Paris had been in love with him even before he had arrived.
"Taekwondo is not fashionable"
Taru Bahl
Pilates, gymming, even yoga have managed to be in any young girl's daily regimen, but not taekwondo, which is considered unglamorous, laments Grandmaster Rachana Chaurasia, Asia's first woman to be awarded Taekwondo's 6th Dan Black Belt by the International Taekwondo Federation, Austria.
---
Society
Come, meet the parents
Aditi Garg
Kids will be kids but parents can be a lot of different things. Every kid is different and unique and calls for a tailor-made mode of parenting. Even in the same house, with the same parents, different kids behave in totally opposite manners. While kids are different, parents stick to a particular style of parenting which makes it work for the benefit of some and acts as a disadvantage to the others.
---
Travel
The lure of sakura
From March-end to the beginning of April, Kyoto, like most of Japan, is swathed in cherry blossoms. Apart from the natural beauty, the city is also blessed with historical and cultural heritage
Swati Maheshwari
THE beauty of the cherry blossom (known as sakura in Japanese) season from end of March to the beginning of April makes Japan one of the top tourist destinations in the world. Though these flowers make a brief appearance, roads lined with sakura trees are a dazzling sight. Not surprisingly, this time is peak tourist season.
---
Entertainment
The Indian Adonis
Bare-bodied men with rippling muscles and gleaming chests are in. The sexy males of Bollywood have taken centrestage
Shoma A. Chatterji
WHAT do Ranveer Singh, Siddharth Malhotra, Varun Dhawan and Ranbir Kapoor have in common other than the fact that they are hot, hep and sexy? Turn over girls, the boys are coming and how! Ranveer Singh is flaunting a leaner frame and chiselled abs for his forthcoming films — Ram Leela, Lootere and Gunday. He came out of the swimming pool with his bare body in full display in Student of the Year.
'Aurangzeb has been a great learning experience'
From the small-town back alleys in Ishaqzaade to the power lobbies of urban areas in his recent release Aurangzeb, Arjun Kapoor has been cruising ahead
Swati Rai
From being a debut actor last year to a double role in Aurangzeb, how has the journey been?
When people compare Ishaqzaade to Aurangzeb, they will notice the difference in the roles that I have essayed in the movies. It would be unfair to say that in both of them I have played the role of a youth who is angry at the system or depicts the angst of the youth.