M A I N N E W S
Punjab woos industry with tax sops
Sukhbir's new policy targets big-ticket projects, IT industry, food processing units
Jangveer Singh/TNS
Chandigarh, June 3
After several false starts since 2009, the Punjab Government on Monday came out with an industrial policy that goes with Deputy Chief Minister Sukhbir Singh Badal's philosophy of "kamayo te khayo" (earn and live). The policy, which comes about 15 months after the SAD-BJP government returned to power, seeks to incentivise industrialists based on their production by allowing them to retain a major portion of VAT (value added tax) and CST (central sales tax) for periods ranging from seven to 13 years depending on the size of their investment.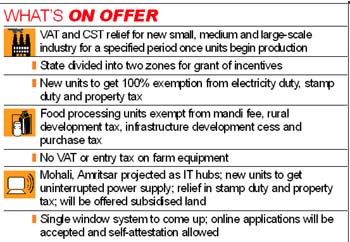 The policy, which favours big-ticket projects besides the IT industry and food processing industry, is applicable to small industry also with the concessions open to anyone investing more than Rs 1 crore in the state. However, the existing industry has been kept out of the policy.

Sources said the government was under pressure for the past one year to come out with an industrial policy. The SAD-BJP government failed to attract much investment during its last tenure despite a special industrial policy being announced in 2009.

Earlier initiatives to attract investment in Punjab have failed because of high land cost, unreliable power supply, lack of focussed planning as well as incentives given to hill states of Jammu and Kashmir, Himachal Pradesh and Uttarakhand.

Since the government did not offer cheap land to industrialists, a concession offered by Gujarat and Madhya Pradesh, or give direct sop due to a tight financial crunch, it has gone in for forgoing taxes for a certain period.

Deputy Chief Minister Sukhbir Badal announced the new policy was a "win-win" situation for both the government and industry.

He said industrialists could earn their incentives while the VAT pool of the state would increase even after industrialists retained a portion of the tax.

The slabs allow small industrialists investing Rs 1 to 10 crore to retain 50 per cent of VAT and 75 per cent of CST for seven years, and the highest category of investor putting in more than Rs 500 crore to retain 80 per cent of VAT and 75 per cent of CST for 13 years.

Sukhbir said his focus was on granting incentives, making a standard procedure for the same and facilitating the process.

"There has always been talk of a single window system but in reality we have hundreds of

windows", he said adding now single window clearance would mean single window.

New investors can now upload their applications online, submit self-attested documents and get clearances through a new nodal department, which will decide everything after coordinating with other departments. The entire process is likely to take 15 days. He claimed the new policy would "revolutionise" the industry in Punjab. He claimed the industry was already excited by the "innovative" idea and that it was his own model and not copied from the Gujarat. The state plans to hold an investment summit to attract investment.

The new policy is expected to be notified in a month. The government is also moving to circumvent the biggest problem of lack of land. Sukhbir said he had directed the PSIEC (Punjab State Industry Export Corporation) to create a land bank of 5,000 hectares which could be offered to new investors.