The ground floor apartment that Parul and Sidharth bought last year in Gurgaon came equipped with the best bathroom and kitchen accessories, polished granite flooring, cupboards made from the finest mahogany wood and exquisite light fixtures. It was a dream house for any family. Sidharth was happy with the apartment yet he knew there was one crucial thing missing — a bar to flaunt his fine selection of wines and single malts.
Though he displayed his liquor bottles and stemware on a sideboard but that wasn't the same as having a home bar. The blank corner of the drawing room was inviting enough for him to start thinking. He called in an interior designer who showed him a coffee table book displaying various designs for bars. Each one a standout piece of craftsmanship — some brassy and dazzling, others woody and subtle.
"A bar in the drawing room should be subtle and sophisticated," explained the designer. "It should draw attention for its delicate style and not for its garishness. It should give a "homely" feeling where the host and guests can truly enjoy and relax."
Conversation piece
Like Sidharth, a number of people are seeking the help of specialists to liven up their drawing rooms with a home bar that not just reflects class but also becomes an instant conversation piece.
According to designers, the first thing to decide is the kind of home bar that suits your style. There are the elaborate ones that replicate hotel bars complete with a wash basin, a refrigerator and a wine cooler. Apart from a display of fine liquor bottles, such a bar would also have heirloom decanters, glasses, cocktail shakers, storage cabinets, and even some funky lights.
But such bars are generally not very suitable for the house as these are usually big, and too commercially detailed for aesthetics. Says interior designer Jose Menon, "A home bar should be elegant and enhance the décor of the drawing room. Invest in basic equipment, stock up on essential liquors, and you can have a spread that will impress your friends and family."
Types of home bars
There are several types of home bars to suit all tastes and styles. The simplest one is a rolling cart that can be placed or rolled to any part of the drawing room. It holds a few bottles of liquor, some cocktail glasses and an ice bucket. Then, there is the stationary bar with a flat serving area where the host or bartender stands on one side while the guests stand on the other. It is around three feet high and has drawers and space for bottles. It can be designed like a sideboard or come in a semi-circular shape.
There are home bars with backs mounted on the wall fitted with a mirror and a decorative shelf for the display of bottles and stemware. Some are simple but elegant bars with their back to the wall. These serve as storage shelves with a working area on top.
The 1920s liquor cabinets, too, are back in vogue in a big way and now come in various shapes and sizes complete with bar stools and built-in fridge or chiller. And finally, there are the huge trunk bars or folding bars, which can be closed like a trunk when not in use.
Essential liquors
Once you have selected the style you want, the next essential part is the liquor and there are some must-haves here. Apart from the versatile variations of basic whiskey, vodka, rum and gin, you must show your style with a single malt, a classy bourbon and a bottle each of red and white wines. If you are expecting more wine drinkers, keep a variety of wines and champagnes. If you like cocktails, you must also have tequila, cointreau, vermouth and sweet brandy.
Glass & stemware
The next important part of the bar is the stemware and glasses. Glasses do matter when it comes to wine. You must stock your bar with tulip glasses, flute glasses, martini glasses and a host of others that are suited for different kinds of liquors, wines and cocktails. These glasses bring out the best qualities in drinks. Remember to offer your guests their choice of drink in the right glass shows your knowledge and panache.
Wine essentials
When you stock up wine, can accessories be far behind? That's because the true flavour of fine wine will froth over only if it is served in style. And that is possible with special accessories like a good quality corkscrew to open wine, a foil cutter, drip collar, aerator, pourer, decanter, cork trivet kit, bottle stoppers, bottle tags and the two most vital accessories — a wine rack and a wine chiller.
Other bar accessories
Once you have your liquor, glassware and wine essentials in place, you would still need many more accessories for a complete bar. For one, you would require a good shaker for cocktails, an ice bucket and a steady supply of tonic water, sodas, colas and a variety of juices to make drinks like bloody mary and cocktails like Singapore sling, screwdriver and mai tai.
When you have all essential stuff in place, you will finally have a home bar that will be warm and inviting and associate you with style panache and sophistication.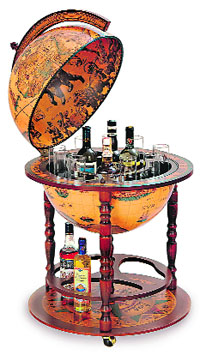 Globe bar
A very popular western design for a home bar, this 16th century Italian globe bar with designs of nautical maps from the National Museum of Science, Florence, it opens up from the middle to show hand-painted interiors, which have secure places for bottles and glasses.
Price: Starts from Rs 10,500
Wine rack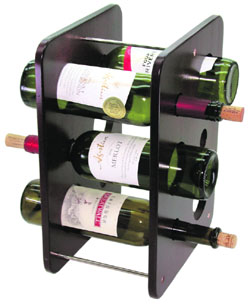 For wine lovers, there can be nothing more pleasing to the eye than a display of their collection of wines of different vintages. Wine racks come in different shapes and sizes. However, these two wine rack ideas go to prove that simplicity has its own appeal and attractiveness.
Price: around Rs 5,000
Retro Champage cooler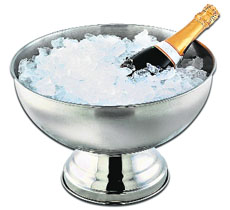 Though there are modern-day chillers that do the job but a good, old-fashioned way of chilling Champagne and wine is both romantic and harks back to the unhurried pace of life in the heady 1950s. Add some retro charm to your bar with a fine quality crushed ice cooler.
Price: Rs 4,000 onwards
Classic home bar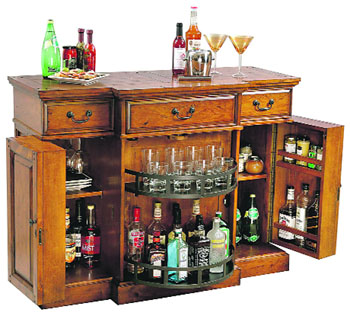 The classic home bar style has never gone out of fashion ever since it first made its appearance at the turn of the last century. Over a century later, it is one of the most preferred styles and clocks brisk sales. Besides looking great, it has ample space for bottles, glasses and other bar accessories.
Price: Rs 15,000 onwards
Wine chiller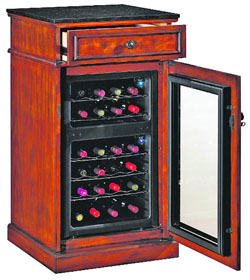 Wines are known to develop their full flavour when these are at the right temperature for drinking. One of the most important and stylish bar accessories for people who love their bubbly is the wine chiller, which is essential to maintain the right temperature of wine bottles.
Price: between Rs 20,000 and Rs 100,000
Home bar essentials
Apart from a well-stocked bar, you would require the basic tools that show your style. Consider gadgets like a jigger for measurements, a cocktail shaker and mixing glass for shaking and stirring, corkscrew, strainer, channel, reamer, bar spoon, knife, jigger and a muddler for crushing.


Price: Rs 2,000 onwards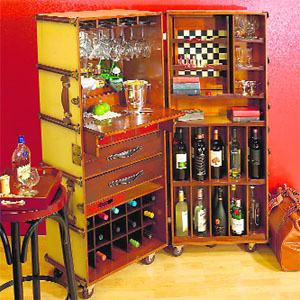 Foldable trunk bar
A very attractive bar, it comes in the shape of a foldable trunk with a wine rack, and ample space for bottles and stemware. There's a workstation to make drinks, mix cocktails and lace the ice bucket and mixers and shakers. It can be folded and locked when not in use.
Price: Rs 25,000 onwards
Festive spirits

A bar signifies celebration and good times. Stock it up with spirits that are associated with festivity. The first one that comes to the mind is a bottle of Champagne, besides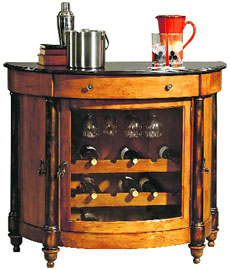 white, red and sparkling wine. Be sure to have a knowledge of terms like aging, aroma, in-mouth sensation and aftertaste of the bubbly.
Price: Rs 2,500 onwards
Basic home bar
The design of a basic home bar can be quite eye-catching if it is done with a bit of imagination. It can be straight, semi-circular with space for wine and other liquor and glasses and stemware. The top can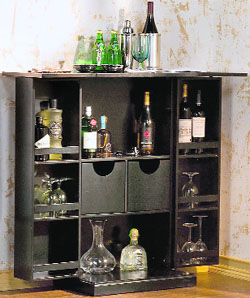 be made of marble and can be used as the working area.
Price: Rs 12,000 onwards
Back to the wall bar
Though this is a simple design for a bar but the end result is stunning. The elegant bar that is pushed back to the wall has ample space for bottles, glasses and other paraphernalia. It is not just a bar but also a decorative piece of furniture that enhances the look of the drawing room.
Price: Rs 8,000 onwards