LIFE+STYLE

CHANDIGARH

LUDHIANA

BATHINDA

JALANDHAR

AMRITSAR TRIBUNE

JALANDHAR TRIBUNE

BATHINDA TRIBUNE

JAMMU TRIBUNE

KASHMIR TRIBUNE

DELHI

DEHRADUN

DEHRADUN PLUS
'Killer' cop stabs UT inspector to death
Was on run after Sonepat double murder
Chandigarh, June 8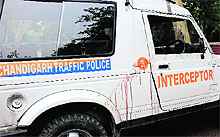 A fugitive Chandigarh Police constable brutally murdered an inspector and critically injured a home guard volunteer opposite the Sector-17 police station in the early hours of today.
Chandigarh Police Inspector Sucha Singh was murdered in his official vehicle on Saturday. Tribune photo: Manoj Mahajan


special to the tribune
Obama-Xi talks focus on cybersecurity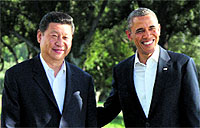 Cybersecurity was at the top of the agenda in talks between US President Barack Obama and his Chinese counterpart Xi Jinping in California on Friday and Saturday.
Barack Obama with Chinese President Xi Jinping at the Annenberg Retreat in California. AP/PTI

Child kidnapped from Golden Temple complex
Amritsar, June 8
A three-year-old child was allegedly kidnapped from the Golden Temple complex late last night. The boy, Gurmilap Singh, was sleeping with his family, which belongs to Ferozepur, when he was kidnapped by an unidentified woman. The victim's father Manjit Singh, who was in a state of shock, refused to talk to the media. (Details on Punjab page)
OTHER PAGES

HARYANA: Priyadarshini Awas Yojna launched


HIMACHAL: DCs to probe sale of flats by Himachalis


CHANDIGARH: Cop's murder leaves UT police red-faced

LUDHIANA: Two bookies arrested


DELHI: Baseless charges defame city: CM


Business:

iGate's ex- CEO Phaneesh Murthy removed from board

OPINIONS: As China builds on border, policy potholes block India


NATION: Compensation for colonial oppression: Jallianwala Bagh on agenda?


SPORTS: Serena overpowers Sharapova

WORLD: Drone strike: Pakistan summons US envoy



The tribune guide to best colleges

Budget
2013-14

INDIA CHINA WAR 50 YEAR LATER

YEAREND SPECIAL: 2012

Year of survival

The tribune 130 years
a witness to history
book released by prime minister manmohan singh

Guide to best colleges

Results of Punjab Assembly Polls 2012

HIMACHAL VOTES 2012

EARLIER FEATURES
Centre sends back Punjab's Rs 186-cr scholarship proposal


Wants state govt to spell out exact number of SC beneficiaries


Payouts pending since 2011-2012
Chandigarh, June 8
The Union Ministry of Social Welfare has sent back a Punjab Government proposal seeking Rs 186.74 crore for scholarships to scheduled caste students in post-matric courses. It has told the state to provide the exact number of beneficiaries in all courses, instead of a figure based on "rough calculations".

NCP in revamp mode, Pawar tells all ministers to resign
Mumbai, June 8

The Nationalist Congress Party is all set for a major revamp with party chief Sharad Pawar asking all his Central and state-level ministers to submit their resignations. Pawar called a meeting of all party leaders, including office-bearers and ministers, on Friday evening where they were asked to submit their resignations. Several ministers told reporters that draft resignation letters were already prepared and their signatures were taken as soon as the meeting commenced Friday evening.
Not compromising personal info, say Google, Facebook
New Delhi, June 8
Amidst an uproar in the US over the government secretly tracking information on foreigners from Internet firms, Google and Facebook have categorically denied their participation in such a project. Both the US-based technology giants said that their organisations were not aware about the PRISM programme until it hit headlines.

Nod to Amritsar-Kolkata industrial link
June 8, 2013
Kundra placed IPL bets: Police
June 7, 2013
Opposition CMs reject anti-terror body despite amendments
June 6, 2013
Cabinet nod to real estate regulator
June 5, 2013
Punjab woos industry with tax sops
June 4, 2013
Srinivasan steps aside, Dalmiya called back as interim BCCI chief
June 3, 2013
Shukla resigns as IPL chief, Srinivasan's exit imminent
June 2, 2013
Pressure mounts on Srini as two key BCCI members quit
June 1, 2013
The new gold rush
May 31, 2013
Pressure mounts on BCCI chief to go
May 30, 2013