ENTERTAINMENT

FOOD TALK

CONSUMERS BEWARE!

FITNESS MANTRA

GOOD MOTORING

LIFE'S LESSONS

MUSIC ZONE

FRUIT FACTS

GLOBETROTTING

BROADBRUSH

TELEVISION

WEBSIDE HUMOUR

CROSSWORD

WEEKLY HOROSCOPE
EARLIER FEATURE

CHANNEL SURFER

ULTA-PULTA

GLOBOSCOPE

GARDEN LIFE

FASHION

BRIDGE

NATURE
Colourful enigmas of Corbusier's Capitol
An exploration of enigmas, symbols and colours of Le Corbusier's Capitol in the 125th year of his birth reveals interesting facets
Rajnish Wattas
Man needs colour to live; it is just as
necessary an element as water or fire
— Fernand Leger
If Robert Langdon, professor of symbology of the Hollywood blockbuster Da Vinci Code, was to visit Chandigarh's Capitol (usually called Capitol Complex), he would have plenty of work. Langdon would be busy decoding Chandigarh's "crowning glory," replete with enigmatic monuments, bas-reliefs, colours, symbols and cryptic signs.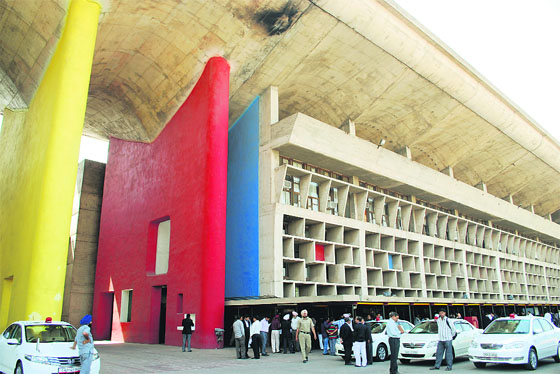 Lofty pylons in rough concrete painted in primary colours at the entrance of the Punjab and Haryana High Court photo by the writer
---
Arts
Moral tales in painting
A range of themes has been covered in the illustrations of verses of the 14th century Sanskrit text, Sharangadhara Paddhati. These include sayings on kama, artha and dharma, besides mundane matters such as omens, portents, horses, swords, gardening and agriculture
The riches that India had, or created in the past, in terms of didactic but vastly entertaining literature seem to have been incalculable. Great texts — the Panchatantra, the Hitopadesha, the Dashakumaracharita, the Tantrakhyayika, the Kathasaritasagara, even the Jatakas, to take some examples — emerged from this land and went round the world in one form — avatar might be the more appropriate term — or another. These were freely borrowed from, translated, transformed: one thinks thus of Aesop's Fables, the KalilawaDimna, the Anwar-i-Suhaili, and the Fables of Bidpai.
---
FITNESS
Sugar free but not disease free
Do artificial sweeteners and diet sodas help to reduce weight? Many studies suggest the contrary. The widespread use of these seem to be linked with the growing epidemic of obesity and diabetes
Diet sodas offer a convenient option to high-in-sugar soft drinks and other sugar-laden beverages, especially for those trying to lose or manage their weight, diabetes or generally reduce their intake of sugar. Carbonated water, low-calorie sugar substitutes, flavours, caffeine, citric and phosphoric acid are the main ingredients in most diet sodas.
HEALTH CAPSULES
5 daily cups of coffee may cause obesity
Drinking five cups of coffee a day, even decaffeinated, may lead to obesity and chronic disease, warns a new study. The study found that five cups doubled the fat around organs in the abdomen — a type of fat that causes deadly conditions. A compound in coffee known as Chlorogenic Acid (CGA) was thought to have health benefits, like preventing diabetes, but the study found too much of it may cause a build up of fat and other health problems.
---
Society
Saving the Asiatic lion
All visitors to the reserve can savour the moments before the crack of dawn in the Gir when silence is all pervasive, and the sudden first roar of the Asiatic lion evokes unique primordial emotions of awe
Lieut-Gen (retd) Baljit Singh
Wildlife enthusiasts in India awoke to the cheery news on April 16, 2013 that the Supreme Court allowed translocation of Asiatic Lions from Gujarat to Madhya Pradesh saying the species faced the threat of extinction and needed a second home. It gave the wildlife authorities six months to complete the process. The sole surviving population of approximate 300 of this species inhabiting the Gir, had sprung from one common bloodline of 20 odd animals, starting in 1901.
---
Travel
Escape to a green land
Nestling in the foothills of the Himalayas, the Neora Valley National Park is a haven for wildlife enthusiasts and shutterbugs
Somen Sengupta
For a nature enthusiast an unknown place with pristine beauty is a dream destination. Kolakham, which even a Google map takes time to find, is one such destination. It is a small village in Kalimpong, Darjeeling. Nestling in the Himalayan foothills, Kolakham is a unique forest reserve, a haven for eco-biological students and wildlife photographers.
---
Entertainment
Mother-in-law gets a makeover
From being the vicious scheming mother-in-law always conniving to upstage her daughter-in-law, the new-age mom-in-law has come a long way to become the darling of television
Surekha Kadapa-Bose
Whoever said change is constant was surely watching telly soaps. Gone are the black and white characters. Age-old characters and their equations are changing reflecting a paradigm shift in familial relations. Daily soaps on small tubes have definitely moved on.
Beyond boundaries
The movies of Bengali filmmaker Rituparno Ghosh, who established himself as one of the best directors in contemporary Indian cinema, broke all geographical and linguistic barriers
Shoma A. Chatterji
Rituparno Ghosh, one of the most outstanding contemporary filmmakers in India who received international recognition and awards, passed away in his sleep of a heart attack at his Kolkata residence last week. He had just completed his new film Bomkesh starring filmmaker Sujoy Ghosh as detective Bomkesh Bakshi. His documentary on Rabindranath Tagore is yet to be premiered.