Lifting the bar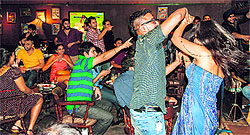 You would agree to us calling it a revolutionary invention. The lightness in the air, the whiff of casualness, the chill of drinks; the loud noises often lost in the musicÖa pub spells the attitude Ďtake-it-easy-broí loud and clear. In case you havenít been a part of this casual fun and relaxation, just zero-in on these pubs and take your pick.
Peddlers
Brothers in music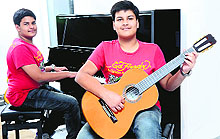 For twins Eash and Eashan Goyal, western classical music is their forte; while Eash plays the piano, Eashan plays the guitar. The twins have been featured in the Limca Book of Records 2013 and the India Book of Records 2013 for their achievements. Adding one more feather to their cap, they have recently been acknowledged as the Youngest Asian Twin Brothers to perform western classical music by the Asia Book of Records.
TWIN MELODY: Eash and (right) Eashan Goyal

I confess!
To confess something is to stop running from the truth and face the reality, whether itís a feeling or something you did. Itís difficult to truly confess. Or is it? The recent trend of confessions on social networking site Facebook has given it a whole new dimension and made it all the more interesting.
TRENDSETTER
Cool comfort
She wants to be in the league of the who's who that dictate fashion. Trends for her is something to study and follow suitably. Tanvi Arora, a student of fashion designing at SIFT, gives her take on fashion.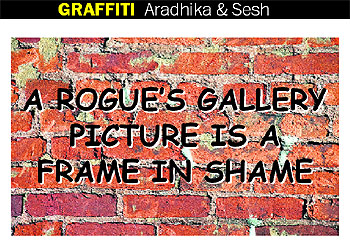 Doc Talk
Sun block
Our skin is our shield against the environment. When excessive temperature threaten to overheat our body, our skin protects the delicate inner organs and maintains a steady body temperature. However, in the process it bears the brunt of the heat and gets sunburned, tanned, wrinkled, blemished or damaged. Learning to protect the skin in the summer is thus very important!
chatter BOX
Rocking the dance floor
This weekend on India's Dancing Superstar, viewers will witness the other six contestants who will make their way to the final top 12.
Astro turf
ARIES: The day will be somewhat tricky for relationships, so avoid getting into confrontations. The focus of the day will be handling your finances and not letting them run out of control. Tarot message: Don't do anything at the cost of health. Lucky colour: Red. Lucky number: 41.
star track
Ranveer, Anushka are friends now?
If sources are to be believed, Bollywood actor Ranveer Singh and actress Anushka Sharma are no more at loggerheads with each other.