Transforming learning through social media
Harender Raj Gautam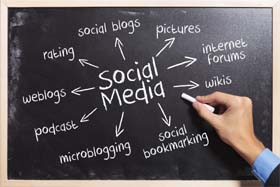 Social network tools support educational activities by making interaction, collaboration, active participation, information sharing and critical thinking possible. — Thinkstockphotos
EDUCATION is always evolving to find the most efficient and culturally relevant ways to enlighten students. The power and versatility of social media has prompted many educators to experiment with its usefulness.
It has been proved in the fields of psychology and linguistics that the process of storing information or vocabulary in human mind is determined by the nature of the psychological state of the recipient. This idea is also supported by the Greek philosophy of Aristotle in the theory of knowledge, which emphasises on the need to use some form of entertainment during the process of giving lessons. Hence, social media sites will be useful tools that can start a revolution in the field of education if we have the ability to control them to suit our requirements.
Social network tools support educational activities by making interaction, collaboration, active participation, information and resource sharing and critical thinking possible. Social media has certainly provided the educators a new way to communicate with the students and the faculty. As it has become a staple hobby of our young generation, there is a wide scope to use the space within these sites to communicate with students in a more innovative and interactive way. Social networking has spread around the world with remarkable speed. In countries such as Britain, the US, Russia, the Czech Republic and Spain, about half of the adults now use Facebook and similar websites.
According to a recent survey by the Internet and Mobile Association of India, about 84 per cent of all young men (2.4 crore) and 82 per cent of college-going students (1.5 crore) and 68 per cent of school-going (1.5 crore) kids in our country have access to social media. The survey indicates that there are 224 million computer literate people in our country. Further, there are 150 million Internet users. Among the total Internet users, 72 per cent have access to social networking. Facebook virtually dwarfs all other social networking sites in India, with 97 per cent (5 crore) of active Internet users accessing the site. This is followed by Google Plus (34 per cent), LinkedIn (17 per cent) and Twitter (14 per cent).
The dramatic growth of social media like Facebook, Orkut, Twitter, YouTube, blogs and Wikis opens new opportunities to engage students. The educational potential of online social learning networks is mind-boggling. Facebook groups, fan pages, discussion boards, tweets, etc., can be used to illustrate concepts, answer questions, share lesson plans, create polls, publish announcements, coordinate due dates, post links to extra learning resources, upload demonstration videos and motivate discussions so as to facilitate active and deeper learning.
Other applications such as Notes, Wikimono, Share Homework, Courses, Podclass, etc., provide highly engaging and fun-filled learning experiences that reflect real-world skills. Then there are education-oriented social networking sites like Edmodo, Schoology and Ning, where educators can even create their personal learning networks. Educators can upscale their teaching skills on the sites like Classroom 2.0, 4Teachers,EDU4DRR, Promethean Planet, ProTeacher Community, TeacherLingo, We the Teachers and Ning. Simultaneously, there are sites like Blackboard, Box.net, Cramster, Del.icio.us, Ecto, Edu2.0, Edublogs, Google Docs, WikiEducator, Zumeo, Social Media Classroom and TeacherTube, etc., where a teacher can connect with students to give lessons or for interaction.
Sites like Piazza and OpenStudy have taken educational social networks into the 21st century, but social networks for K-12 classrooms have been much trickier to implement. Edmodo is one company that's coming up with solutions. It has developed a platform that allows teachers to create closed networks for their classroom by giving students a private invitation code. In countries like the US and the UK, colleges and universities using these modern tools have found that social media enhances the learning experience by enabling students and teachers to connect and interact in new ways beyond the classroom.
Social media can also provide students some degree of informal learning through informal communication, support for collaboration, feedback on thoughts and collaboration independent of space and time. Similarly, it can help teachers in gaining feedback from students and keep constant communication with them. In the beginning, its role may be restricted to higher education as social media has more penetration in urban areas. The social networking is easy and quick in term of accessibility of academic resources and further its reviewing, updating and editing at anytime and anywhere. In addition, it allows for option to select learning materials from large quantity of courses offered online which the learner needs, and it also makes easier distribution of syllabi of a particular course.
Social networking helps to reduce stress and increase satisfaction among students. It allows each student to study at his own pace and speed (self-pacing). Furthermore, it is easy to join bulletin board discussion anytime, or visiting classmates and instructors remotely in a chat room. It can help increase retention of subject contents, as social media sites provide many elements which exist under e-learning, e.g., multimedia, quizzes, interaction, etc.
Students can use social media to create a strong personal brand to further his career prospects but, sadly, most youngsters limit their accounts for personal use. As human resource professionals are increasingly turning to social networking websites to scout for the talent, it is vitally important for a person to create a better personal brand. Apart from teaching, social media has also a great role in the admission process. In the US, approximately 10 per cent of the top 500 schools use social media accounts of the candidates to make decisions on selections.
There are some obstacles also which one can encounter while using the social networking as an educational tool. In our country, computer literacy is very low, as only 3 per cent of our homes own personal computer. However, the Union Government plans to provide broadband Internet connectivity to 2.5 lakh gram panchayats in our country by mid-2014. Privacy and ethics while using the Net and miscommunication are some other challenges. But social media is just a way of communication and educators need to be the role models while using this innovative communication tool.
The writer is Senior Scientist at Dr Y. S. Parmar University of Horticulture and Forestry, Nauni, Solan