M A I N N E W S
GameShame

BCCI suspends Kundra; lists clean-up measures
MS Unnikrishnan/TNS

New Delhi, June 10
Rajasthan Royals' co-owner Raj Kundra was provisionally suspended pending further inquiry into his alleged involvement in betting during IPL matches at a BCCI working committee meeting here today. The board also spelled out a string of measures to restore the credibility of the IPL.
BCCI interim president Jagmohan Dalmia said the action on Kundra was based on newspaper reports, his 11-hour grilling by the Delhi Police and IPL CEO Sunder Raman's report.


No cheergirls, after-match parties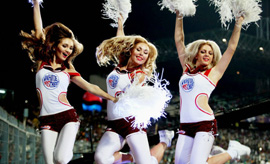 The BCCI has decided to bar cheerleaders from IPL matches. It has also banned after-match parties for players and support staff. From now on, the players, support staff and owners will have to follow a strict code of conduct
Key decisions

Internal probe report to be sent to disciplinary committee; 3 RR players to be issued show-cause notices

Two-member panel comprising retired HC judges to probe spot-fixing, not three

A slew of measures to cleanse IPL of fixing and 'sleaze'

Appointment of Sanjay Patel and Ravi Sawant as new BCCI secretary and treasurer, respectively, ratified

Former board secretary Niranjan Shah removed from disciplinary committee
"Raj Kundra has been suspended pending inquiry from all cricketing activities," Dalmia announced after the meeting.
Dalmia said the BCCI's internal inquiry by Ravi Sawani, head of the anti-corruption and security unit, on the spot-fixing scandal involving three Rajasthan Royals players - S Sreesanth, Ashok Chandila and Ankeet Chavan - was complete and would be forwarded to the board's disciplinary committee. The players would be issued a show-cause notice, though any action against them would be decided only after giving them a personal hearing when they come out of judicial custody, he added.
The emergency meeting was convened in Delhi after the Delhi Police claimed Kundra, holding 11.7 per cent stake in Rajasthan Royals, confessed to betting in IPL matches, mostly involving his own team.
Other major decisions taken during the meeting included the ratification of the appointment of new BCCI secretary Sanjay Patel and treasurer Ravi Sawant, and N Srinivasan's resignation from the BCCI disciplinary committee. Srinivasan was forced to step aside to facilitate an impartial inquiry into the spot-fixing and betting scandal involving his son-in-law Gurunathan Meiyappan.
Former board secretary N Niranjan Shah has also been removed from the disciplinary committee.
Dalmia said a two-member panel, consisting of retired high court judges Justice R Balasubramanian and Justice T Jayaram Choute, would probe the fixing scandal as no replacement for Sanjay Jagdale, who had resigned from the probe panel, had been named. He said no time-frame had been set for the panel to submit its report.
While the representative from Karnataka demanded stringent action against Rajasthan Royals, the move was dropped when Punjab Cricket Association president IS Bindra sought action against Chennai Super Kings.
Bindra questioned Dalmia's authority to conduct business, but when Sawant quoted the relevant BCCI rules giving authority to Dalmia to discharge the day-to-day affairs of the board till Srinivasan was cleared of the charges against him, Bindra's protest got a quiet burial.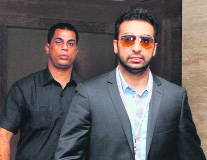 A file photo of RR's co-owner Raj Kundra in Chennai. The BCCI suspended him pending inquiry on Monday.

With Srinivasan keeping away from the meeting, Dalmia was in full control and his words prevailed, as it was decided to cleanse the IPL of "sleaze" by banning cheerleaders and after-match parties.
He said the views of players and states cricket associations would be taken as part of measures to cleanse cricket of "sleaze" and corruption.
Henceforth, entry to dug-outs and dressing rooms of players will be restricted; cell phone numbers of players will have to be forwarded to the BCCI; and their phones will be deposited with the board before matches.
The BCCI will frame a strict code of conduct for players as well as officials, and the franchisees will have to disclose their funding and payment pattern to players and officials. Further, no national selector will be allowed to be a part of any franchise or organisation. Players from now on will be prohibited from using ear plugs and microphones on field.
Dalmia said the action against Kundra was "not to frighten anybody" but to keep proper checks and balances in the activities of players, officials and franchises.
Dalmia said he had taken note of Indian captain MS Dhoni's association with a sports management firm. But he asserted that "we are not going to haunt anybody". "We are looking into it," he stated.


I've been made a scapegoat, says Kundra
New Delhi: Rajasthan Royals co-owner Raj Kundra on Monday expressed shock at BCCI's decision to suspend him saying he was being made a "scapegoat" by people in powerful positions. "I am shocked and upset at the unilateral decision taken today by the BCCI and will fight the grounds of suspension," Kundra said in a statement. "All sorts of accusations were made against me without proof, by people in powerful positions. It is sad that without accurate facts, I am being made a scapegoat and put under trial by the media based on unproved claims," he added. — PTI