Beware of "mouse" in the breast
Dr S.M. Bose
I am sure the readers must be taken by surprise to read this title. It looks funny and unbelievable but this is an accepted terminology to describe "fibroadenoma" of the breast, a commonly occurring benign problem.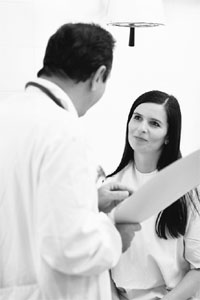 A swelling in the breast is commonly associated with breast cancer, but this is not always correct as 70 to 80 per cent of breast swellings/nodules are benign — noncancerous in nature. Fibrocystic disease of breast, fibroadenoma, granulomatous disorders are the common non-cancerous problems of female breast.
Fibroadenomas of the breast are swellings in the breast composed of fibrous and glandular tissue, usually seen in the child-bearing age. These are commonly seen in females but may be seen in males also. It is the most common breast tumour in adolescent women. Their incidence declines with increasing age, and, in general, they appear before the age of 30 years. They also occur in a small number in post-menopausal women.
Fibroadenomas are partially hormone-dependent and frequently regress after menopause. Fibroadenoma is commonly seen as a single solid swelling in any part of the breast, painless to start with, slowly grows in size and in a few cases it may take an enormous size, may even occupy the whole breast.
Higher intake of fruits and vegetables, a higher number of live births, use of oral contraceptives and moderate exercise are associated with lower frequency of fibroadenomas.
A small fibroadenoma slips under the finger and moves freely in the breast and that is why it is called "breast mouse".
A surgeon is able to diagnose fibroadenoma simply by doing a good clinical examination, but clear differentiation from cancer is essential. The following investigations are undertaken for diagnosis:
A. Mammography: This can be conventional one or can be undertaken by ultrasound. Ultrasound mammography, also known as sonomammography, is the procedure of choice in young females with firm breasts.
B. FNAC or core biopsy examination of the nodule is undertaken to confirm the diagnosis.
Management
1. A large number of fibroadenomas are left in situ and monitored by a doctor, or the patient in question. FNAC is often a reliable diagnostic investigation; many surgeons may decide not to operate to remove the lesion and instead opt for a follow-up to serially observe the lesion over time using clinical examination and mammography for its rate of growth. A growth rate of less than 16 per cent per month in women under 50 years of age, and a growth rate of less than 13 per cent per month in women over 50 years of age have been reported to be safe.
2. Saheli, a commonly used contraceptive pill in India, has been reported as a good treatment for fibroadenoma. It has shown good and safe results as compared to the drugs (danazole and bromocriptine) being commonly used. Further randomized studies are in progress to determine its definitive role for continued non-operative treatment for fibroadenoma of the breast.
3. Operative management: Fibroadenomas which are large in size or increasing in size or causing pain or have some doubtful features on FNAC are surgically removed. It is important to give a good cosmetic result as a large percentage of the patients being young women desire a good result. It is possible to give a good result in a large number of cases. The fibroadenomas are excised with a thin rim of normal breast tissue all around and the left-over cavity is obliterated by mobilising the surrounding breast tissue.
The excised specimen is sent for a pathological examination, and if the features show atypical cells or any other feature of pre-cancerous lesion, then it should be excised in toto.
4. A rapidly growing fibroadenoma should be excised as not only there is a possibility of it being phylloides tumour, but as it grows in size the surgical incision to remove it will be also longer and the cosmetic result may not be satisfactory.
Fibroadenomas have not been shown to recur following complete excision or transform into phyllodes tumours after partial or incomplete excision.
The following two procedures for the management of fibroadenoma of the breast have been undertaken recently in foreign countries (these are not yet used in India):
A. Europe recently recognised an alternative treatment what is called echotherapy. This uses high intensity focussed ultrasound to treat breast fibroadenoma. This method is non-invasive and relies on tissue heating to destroy fibroadenoma cells. Focused ultrasounds have been used for a long time in the treatment of different tumours such as prostate, liver or uterus, where they proved their efficacy. A French company, Theraclion, develops an echotherapy device for benign tumour treatment, especially breast fibroadenoma.
B. Cryoablation treatment: The FDA has approved cryoablation (the use of extreme cold to destroy any tissue) of a fibroadenoma as a safe, effective and minimally-invasive alternative to open surgical removal in the procedure, ultrasound is used to guide a probe into the mass of breast tissue. Extremely cold temperatures are then used to destroy the abnormal cells, and in due course of time the cells are reabsorbed into the body. The procedure can be performed as an outdoor procedure with local anaesthesia only, and it leaves substantially less scarring than open surgical procedures.
The following criteria to establish a patient as a candidate for cryoablation of a fibroadenoma have been recommended:
1. The lesion must be visible on an ultrasound examination.
2. The diagnosis of fibroadenoma must be confirmed histologically.
3. Lesions should be less than 4 cm in diameter.
The writer is a former Sr Professor and Head of Surgery, PGI.
Email: drsmbose@gmail.com