DU 4-Year Undergraduate Programme
Change of COURSE
The four-year undergraduate system introduced by Delhi University from the current session will have additional courses that will equip students with skills suited for a competitive job market. A look at what the students can expect in the new format
Usha Albuquerque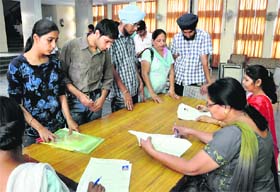 School board results are out and students are busy looking at college admissions. In this brouhaha uppermost in many students minds is the admission to Delhi University, the most sought after college education destination in northern India. Other than the usual anxiety of getting one of the 54,000 seats for study in any of the around 80 colleges at this prestigious institution is the current concern about the changes in the under-graduate programme. From this academic year the three- year under-graduate degree programme will now be a Four-Year Under-graduate Programme (FYUP) with additional courses aimed to better prepare students for the job market.
Changed scenario
So what is the difference and how do students benefit from this new programme?
To begin with, the new format replaces the three-year graduation programme in that the student has a choice of two subjects, a major subject along with a minor in another discipline for additional knowledge.
Other than the two subjects there will 11 Foundation Courses which are compulsory and which will give a broader inter-disciplinary learning perspective to the students.
There are also a number of application courses for each subject of choice which will help students to apply their learning in the job market. The new programme will continue to be semester-based and will have two semesters every year, totalling eight semesters in four years. The assessment system is also likely to remain the same.
The second revolutionary aspect of this programme is that the course offers several exit options. If you are unable to complete the course and decide to leave at the end of two years you will be given a Diploma for your two years of study. If you decide to leave after three years, you will get a Bachelor's degree, while at the end of four years you will be awarded a Bachelor's degree with Honours or a BTech degree.
Interestingly, any student exiting with a Diploma ( two years) or Bachelor's degree ( three years) can rejoin the course within 10 years and complete the Honours programme.
Degree awarded: Students can select any subject which will be their main or major subject for Bachelor's of Honours/BTech degree. All humanities, commerce and science, including applied sciences and mathematical science , subjects are covered in the Bachelor's with Honours, while technical subjects like computers, electronics or polymer science will lead to a BTech degree. Psychology has also been brought into the realm of the BTech which means that if you take up the study of psychology you will qualify with a BTech in Psychological sciences.
Major & Minor subjects: Students will study 20 papers of their major subject called Discipline I ( DC-I) through theory, methods and research based projects, and six papers in minor subjects of their choice called Discipline Courses-II (DC-II). An interesting part of the programme is that students, irrespective of their stream of specialisation, can choose from any of the inter-disciplinary options for their major and minor subjects. So a student of micro-biology can choose to pursue political science or history as Discipline II, while a student of English literature can choose to study physics, or even mathematics as a minor.
Foundation Courses: Students will also be doing 11 Foundation courses which will add to their understanding of the country and the challenges of the work place and help build communication, IT and data-analysis skills. The foundation courses consist of language, literature, and creativity (Hindi/language/English); information technology, business, entrepreneurship, and management; governance and citizenship; psychology, communication and life skills; geography and socio-economic diversity; science and life; history, culture and civilisation; building mathematical ability and environment and public health.
These courses are designed to strengthen the educational base of students with a greater understanding of the challenges facing India. Through lectures, group projects and class presentations, it is expected that students will acquire both knowledge and ability in the areas being addressed.
Application courses: From second semester onwards up to the fourth semester, there will also be four application courses (one per semester). The Applied courses are skill-based courses that will give practical knowledge which they can use in the work place. For instance, if a student chooses Bachelor's in psychology, he will also be taught papers in stress management, decision-making, effective leadership and competence in communication. Applied courses will be useful for students who exit after two years with a Diploma.
What will you be studying ?
Year I — The main subject Discipline Course-1 (DC-1) will carry 33 per cent weightage while the remaining 67 per cent weightage will be given to compulsory Foundation Courses (FC). At the end of Semester 2, you will start your minor subject, Discipline II which will have six papers spread between semester 3 and 8. In the first year you will also be taking up seven foundation courses or FC (four in the first semester and three in second) and 1 Applied course in Language (Arabic/Bengali/English/Hindi/Persian/Pubjabi/Sanskrit/Urdu).
Year II — In the second year, a student will continue the main subject or DC-1 which will now carry 34 per cent weightage alongwith minor courses or Discipline Courses-II (DC-II) with 16 per cent weightage. In addition, you will be further asked to take up smaller number of Foundation Courses carrying 34 per cent weightage. Also, two courses will have to be chosen from applied subjects. You will do four Applied Courses in the second and third years, with weightage of 16 and 20 per cent respectively.
Year III — Weightage for the major subject changes in the third year: The main subject will receive 60 per cent weightage and the minor subject (DC-II) 20 per cent. There will be no more Foundation Courses and 20 per cent weightage will go to Applied Courses. If a student exits after the third year, he or she carries a Bachelor's degree.
Final year — Finally in the fourth year, major subject or DC-1 will be taught in-depth along with research methodology and a student will have to write a short dissertation. Students will be expected to do research/ project work and make a presentation of their work which will be monitored and evaluated for both communication and writing skills.
This will carry 75 per cent weightage. The remaining 25 per cent weightage will go to minor or DC-II subject. This will result in a Bachelor with Honours degree or a B.Tech degree.
Getting in
To apply for admission you need to pick up an OCR form, along with a detailed information bulletin, available at Rs 100 at some of the colleges across the city. This pre-admission form, common to all colleges, asks for a candidate's particulars, the marks he has scored, and his preferred subjects and colleges.
You can mark your preferences for up to 10 courses on a single form. This form has to be submitted at the registration centres before the 19 June 2013.
For courses that require an admission test, such as the Bachelor (Honours) in Management Studies (BMS), separate forms will have to be submitted in the individual colleges. Separate forms are also required if you are applying for places in the hostels, or for the Extra –curricular quota (ECA) or belong to the reserved categories.
The colleges will announce their first admission list on 27 June, and if you have made it to the cut-off, you will need to pay the admission fees and reserve your seat before the second cut-off list is announced on 30 June, to prevent your name being struck off the list. If the seats for a particular course has not been filled, colleges announce a second list, and sometimes even a third list if they have empty seats still left in some courses.
All DU colleges reserve seats for students who have been proficient in sports and extra-curricular activities like music, theatre etc. at school and can then represent their college at various inter-college and inter-university competitions and functions. The cut-off percentage required for candidates applying through the ECA quota is significantly lower, but to avail of this quota you need to have participated in district or state level events. There are trials for sports activities and auditions for music or theatre at the different colleges.
There is much concern and consternation about the likely level of cut-off marks which has reached astronomical heights. For those students who cannot hope to compete with those figures there is some comfort in the fact that the new FYUP as it is being called will give you a range of skills that can be useful in the future irrespective of the college and course you choose.
— The writer is Director, Careers Smart, New Delhi
Pros and cons
There has been much debate and many protests from teachers and students who maintain that the courses have been devalued and arbitrarily structured, and the new programme introduced in an undemocratic manner.
However, for students embarking on a new phase in their lives, this is a change they will have to accept and adapt to. According to the Vice-chancellor, Prof Dinesh Singh, the major change in the new FYUP is the curriculum and teaching methodology which will enable students gain better job-oriented skills and improve their employability. "Students will get more time to invest on projects, innovation and research," he says. They will get ample space to think what they actually want to do. Theories will be more exciting and students will be given credit points for different papers along with co-curricular activities. Moreover, with the semester system in place, students have to study less as the study length has got reduced. They can focus on a particular discipline with greater depth and constant teacher-student engagement and evaluation, will result in better learning, rather than depending on one three-hour exam.