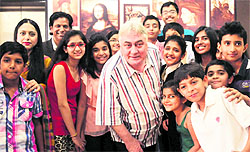 Nothing theatrical
Drama somehow finds its way into Barry John's school of thought, just as it has into his life; everything he does and who he is. "I'm too much of a nautankiwala," one of the reasons he's never considered films. "I've never enjoyed it. Just never felt comfortable with the medium." No wonder films never happened and theatre never suffered.
teaching act: Barry John strikes a pose with children at the Chitkara International School
The real touch
Disillusionment… at some stage in life, the word slips to the centrestage. While some dabble with it, some plunge into philosophical notes; a self-willed actor like Shilpa Shukla moves on when she finds it is like a pit-stop where she was able to find her strength. The Bindya Naayak of Chak De India is not bogged down by the requisites of stardom. All set for her release BA Pass, Shilpa talks about her characters in various films, which reflect her inner journey.
| | | |
| --- | --- | --- |
| Meher Chahal | Danish Gill | Atman Sandhu |
Clubbing the best
Spare the peculiarity of expression with which we epitomise the eternal fashion appeal of the 'little black dress'-a perfect outfit for the evening. It's a classic and we can swear by its evergreen appeal, which will never let it fade out of fashion. The latest fashion trends allow much scope for experimentation though. The timeless tip is-don't overdo it!
TRENDSETTER
Sporting an attitude
First thing you need to know about Jatesh Bassi is that he is a huge cricket fan. When he is not playing it, he loves watching it. Other that that, he loves travelling, exploring new places and cultures. He likes to style up with a dash of attitude. He loves to live every second of his life.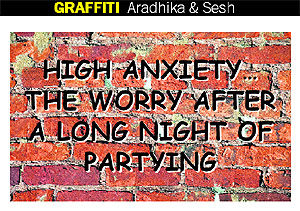 Sweet & sour
Sugar, spice and everything nice make for a perfect platter! And when in the most authentic form, the food becomes all the more irresistible. The famous multi-cuisine food chain 'Sugar n Spice' from Gujarat made its first foray into North India while opening its 12th franchise restaurant at Hotel City Heart Residency, Sector 22, Chandigarh.
Master Chef
All stuffed up!
Tacos have been a perennial favourite for their crisp taste and when they are combined with veggies they become wholesome and yummy. The beauty lies in the fact that the variety of vegetables that can be stuffed is large and we can experiment depending on what is available. Try this at home and enjoy the delight.
Pulpy delight
After successful completion of many events like Googly, Rampuri, Oktoberfest, Kashmiri, Sizzler food festival and Kebab & Biryani Food Festival, Hometel is now organising Mango Bahar Food Festival. The promotion is being organised at All Day Dining "Flavours" restaurant for both lunch and dinner. The beautiful ambience of the Flavours restaurant lends a perfect match to the multi-cuisine food offerings to its guest.
star track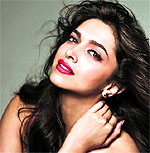 DP denies dating
From Om Shanti Om to Chennai Express, actress Deepika Padukone has come a long way. Deepika, who is currently shooting for Sanjay Leela Bhansali's Ram Leela, will be next in Chennai Express, opposite Shah Rukh Khan. She opens about her relationship with co-stars Shah Rukh Khan and Ranveer Singh. Read on.


Big leap: Deepika Padukone
chatter box
Stephen King's sci-fi drama
A 13-episode sci-fi drama from Steven Spielberg's Amblin Television based on Stephen King's best-selling novel of the same name, Under The Dome is all set to premiere exclusively in India on BIG CBS Love concurrent to the show's telecast in the US. What's more, the show's Indian premiere is a part of a global phenomenon as multiple countries are also ready to air show in the same week making it a true worldwide television event.
Astro turf
ARIES: Shopkeepers will find the day quite hectic. Actors are feeling very positive and optimistic. Housewives: a day to improve your home appearance. Tarot message: You have well-wishers who will lend some sound advice. Lucky colour: Pink. Magic number: 30.