M A I N N E W S
Zirakpur-Bathinda 4-lane highway project in jeopardy
Sarbjit Dhaliwal/TNS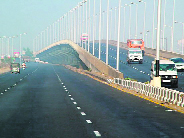 Heading nowhere Punjab wants contracts of the two companies allotted the work to be terminated

Chandigarh, June 14
The 2,500 crore project to four-lane the Zirakpur-Bathinda national highway is in jeopardy. The Punjab Government has written to the Union Government to immediately terminate the contracts of the two companies allotted work for the same.
The 215 km-long highway connects Zirakpur with Bathinda via Banur, Patiala, Bhawanigarh- Sangrur, Dhanula, Tapa and Rampura Phul.
Termed as Malwa's lifeline, the project was allocated to the two companies by the Ministry of Road Transport and Highways on March 12 last year. The project, with six toll posts, was to be constructed under the supervision of the state Public Works Department (PWD). One company was to undertake the four-laning work from Zirakpur to Patiala and the other from Patiala to Bathinda. This national highway (NH-64) needs to be widened urgently because of the high volume of traffic on the Zirakpur- Patiala- Sangrur and the Rampura Phul - Batinda stretches.
A Chief Engineer dealing with the project said: "Both the companies have not started work till date on the plea that the price of various inputs, such as sand, gravel, has gone up manifold since allotment and, thus, it is beyond them to undertake the work."
The companies cite "undue delay" in giving environmental and other clearances as another factor.
Sources said the Centre had given the environmental clearance and felling of trees along the highway had begun. In all, about 1 lakh trees would be axed.
A state government functionary said that the project was discussed at a meeting attended by Satish Chandra, member, Finance, National Highway Authority of India, VL Patankar, Additional Director in the Ministry, AK Srivastva, Chief Engineer in the Ministry, and AK Singla, Chief Engineer, PWD, Punjab.
"We informed the ministry officials to immediately terminate the contracts of the two companies as work on the project had been delayed for more than a year," Singla said.
To sort out the matter with the companies, a meeting was held in New Delhi in the beginning of May. The companies were told to deposit the performance security to the tune of Rs 125 crore with the authorities concerned by May 31. "However,the companies have not deposited the security till date," said Singla.
A decision on terminating the contracts is expected to be taken by the ministry next week. The entire process for alloting contracts will be followed afresh and will take at least nine months. Obviously, work on the project is not expected to begin before March next year.