Write way to go
Avinash Julka
The global demand for writing instruments has not dimmed. Limited edition luxury pens are emerging as the new lifestyle statement
Omas
Phoenix Platinum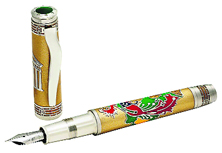 The Limited Edition Omas Phoenix platinum fountain pen in the shape of a truncated cone is a true embodiment of fine craftsmanship. Made with platinum and yellow enamel, it has a18K gold engraving nib and the custom-designed masterpiece comes in a precious wood case. Price: Rs 33 lakh
Montblanc
Mystery Masterpiece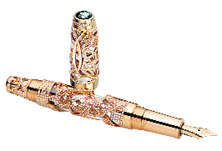 Montblanc's Mystery Masterpiece is a unique writing instrument. Studded with 840 diamonds and 30 carats of gemstones, the pen is the ultimate style statement and truly a jeweller's magnum opus. It is topped with a polished gem, and even the nib is made of 18 K gold. Price: Rs 4.015 crore
Prince RainierIII
Limited Edition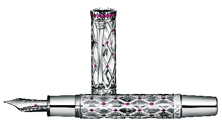 Give your handwriting a flourish with Prince Rainier III Limited Edition Pen. Created in the honour of Sovereign of Monaco, the elaborately-designed skeleton frame is studded with eight carats of lozenge-shaped diamonds and rubies representing the shield of the country's coat of arms. Price: Rs 1.43 crores
Montegrappa
Eternal Bird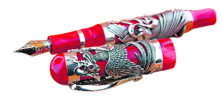 This pen is big value for big money. Montegrappa's Eternal Bird has been inspired by a Chinese painting from the 12th century. The overlay in 18k white or yellow gold covers the red celluloid body. The body sculpture is repeated on the nib and has an internal piston filling system. Price: Rs 19.58 lakh
Gherkin
Diamond & Gold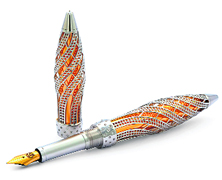 This masterpiece pen is shaped like the iconic Gherkin building of London. The Gherkin Diamond and Gold Pen is crafted from 18 carat white gold and is further complimented with 76 diamonds. Sold at the Harrods in London, it attracts a number of buyers despite a stiff price tag. Price: Rs 23.32 lakh
La Modernista
Diamonds Pen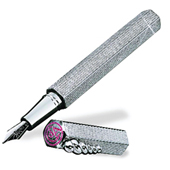 When it was first introduced in 2001, it went straight into the Guinness Book of World Records as the most expensive pens ever made. Though there may be more valuable pens now but the appeal of the La Modernista Diamonds Pen has not dimmed nor has the sheen of the 5,072 diamonds and 96 rubies encrusted on it. Price: Rs 14.575 crore
Montblanc
Boheme Papillon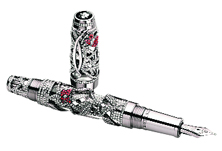 A spectacular themed limited edition writing instrument from Montblanc, the Boheme Papillon pen has been inspired by one of nature's most beautiful creations, the butterfly. The pen is set with 1,402 diamonds, and 37 sapphires totalling a breathtaking 0.21 carats. Price: Rs 1.265 crore
When he invented the capillary feed fountain pen 130 years ago, American engineer Lewis Waterman could not have imagined in his wildest dreams that the writing instrument would become one of the most important inventions after the wheel.
Waterman quickly capitalised on the enthusiastic public response by setting up production units in Canada and Europe. By the time he died in 1901, he was selling more than 3,50,000 pens annually.
Through most of the 20th century, the fountain pen market saw an unprecedented boom and its offshoot, the ball points or roller pens invented in 1939 were selling faster than the proverbial hot cakes and have now outstripped the demand for fountain pens.
Even today despite the fact that most of the writing and documentation has been taken over by computers, and even as offices and homes are moving to a paperless environment, the global demand for writing instruments has not dimmed.
The world market for pens has already breached the $18 billion mark and is expected to touch $22.5 billion by 2015 growing at an impressive 10 per cent annually.
Galloping growth
In India, at a rough estimate, the annual industry sales amount to nearly Rs 1,700 crore and are growing at 18 per cent per annum. The increase in the rate of literacy has had a direct bearing on the galloping growth of the pen industry.
The writing instruments' industry can be broadly subdivided into three categories — fountain pens which account for around five per cent of the total sales and ball points that have the lion's share at 75 per cent sales and the rest 20 per cent are accounted by special instruments for calligraphy, for architects and other technical uses.
The ball pens gained in popularity ever since the government granted permission to use them while signing cheques and official documents. Though the premium range can cost anything between Rs 150 and Rs 800, the maximum sales are notched up in the Rs 5 to Rs 10 category.
With so much focus on ball point pens, have the sales for the fountain pens shifted to the backburner? Not really.
Interestingly, the age-old fountain pen has staged a strong comeback, especially at the top end of the market. The latest trends reveal that expensive fountain pens have grown in popularity both in the West and in the Indian metros.
Pen friend
One of the secrets of the industry's success is that a writing instrument can be had for as little as a few rupees and as high as a crore of rupees or more.
Interestingly, the demand is growing among the high rollers for bespoke writing instruments that are seen more as a status symbol than as functional writing instruments.
These expensive luxury pens include premium ink cartridges and intricate nibs that provide a smoother flow of ink to paper.
The size, shape and weight of luxury pens also facilitate an ergonomic and comfortable writing experience. The shape and flourish of these pens reflect class and style.
Flaunting opulent pens made by companies like Montblanc, Montegrappa, Tibaldi, Omas, Visconti and others is considered a sign of class. Some moneybags treat pens as jewellery. Thus, you have pens made of gold, silver, platinum and studded with diamonds, rubies and other precious gems.
But these high net worth Indians are not just satisfied with big brands engraved with diamonds and other rocks.
They go a step further and display pens which are sometimes so exclusive that their manufacturing number may not even cross a hundred.
Limited Edition are two magic words that get their adrenalin gushing.
Premium choice
William Penn, the global multi-brand retailer of fine writing instruments which now has many outlets in India, stocks luxury pens from some of the world's leading companies like Caran d'Ache, Montevedre, Cerruti, Montblanc and a host of others whose pens can range from Rs 25,000 to the exclusive Limited Editions ones that can cost Rs 1 crore and upwards.
Apart from the uber rich Indians who are fascinated by these pens, some of which could pass off as objects d'art, these are also used as extravagant gifting options.
The high-end corporate and individual gifting accounts for 40 per cent of the total sale of premium brands.
These pens are in demand throughout the year as these are not occasion-driven but can be gifted anytime. That is why their sales are estimated to grow by a robust 20 per cent annually. And it is figures like these which are bringing a glint in the eye of leading brands of global writing instruments and bringing them to India.
The Divine Collection
Swiss luxury writing instruments' brand Caran d' Ache has struck gold by introducing limited edition pens based on Hindu divinities which have been snapped up by Indian connoisseurs and collectors. These include:
The Shiva Pen: The silver pen evokes the mystery and symbolism associated with Lord Shiva. The nib of the pen is rhodium-coated and the crown is carved with a semi precious stone that is intense blue in colour like Shiva's skin.
Price: Rs 6.75 lakh ($12,250).
The Ganesha Pen: It pays a tribute to the elephant-headed Indian deity. Gold and silver adorn the sculpted body of Lord Ganesha, with a large ruby on the end cap. A limited edition of 101 pieces makes this pen a precious object d'art.
Price: Rs 6.35 lakh ($11,500)
The Balaji Pen: In a limited edition of 108 - representing the 108 different names of Lord Balaji — the pen's body is made of black mat lacquer and it has a rhodium nib. The pen carries Balaji's image on the external cage and also sculpted on the clip.
Price: Rs 4.45 lakh ($8,100)
The Buddha Pen: Limited to 108 pieces, the pen is decorated with faces of Lord Buddha. The handcrafted pen is made of silver with an 18k gold nib highlighted with rhodium. The gently rounded figure of Buddha has the symbols of his power.
Price: Rs 6.85 lakh ($12,500)
Tibaldi
18K Gold

This is a limited edition luxury writing masterpiece that is dedicated to the Sacred Order of St. George.

Each Tibaldi 18K Gold rollerball pen is finely etched by hand with the symbols associated with the Order, the Constantinian cross and the coat-of-arms of the Royal House of Bourbons.

Price: Rs 19.80 lakh

Aurora
Diamante

Italian pen maker Aurora known for its luxury writing instruments has outdone itself with the Aurora Diamante pen, which is encrusted with 2,000 diamonds. It is so valuable that the company allows sale of one pen a year despite the demand from some of the richest people in the world.

Price: Rs 7.7 crore

Caran d'Ache
1010

Swiss fine art products and pen manufacturer Caran d'Ache has created a limited edition fountain pen that is encrusted with 850 diamonds. The cap of the pen also has 26 lines that are studded with 22 baguette-cut diamonds. The body of the stunning pen is made from white gold.

Price: Rs 5.50 crore

Visconti Ripple
HRH fountain pen

Give your handwriting a flourish with the Visconti Ripple HRH fountain pen.

Made of 18K white gold and diamonds and with a two-tone 18K gold nib, this luxury handmade fountain pen has a double reservoir ink filling system and is in a limited edition of 39 pens worldwide.

Price: Rs 31.35 lakh