Powerpuff girls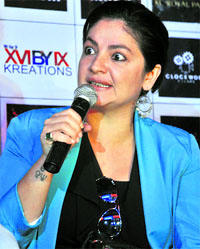 These feisty, number-crunching women producers of Bollywood are gamechangers, can generate funds for a film, sell it, market it and sit back to reap the profits
Jasmine Singh
Bollywood's successful innings of 100 years validates that the industry is capable of providing much more than a song-dance sequence. New-age directors, unconventional scripts and actors are taking cinema to a different level. A set of dynamic women in the industry are giving the business of cinema a makeover through smart deals.

Pooja Bhatt. Fisheye Network
---
Arts
Remembering the King of Pop
Michael Jackson, whose death anniversary falls on June 25, left a void in the world of music which can never be filled
Paramjit Singh
About the fifth of her nine children, Michael Jackson's mother Katherine, would say there was something special about him. "I don't believe in reincarnation," she said, "but you know how babies move uncoordinated? Michael never moved that way. When he danced, it was like he was an older person". Katherine taught her children folk songs and her husband Joseph, played guitar and coached his sons.
---
FITNESS
Ditch the dimpled skin
Cellulite is a common lifestyle problem but it is not difficult to eliminate. A healthy diet and exercise can go a long way in reducing its build-up
Studies and a growing body of research and evidence reveal that food and exercise can get us out of many health dilemmas. What we eat can have a tremendous influence on our cells and on our overall health. As like many lifestyle diseases, cellulite appears to be one of the common complaints of modern age.
---
Society
When papa does not preach
On Father's Day, we catch up with some fathers, who in addition to playing the traditional role of a provider, have taken upon themselves to be an important part of their children's lives
Kanwalpreet
The traditional role of the father is to be the provider and of the mother to be the nurturer. But there are men who decided to surpass their traditional role and be an inherent part of their children's life. They have brought up their children taking the pains yet enjoying the process, cherishing each moment.
---
Travel
Cultural confluence
Uzbekistan is a melting pot of people from different ethnic origins
Arun Joshi
As the plane starts descending to the Tashkent international airport, the patches of clouds and the tin roofs gave an impression that it was going to land in Srinagar, the capital of Jammu and Kashmir in India. The captain's announcement that outside temperature was 21°C further confirmed that even weather is similar.
---
Entertainment
Animated journey
From popular comic book heroes, quick history recap to adaptations of iconic superheroes, there's ample choice for young channel surfers to get hooked to telly this summer holiday
Swati Rai
It is party time for children at home this holiday season. With the rise in the number of animation programmes on television, there's no complaining! Young channel surfers have been spoilt for choice for cartoon programmes. What's more, the digital world is full of an ever-growing number of interactive cartoon characters, comic animated apps and popular comic book heroes available in animated form!
The untold story
Bilal A. Jan's Ocean of Tears documents tragedies of the women of Kashmir, who have endured social, economic, physical, mental and emotional abuse over the years
Shoma A. Chatterji
In the devastated terrains of Kashmir, women have remained the chief sufferers and victims. Two decades of conflict in the Valley has brought to focus the distressful account of crimes against Kashmiri women, who have been victims of violence and rape.