Powerpuff girls
These feisty, number-crunching women producers of Bollywood are gamechangers, can generate funds for a film, sell it, market it and sit back to reap the profits
Jasmine Singh
Bollywood's successful innings of 100 years validates that the industry is capable of providing much more than a song-dance sequence. New-age directors, unconventional scripts and actors are taking cinema to a different level. A set of dynamic women in the industry are giving the business of cinema a makeover through smart deals. These moneybags of Bollywood are the women who have the ability to change the rules of the game.
Dare to differ
She was known to play the character of a runaway girl in almost all her films. Pooja Bhatt, the actor, director and producer, is riding high on the success of her film Jism 2. Daughter of Mahesh Bhatt, Pooja turned producer with her film Tamanna. The film went on win national award for the best film on social issues. "I was 23, when I turned producer with Tamanna (1997) with Pooja Bhatt Productions. The film went on to win national award but this did not make the industry look up and notice me," she laughs. Pooja doesn't hold any degree in business management, but when it comes to making profit out a film, the non-conformist producer director knows it all. "With Jism, I wanted to give the audiences something different, something they hadn't seen before." Pooja believes in the concept of reasonable budgets. She sells stories and not exotic locales! Pooja Bhatt's erotic thriller Jism 2, starring Sunny Leone and Randeep Hooda is said to be made with a budget of Rs 7 crore, and did a business of Rs 21 crore in its opening weekend.
Age no bar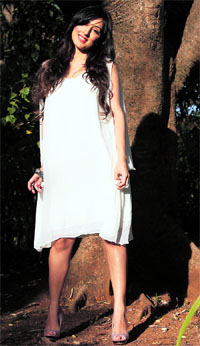 Ashi Dua
Flying Unicorn Entertainment
The 28-year-old founder of production company Flying Unicorn Entertainment Ashi Dua is the youngest film producer around. Ashi has proved that age cannot be a deterrent if you are passionate about something. "I come from Bareilly, Uttar Pradesh and did my schooling at Sherwood College in Nainital and then went to Delhi University. After three years of studying history, I realised that making films is what I wanted to do." Dua moved to Mumbai, studied films at Xavier's Institute of Communication and started Flying Unicorn Entertainment. This is where she met Anurag Kashyap. She was apparently suppose to produce Dev D. "I was 21 when I thought of producing Dev D, it however got delayed and I had to go to New York to pursue my course," she quips.
At 28, she decided to give a tribute to the 100 years of cinema. "This is how Bombay Talkies came through. It wasn't being made for a commercial purpose, this was only out of complete passion for cinema that I decided to come up with a project like this," adds Ashi who faced the 'oh-really' reaction from people who couldn't believe that a 28-year-old was talking to them. She laughs, "They would ask me how many movies have I seen so far, since I was talking about celebrating 100 years of cinema." Ashi has no formal training about finance and works by instinct. "Nowadays audiences watch movies which hit the Rs 100-crore club, this shouldn't be the case. They should know nothing about the money factor of movie, it takes away the charm of watching a movie," feels Ashi. She is happy with the response Bombay Talkies received at Cannes.
The budget of Bombay Talkies was restricted to Rs 1.5 crore per short film, as Dua explains, "Directors like Zoya Akhtar and Karan Johar are very used to larger budgets, I think the price is very fair and comfortable for a 28-30 minute film. You can't have made it for more because commercially it wouldn't have made sense. The overall budget is Rs 13-14 crore." Finance indeed was a challenge for her. This is when Viacom18 entered the scene and solved the problem. "I feel if you have good content, someone out there backs you and you can make it," she sounds excited. For Ashi, filmmaking and producing a film are both creative processes and she likes to be a part of the film from the beginning.
Cutting edge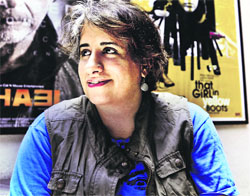 Guneet Monga
Sikhya Entertainment and AKFPL
Her salt-and-pepper hair leave you guessing about her age. Guneet Monga, the name to watch out for in Bollywood, is a noted film producer with over 20 films to her credit. The CEO and producer at Sikhya Entertainment and AKFPL (Anurag Kashyap Film Production Limited), Monga has handled several films, like Shaitan, That Girl in Yellow Boots, Gangs of Wasseypur and Aiyyaa. Her strength lies in her ability to buy and sell the movie at a100 per cent success rate. She effortlessly juggles a few lakhs to crores. With no formal training in money management, Guneet handled her father's business before she moved to Mumbai. "This is how I am pretty confident while talking about money and deals." When it comes to picking movies that would work at the box office, she relies on her instincts. "And experience of course, I also have a strong core team that makes things possible for me." There is no scope for going over board when it comes to investing in a project. Her film Gangs Of Wasseypur, starring Manoj Bajpayee opened to a very low response, but it soon picked up well at the boxoffice. It collected Rs 17.75 crore net in the first weekend. It grossed Rs 4.25 crore net in the second weekend, while its weekdays collection was another Rs 3.25 crore net. "When a film does not do well, for sure there is learning, but financially the hit is never that much. We have always broken even and never lost money. This allows us to continue to make films," quips Guneet.
Foreign effect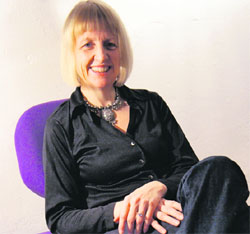 Katharina Suckale
Bombay Berlin Film Production
A writer, producer, director and content developer at Bombay Berlin Film Production, based in Mumbai, Katharina Suckale has been in the business for almost 24 years. This blonde has somehow managed to break into the industry, crack some of the stereotypes and also stick around for a long time. She laughs uncontrollably. "Bollywood wasn't an easy place to be in and to understand. I was a foreigner, a blonde so to say (she laughs again), to top it up, I had no understanding of Bollywood, but it clicked," she adds. She is selling Bollywood abroad pretty much safely. She elaborates on the 'being safe' factor. "Producing a film is like showing all the cards, you can't leave anything in the pocket, which means there is no back-up plan if the film flops. I try to explore all possibilities before investing, but then who said there is a formula to a hit film." Suckale will be going into production with France's MVSP on Shivajee Chandrabhushan's romantic drama The Untold Tale which was presented at last year's Cinéfondation in Cannes. "The shooting is planned at locations in France in July, to be followed by India in September. In addition to this, BBFP will serve as a line producer on a Bollywood comedy which will be shot in Poland's Krakow in the summer with Film Polska as a local service producer," adds Suckale.
The pioneer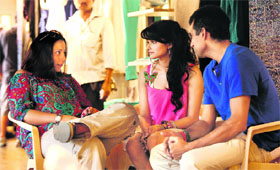 Shrishti Arya
Rose Audio Visuals Pvt Lit
She has been entertaining the audience for the past 20 years. She took up a marketing job at the age of 15 to earn pocket money, and this is her only 'certified' degree in this field. Her production house Rose movies shifted from television software to films. A well-known television and film producer, she started her career way back in 1998, when she co-produced Angaaray, starring Akshay Kumar and Pooja Bhatt. "Producing a movie is not a tangible job. It is nothing like buying a car or something. One film might work and the other can crash miserably," she adds. Despite successful and unsuccessful movie ventures, Arya doesn't think any producer can do anything about the risks involved in the business. "If you think the film is going horribly wrong, then you can only invest a little more money and try to fix it."