M A I N N E W S
PM inducts 8 ministers; Kharge gets Railways
Says Rahul a national leader, fit to lead UPA
KV Prasad/TNS
New Delhi, June 17
Prime Minister Manmohan Singh today suggested his willingness to hand over the baton to Rahul Gandhi and expressed confidence that the UPA would have a "third go" in the Lok Sabha elections due next year.
"I have always said, as far as I am concerned, I would be very happy to see Rahul (Gandhi) step into my shoes. I always believe we will have a third go at the elections as the UPA and the people will again repose their faith in us", he told the media after the swearing-in ceremony at Rashtrapati Bhawan of eight members into the Union Council of Ministers.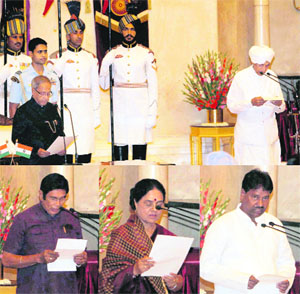 President Pranab Mukherjee administers oath to newly inducted ministers Sisram Ola and (L to R in the bottom row) Oscar Fernandes, Girija Vyas and KS Rao at a ceremony at the Rashtrapati Bhavan in New Delhi on Monday. — PTI
The Prime Minister was responding to questions whether he would make way for the Congress vice president if the UPA returns to power, but refused to answer about his own future role stating it was "too early to speculate". Interestingly, the remark stood in contrast to his earlier statement that did not rule out a third innings in office.
While refusing to compare Rahul Gandhi with Modi, he said the Gandhi scion was a national leader with all the qualities to lead the UPA. As for the Modi-Advani rift, the Prime Minister said it was an internal matter for the BJP and it was for the people of India to draw their own conclusions as to what Modi stands for.
Significantly, he termed Nitish Kumar of Janata Dal (United) as a secular leader stating that a decision on aligning with the party in Bihar would be taken as the situation evolves. "There are no permanent friend or enemies in politics."
President Pranab Mukherjee administered the oath of office and secrecy to four Cabinet ministers — Sis Ram Ola, Oscar Fernandes, Girija Vyas and Kavuri Sambasiva Rao and four Ministers of State — Santosh Chaudhury, Manikrao H Gavit, EM Sudarasan Natchiappan and Jesudasu Seelam at a function at the historic Durbar Hall. Rashtrapati Bhawan announced the ceremony returned to the Hall where the first Cabinet was sworn in 1947 after a considerable period.

Ola, who turns 86 this July, along with Girja Vyas, who returns to the Union Council of Ministers after a gap of two decades, are from Rajasthan, a state where Assembly elections are due later this year, while five-time MP Rao, a former Tiwari Congress member, was accommodated this time after he threatened to leave the party for not being included in the last reshuffle and given Textiles that was with Anand Sharma as an additional charge.
The party shifted senior Karnataka leader Mallikarjun Kharge, who was denied the chief ministership recently, to Railways, a portfolio that was being held as additional charge by CP Joshi, who was drafted to work in the AICC on Sunday. Fernandes will hold Joshi's other charge of Road Transport and Highways. Dr Vyas, who served as a deputy minister in 1993, will be the new Housing and Urban Poverty Alleviation Minister, against the vacancy caused by the exit of Ajay Maken.
Interestingly, Birender Singh of Haryana did not make it to the final list presumably on account of internal politics but the party appointed him member of the Congress Working Committee, having dropped him from the top decision making body yesterday.
Among the Ministers of State, Hoshiarpur MP Santosh Choudhary was allocated Health and Family Welfare. Manikrao H Gavit from Maharashtra will be in the Ministry of Social Justice and Empowerment, Natchiappan in Commerce and Industry while Seelam, a former IAS officer and Christian from Andhra Pradesh, will work in Finance with P Chidambaram.



PM sworn in as RS member
Hours before expanding his Council of Ministers, PM Manmohan Singh on Monday took oath as a member of the Rajya Sabha for a fifth consecutive term. He was recently elected to the Upper House from Assam. Manmohan Singh, who is the Leader of the Upper House, took oath in the name of God.
No friends or foes in politics
Significantly, the Prime Minister termed Nitish Kumar of Janata Dal (United) as a secular leader stating that a decision on aligning with the party in Bihar would be taken as the situation evolves. "There are no permanent friends or enemies in politics."
PM evasive on future role
* The Prime Minister refused to answer about his own future role stating it was "too early to speculate
* The Prime Minister refused to answer about his own future role stating it was "too early to speculate