Ittar is in
The history of ittar is as old as Indian civilisation itself yet the old-world charm of ittar continues to fascinate its connoisseurs even today
Mriganka Dadwal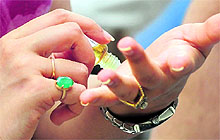 Photos: Manas Ranjan Bhui
Monsoon in a bottle, blossoms on your fingertips — it is not plain wishful thinking. Welcome to the world of ittar or attar. The name itself conjures images of royals — from Mughal emperors to Egyptian Pharaohs anointing themselves in a multitude of fragrances. In fact, ittar, a term derived from Arabic word attar means scent, and there is one for every season. So, you could beat the summer heat with cooling essence of rose (ruh-gulab) or khas, recreate the petrichor of dry earth consuming first monsoon showers with attar-gil (scent of earth) or simply snuggle up in the spicy warmth of ittar-hina on a cold winter evening.
"Till almost a century back, nawabs and maharajas would have their quilt-makers mix 10 gm of hina with cotton to derive a lingering scent as well as warmth in the cold months," narrates Mukul Gundhi, managing partner of old Delhi's famous 193-year-old ittar shop Gulab Singh Johri Mal. History books mention that Mark Anthony had gifted his beautiful queen Cleopatra a perfume factory where she would concoct her own fragrances. Royal patronage may be a thing of bygone era but the old-world charm of ittar continues to fascinate its connoisseurs even today.
Ram Iyer, a Mumbai-based musician and perfume collector for last 20 years, has a vast collection of perfumes and ittars from all around the world. He says what gives ittar an advantage over modern day perfumes is its exclusivity. "Anyone can buy and flaunt a Davidoff or a Calvin Klein but hardcore perfume enthusiasts would want something that is their signature style — an extension of their persona." Ittar can be customised as per a buyer's taste and that is what makes it so unique.
Unlike modern day perfumes, pure ittar is an all-natural product derived from distilling flower extract over career oil like sandalwood. Whilst even a designer perfume can last only for a few hours thanks to its alcohol content, ittar notes last until you wash them off. In fact, as your body heat acts upon ittar oil, the notes become more pronounced with time. "What I really love about ittar is the fact that its scent stays in my clothes even after they have been washed. My friends often wonder what perfume I am wearing," says 20-year-old mass media student Moushmi Suvarna.
Pure vs synthetic
While perfume collectors like Ram Iyer do not mind spending up to Rs 10,000 for a small vial of pure, custom-made ittar, college students like Moushmi prefer to indulge in synthetic ittars. Because pure ittars cost almost as much as and sometimes even more than international perfumes. A 10 ml bottle of pure ittar starts from somewhere around Rs 3,000. Same amount of synthetic ittar can be bought for as less as Rs 140. Explaining the difference between the two, Gundhi says, "Synthetic ittar is produced from aromatic chemicals. This ittar is not pure but nature identical." However, it is still blended in oil and not alcohol resulting in a long lasting effect.
He further explains that these days many college-going youngsters flock his shop to buy synthetic ittars as these are inexpensive, "Youngsters want to be trendy but can't spend too much so they come to us looking for knock offs of international perfume brands like Christian Dior." Some of the hot-selling rip-offs include aqua notes based Blue Magic, Ice cool, Tehelka and Funtoosh — the names self explanatory of the target audience.
Commenting on the current trends in ittar market, Bangalore-based perfume expert Ahalya Matthan says, "Ittars are getting more and more modern with the use of synthetic ingredients and the range is vast from heavy single note fragrances to light contemporary fragrances. Moreover, when you buy and ittar is mixed in front of you, the process as much as the fragrance does the selling."
The flip side of synthetic ittar is that it doesn't have any of the medicinal properties associated with pure ittar but that is hardly a deterrent to someone on a shoe-string budget.
"Buying ittar is economical so I can wear a different one to college every day. My friends wonder how many perfumes have I got and it is better than smelling bad," says Aishwarya, another student.
Ittar and aromatherapy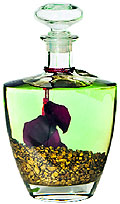 Anup Singh, a 37-year old film-maker, has fetish for ittar. He says every time he wants to get into the 'creative zone' he takes a sniff at attar-gil. "The aroma of wet earth inspires me to create. It clears my chakras as well as the flow of thought." While he doesn't apply the ittar often, he carries one with him at all times.
Experts agree that aromatherapy might be a relatively new concept in the western world but in India and Arabic world ittar has always been associated with healing properties. The essence of kewda, a flower originating in Orissa is said to relieve headaches as well as prevent heat stroke. Attar zafran (saffron) is believed to cure insomnia and depression while the sublime scent of rose attar could uplift one's spirits and calm their nerves. Ittar hina — a combination of spices distilled over sandalwood is so hot, it is said to clear congestion and relieve cold.
Because of their therapeutic properties ittars are seasonal. While khas, kewda or jasmine is cooling in summers, one might want to avoid using them in cold winter months. Also, since there is no standard formula to produce ittar one has to be very careful about the brand they are buying. As perfume connoisseur, Ram Iyer warns, "Buying ittar is not always a pleasant experience specially when trying out new brands. Some of the cheap ittars can give you a bad headache as the notes break down."
Arabic and Indian variants
In India, the city of Kannauj is considered the heartland of ittar. The perfume-capital of India, once patronised by the Mughal queen Noorjehan, is now struggling with obsolete ittar production methods. There are, however, establishments like Ajmal, Poorandas Ranchhooddas of Hyderabad, Sughadndco of Lucknow and Gulabsingh Johrimal of Chandani Chowk that still carry the legacy forward.
The packaging of ittars has also evolved over time and fragile handmade glass bottles have given way to beautiful but sturdy vials. Yet, Indian ittar market is lagging behind in terms of cutting edge packaging as compared to the Middle-Eastern countries. A look at strikingly beautiful crystal packaging and monument shaped ittar bottles from Middle-Eastern brands like Al Haramain leave much to be desired back-home.
A scent for the gods
There is something so captivating about the fragrance of ittars that from common man to the royals, no one can resist them. However, set near the foothills of Aravali close to lake-city Udaipur there is an abode where even the gods are not immune to the magical effects of ittar. At the temple of Nathdwara, pilgrims offer variants of ittar like rose, khus, kesar, jasmine and mogra to Lord Shrinath depending upon the season and the occasion. It is believed that Lord Srinath himself patronises the local ittar-producers here.
Over the years, it has tempted the gods, serenaded the royals and charmed the commoners. The magic of ittar refuses to fade and to sum it up in the words of author Patrick Suskind, "Odours have a power of persuasion stronger than that of words, appearances, emotions, or will".
On a fragrant trail
Queen Cleopatra used to apply scent between her toes when she would go to meet her lover Mark Anthony. She was so fascinated with perfumes that she wrote a book on the subject.
The court of Louis XV was known as the "perfumed court" and it was obligatory for all courtiers to wear a different perfume every day.
Jasmine ittar was a favourite with the Nizams of Hyderabad. They used to gift visitors and guests beautiful tiny glass bottles of this floral fragrance.
Ruler of Awadh, Nawab Ghaziuddin Haider, had fountains of ittar built around his bedroom. It was considered below the dignity of nobles to step out without applying a fragrance.
Exotic scents like musk and amber were used in the Mughal darbars. Ain-e-Akbari mentions that ittar was used with incense sticks to create a pleasant ambience.
Queen of Yemen, Sulayhi Syeda, may not be as well known as Cleopatra but she was famous for fragrances created by her. In fact, she was considered legendary at making ittar. Precious little aroma bottles sent by her to the kingdoms of Arabia during various festivals were impatiently waited for.
Renowned poet Mirza Ghalib was also an avid ittar lover.