Himalayan Odyssey
Reviewed by Nirupama Dutt
Nicholas Roerich: A Quest & A Legacy
Ed Manju Kak
Niyogi Books. Pages 257. Rs 1,495
Nicholas Konstantovich Roerich (1874-1947), a painter of Russian origin who made his spiritual abode in India, is a subject of interest over and again to art lovers, scholars and historians for he left behind a vast legacy of paintings. He is loved most for his unique rendering of the Himalayas in colour and form. The glossy volume has brilliant reproductions of his work as well as photographs that make him a legend. Besides, there are essays by reputed scholars, from home and abroad, probing his life and work and the volume is edited by writer and art historian Manju Kak.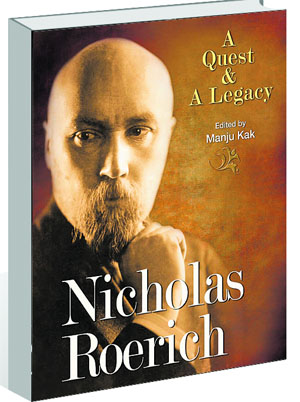 Roerich had already painted evocative paintings of pastoral life in Russia but it was after coming to India in 1923 that he did his remarkable Himalayan expeditions extending to Tibet and Mongolia. He chose to stay back making his home away from the post-Revolution Soviet Union exploring the might of the mountains and their role in shaping human spirituality and creativity. He said: "All teachers journeyed to the mountains. The highest knowledge, the most inspired songs, the most superb sounds and colours are created on the mountains." He was in harmony with the mountains which were the abode of sages and a symbol of spiritual ascent.
There are well-researched articles on his life and art by authors including Ian Heron, Marga Koutsarova, Madhavan K. Palat, Ruth Drayer, Suchandana Chatterjee, Tashi Paljor, Kenneth Archer, Shri Prakash and others. The foreword is by Dr Karan Singh and Kak's brilliant introduction says: "For the painter-philosopher who never returned to Russia — having lived in India for twenty odd years — it is believed that more than five hundred Roerich societies have proliferated since the decline of Communism in 1991, in Russia alone. They are dedicated to the propagation of Roerich's ideas as a peace activist as well as the principles of philosophical thought." Kak knows her subject well having done prior work on the artist and continuing work on the mountains so she has pitched the present volume well covering myriad aspects and viewpoints on the painter and the painted.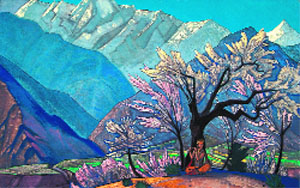 Krishna by Roerich in the Kullu series. He equated Krishna with the shepherd god Lel in The Snow Maiden
John McCannon, in his essay titled Conditional Love, writes how India became the ideal land for the painter-philosopher partly in reality and partly in imagination: "India figured with increased prominence in Roerich's art and worldview during the half-decade leading up to World War I....To take one India-specific example, he repeatedly equated the demigod Krishna with the shepherd God Lel from the Russian classical tale, The Snow Maiden." Thus interestingly on his canvases appeared an India partly inspired by his philosophy and partly by the geographical reality. The close Indian connection started with meetings with luminaries like Rabindranath Tagore, Kedarnath Das Gupta and Suniti Kumar Chatterjee and led to son Svetsolav marrying actor Devika Rani, the great-grandniece of Tagore, in 1945. Shri Prakash in the essay Artist and Humanist points out the artist's "vision of building a global society and culture with its roots going deep into existing national and ethical sources." Kak recounts how the grave of the artist-painter at his Naggar abode in Kulu is "placed under the willows and marked by a monolithic rock that reads 'Maharishi', or Great Sage'. A befitting epithet and a fine book for the scholar and lay person wishing to revisit Roerich's work.