ENTERTAINMENT

FOOD TALK

CONSUMERS BEWARE!

FITNESS MANTRA

GOOD MOTORING

LIFE'S LESSONS

MUSIC ZONE

FRUIT FACTS

GLOBETROTTING

BROADBRUSH

TELEVISION

WEBSIDE HUMOUR

CROSSWORD

WEEKLY HOROSCOPE
EARLIER FEATURE

CHANNEL SURFER

ULTA-PULTA

GLOBOSCOPE

GARDEN LIFE

FASHION

BRIDGE

NATURE
Going solo
More and more people are opting to live alone because of the advantages they think the status gives them, rather than because they do not have the option of getting marrieds
Aradhika Sharma
There's a term that's increasingly doing the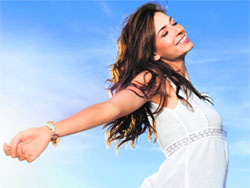 rounds these days: Singletons. Being a singleton is a status, just like being married, divorced, widowed is. The term is commonly applied for the group of people who like to live their lives by themselves, running their own establishments, cocking a snook at the old idea that being single is a pitiable state, which one existed in because there is no other choice. The cantankerous, spinster aunt, the middle- aged ladies with half a dozen cats, the eccentric gentlemen with his never-ending stories — these were the typical examples of singletons of yore. There was certainly some shame associated with living alone as an adult. Not anymore.
---
Arts
The sea and our folktales
The painters, who illustrated the Raaso in the south Gujarati style, rendered the sea with their imagination
B.N. Goswamy
This piece is liable to go into two or three different directions which may not necessarily be connected with each other but might, just possibly, hold some interest. For one thing, while I was at a conference on the Ports of Gujarat at Daman some months back, and was making a presentation on 'The Painter and the Sea', I asked myself the question: How would a painter — sitting somewhere in the Pahari region, or in the desert kingdoms of Rajasthan — have visualised the sea, something that he had never seen but might have been called upon to render in the context of a religious text, like the Ramayana or the Bhagavata Purana, in which the sea inevitably figures? What images, visual or verbal, could he have drawn upon?
---
FITNESS
Make your kids healthy, not chubby
A child has special dietary needs because childhood is a phase of rapid growth. As a parent, one of the most important gifts you can give your child is a wise way of eating
Dr. Anjali Mukerjee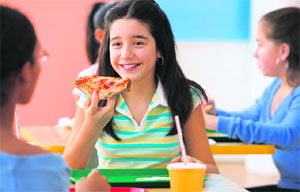 AS mothers, we always like our children chubby! But research says that chubby children are not necessarily healthy. Your child may be chubby and yet be undernourished. A child has special dietary needs because childhood is phase of rapid growth. Therefore, a reduced version of an adult diet is not sufficient. Young children have an increased need for calories as well as nutrients, the most important of these being iron and calcium.
Children who eat junk food have reduced immunity and fall sick more frequently; and (below) Nuts like almonds (much needed by growing children) are rich in proteins and vitamin E and provide a healthy snack
For perfect pearlies
Tooth decay can happen in babies even before milk teeth appear. Awareness about healthy practices can prevent dental caries
Dr Simrat M. Bansal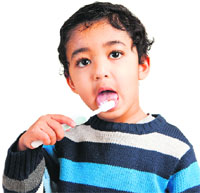 Serving as an important portal of entry into the human body, a healthy oral cavity is an integral part of the overall health of the individual. Dental caries and periodontal diseases are the two most common diseases that afflict the oral cavity. Although preventable, most of the people end up visiting the specialist, only when pain occurs- an indication that the disease has already taken its advanced course. The prevalence continues to be high, especially in children because of the lack of awareness among parents.
Encourage night time brushing. Parents should supervise as a child lacks sufficient dexterity to clean properly
---
Society
Gizmo man of MIT
An innovator at the MIT Media Lab, Dhairya Dand has created a stir with his inventions
Sonali Seth
IT was an evening of indiscretion that changed Dhairya Dand's life. The-morning-after-the-night-before resulted in an innovation that has the power to change the lives of all those who like a tipple in the evening and also believe that one good drink deserves another…and another! The Indian-born inventor at the renowned MIT Media Labs in Massachusetts has devised LED ice cubes made of edible gelatine that track the number of drinks a person has had and start flashing once the limit is crossed and the user is in danger of getting intoxicated.
---
Travel
Mesolithic encounters
Time sits gently on Pachmarhi, as if it really isn't in any hurry to get ahead
Hugh and Colleen Gantzer
ld India lives on, maintaining its bloodlines and its traditions.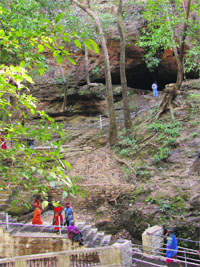 THE Gonds, after whom the prehistoric super-continent of Gondwanaland was named, are still alive and thriving, as we discovered in Madhya Pradesh's Pachmarhi. They came at sunset, singing and dancing. They also brought their kathas with them. These memorial plaques, made of wood and carved with icons representing events from the life of one of their 'dear departed', to use a clerical term, were stacked neatly, along with older ones, on the stone platform built around a sacred jamun tree. Having ensured that another soul would rest in peace, they prepared the feast. Large pots were set up over temporary hearths, filled with water, rice, vegetables and other ingredients, sprinkled with salt. "This is traditional" they assured us. "This is what our ancestors have always done.
The climb to the caves is steep. Locals associate these five caves with the Pandavas
Globetrotting
Big Cat's day out
---
Entertainment
A toast to B-town ladies
From playing second fiddle to becoming the protagonist, the heroine in Hindi cinema has undergone a dramatic change. Here's a tribute to the leading women of Indian films who stormed the male bastion in their times
Shama Rana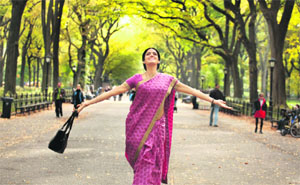 Shah Rukh Khan deserves kudos for initiating a trend of opening a film with a female actor's credit. It took a century for a woman character in Hindi film industry to get this recognition. As Hindi film industry scores a century this year, let us pay rich tributes to the leading ladies, whose journey from playing second fiddle to protagonist falls nothing short of a fairy tale.
Sridevi, who made a comeback recently with English Vinglish, gave memorable performances in films like Sadma, Mr India, etc
"I like to spread happiness"
Handsome and ever youthful, Dharmendra, who is back with Yamla Pagla Deewana 2, talks about films, family and more
Nonika Singh
There he sits in a hotel room dashing and debonair rather boyish looking actor Bobby Deol, far more impressive than he has ever looked on screen. But a few rooms away, it's the patriarch of the Deol household Dharmendra, who at 77, creates a greater buzz and kindles more curiosity and interest than his sons. As handsome as ever and much more gracious than the legends about him will ever tell you. He holds court and charms as much with his down-to-earth affable manners as his easy candour. So no euphemisms follow as he is quizzed about the need for a sequel to Yamla Pagla Deewana.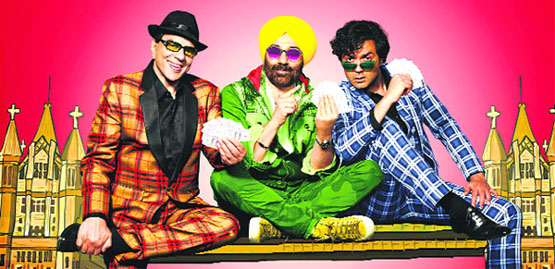 Yamla Pagla Deewana2 once again saw the coming together of Dharmendra, Sunny and Bobby