M A I N N E W S
Modi sets agenda for LS poll, talks of unity
Perneet Singh/TNS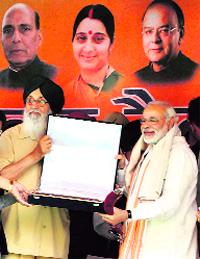 Punjab CM Parkash Singh Badal & Gujarat CM Narendra Modi at Madhopur in Punjab on Sunday. Photo: Vishal Kumar
Madhopur (Pathankot), June 23
In his first rally after taking over as the BJP election campaign committee chief, Gujarat Chief Minister Narendra Modi today set the agenda for the 2014 Lok Sabha elections by projecting the BJP as the party that could not only bring together political parties but also people.
In his 40-minute speech at a rally, Modi made an attempt to shun his image of a divisive leader by pledging to carry forward the mantra of "unity, integrity and communal harmony" given by Jan Sangh founder Shyama Prasad Mukherjee whose 60th death anniversary was observed in the form of "Sankalp Rally" here.
He flayed the UPA government over its foreign policy and the current internal security scenario.
He said the country's unity was under threat but the Congress was resorting to vote-bank politics.
He sought an answer from Prime Minister over Sarabjit Singh's killing in Pakistan and beheading of Indian soldiers along the LoC. "Within a month of these incidents our government treated the then Pakistan Prime Minister with chicken biryani in Jaipur."
Modi sent across a message that the BJP was capable of running a coalition government. "We laid the foundation of coalition politics in India. Hum wo log hain jo dalo ko bhi jodna jante hain aur dilo ko bhi (we know how to bring together parties as also people)," Modi asserted.
The Gujarat Chief Minister dwelt passionately on the Kashmir issue and about the problems being faced by the Kashmiris.
"Vajpayee had initiated peace process with the then Pakistan Prime Minister Nawaz Sharif. However, some forces in Pakistan sabotaged these efforts that led to the Kargil War. Had he been voted back to power in 2004, the wounds of the Kashmiris would have healed, Kashmiri Pandits would have got justice and all three regions of the state would have developed without any imbalances."
The BJP would pick up the threads where Vajpayee left and resume the process kickstarted by him, he added.
He stressed the need for facilitating education and employment for the Kashmiri youth. "The Kashmiri youth is keen to tread the path of peace and development. Nothing can be achieved with violence," he added.
"The country today has two heads and nobody knows which one is real. We have to rid our nation of this situation," he said apparently referring to AICC chief Sonia Gandhi and Prime Minister Manmohan Singh.
He claimed that the ruling UPA had withdrawn its multi-crore advertisement campaign making tall claims of Bharat Nirman after he spoke out against it a few days ago.
On prevailing unemployment, Modi said the NDA regime had provided more than double the jobs to youth as compared to the two stints of the UPA over the past nine years. He also paid tributes to those killed in Uttarakhand flash floods.