Swimming ideal exercise in summer
Dr Ravinder Chadha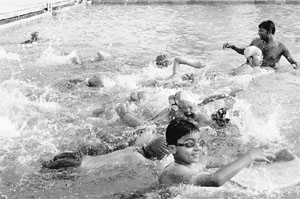 Swimming with exercises in the pool integrates all broad aspects of fitness, including speed, stamina, strength and flexibility. Mostly people undertake swimming as a recreational sport to relax. Individuals who are unable to undertake activities like running, cycling, etc, swimming is an ideal aerobic activity especially during summer. However, swimming pools, coaches and equipment are scarce. Even in Chandigarh there are only a few good swimming pools, which have proper upkeep and cleanliness. The existing pools are overcrowded leading to infection in ears, eyes and skin. Most countries give priority to this sport as it improves physical fitness, and for this reason all schools and colleges are provided with good swimming pools.
Entering a swimming pool leads to quick recovery from fatigue. This is due to the impact and pressure of cold water, which enhances blood circulation in our muscle. Unlike other aerobic activities like running, cycling and jogging, swimming does not put excessive load on the joints and muscles. As one enters the swimming pool, there is significant reduction of body weight due to the buoyancy of water.
Swimming has definite advantages over other aerobic activities in the following manner:
(1) Swimming entails low risk of injury.
(2) Water provides natural resistance, thereby strengthening the body muscles.
(3) Swimming affects all parts of the body wherein muscle ligaments and joints of the body work together. Water increases joint mobility and flexibility.
(4) The pressure of the water improves circulation and reduces swelling of the injured area.
(5) Due to water pressure heart muscles work more thereby enhancing cardiac conditioning.
(6) Due to cool water workout is less tiring and one feels refreshed.
(7) Pregnant ladies and old people who cannot undertake other aerobic activities can exercise in water.
Floating is facilitated by the ratio of an individual's weight to the weight of equal volume of water. The specific gravity of water is one. If a person's specific gravity is greater than one, he is liable to drown, and if it is less than one he can float. Specific gravity of an individual depends on the specific gravity of fat, bone and muscles. Since specific gravity of fat is less than bones and muscles, women and obese float better than a lean muscular person.
Swimming is an ideal exercise when performed with a correct and good technique. Arms stroke should be rhythmical and strong. The arms should enter into the water in a slightly bent position with fingers close together. After the arms enter the water pull through the body's midline in order to propel the body forward. In free style, if the thumb of a hand enters the water first and crosses the body's midline it is likely to cause shoulder injury. In order to prevent shoulder injury, the free style arm strokes should be akin to climbing a ladder with fingers entering first into the water. These should also be accompanied by equal body rotation to avoid injury. Your body must rotate at least 40-50 degree equally in both directions.
Swimming can be undertaken using a wide range of strokes — front, back, crawl, breast-stroke and butterfly. Untrained swimmers, especially in villages, use the doggy pattern which mimics the strokes of four-legged animals such as dogs in water.
The other most significant factor is the breathing technique while swimming. The ideal way is to turn the head to one side by bringing the ear close to the shoulder while inhaling. Exhalation should be done under water in the middle to the end phase of the stroke. Generally an attempt is made to breathe in and out while the head is kept outside water. This leads to less intake of air resulting in early fatigue. Once breathing is mastered, swimming becomes easy and enjoyable.
Performing exercises in water not only improves cardiovascular fitness but also plays a major role in rehabilitation after sports injuries as the heart rate during deep water exercises is approximately 15-17 beats per minute which is lower than when one is exercising on land.
The swimming equipment required are a swimming suit, goggles to protect eyes and flotation cuffs for the beginners.
People suffering from skin infections, fever, throat, ear infections, etc, should refrain from swimming.
Exercises: Swimming is a sport that requires both muscular strength and endurance. People who are not strong can have shoulder and lower limb injuries. It is, therefore, advisable to undertake strengthening exercises like bicep curls, triceps dips, shoulder press and calf raises so as to avoid injuries.
It should be mandatory for all schools and colleges to have swimming pools so as to improve physical fitness.
The writer is a former dotor/physiotherapist, Indian cricket team. E-mail: chadhar587@gmail.com