LIFE+STYLE

CHANDIGARH

LUDHIANA

BATHINDA

JALANDHAR

AMRITSAR TRIBUNE

JALANDHAR TRIBUNE

BATHINDA TRIBUNE

JAMMU TRIBUNE

KASHMIR TRIBUNE

DELHI

DEHRADUN

DEHRADUN PLUS


Himalayan TSUNAMI
Mass cremation begins, Air Chief vows to continue ops


Bad weather hits rescue


3,500 still stuck in Harsil, Badrinath
Gauchar/Guptkashi, June 26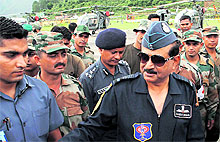 With the weather clearing a bit and the threat of an epidemic looming large, mass cremation of bodies of people killed in the rain fury in Uttarakhand finally began in Kedarnath today.
Air Chief Marshal NAK Browne meets airmen at the Gauchar airstrip on Wednesday. Tribune photo: Vinod Pundir


Cabinet likely to clear coal regulatory authority today
New Delhi, June 26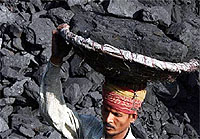 Contentious issues such as pricing of coal, its supply and quality may be a thing of the past as the Union Cabinet, at its meeting tomorrow, may accord approval for the setting up of a coal regulatory authority, the contours of which were cleared by a Group of Ministers (GoM) last month.
OTHER PAGES

HARYANA: 3 of family die in fire


J&K: Centre committed to overall development in J-K, says PM


HIMACHAL: Freak rains destabilise fragile hills in cold desert


CHANDIGARH: Accused escapes, held


LUDHIANA: Only 4 of 13 parking sites auctioned


DELHI: DU declares first cutoff list


Business:

Re breaches 60-mark, ends at all-time low of 60.72/$

OPINIONS: Light at end of tunnel

SPORTS: Black Wednesday: Day of upsets & injuries

WORLD: Mandela on life support as condition deteriorates


The tribune guide to best colleges

Budget
2013-14

INDIA CHINA WAR 50 YEAR LATER

YEAREND SPECIAL: 2012

Year of survival

The tribune 130 years
a witness to history
book released by prime minister manmohan singh

Guide to best colleges

Results of Punjab Assembly Polls 2012

HIMACHAL VOTES 2012

EARLIER FEATURES
CCEA to take call on gas price hike today
New Delhi, June 26
The Cabinet will tomorrow decide on raising natural gas prices for the first time in three years even as the move faces stiff resistance as it would result in rise in electricity tariff and fertiliser cost.
10-year-old girl dies after rape by minors
Mumbai, June 26
A 10-year-old girl who was repeatedly raped by four boys aged between 14 and 16 years, died in a Mumbai hospital yesterday.
US envoy arrives to discuss Afghanistan peace plan
New Delhi, June 26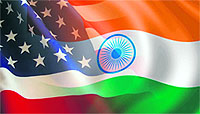 In a move to reassure India and assuage its concern over plans by the Barack Obama administration to open talks with the Taliban, Special Representative on Afghanistan and Pakistan James Dobbins arrived in Delhi to discuss issues, including the "Afghan-led reconciliation process" initiated by Washington.

17 more tigers now roar in Assam's national park
Guwahati, June 26


Assam's smallest national park, the Rajiv Gandhi Orang National Park spread over 78.81 square km, has recorded an impressive increase in its big cat population, with 24 Royal Bengal Tigers found to roar in the protected area.


Manmohan, Sonia in J-K vow to fight terror
June 26, 2013
Militants strike again, kill 8 jawans in Valley
June 25, 2013
Rescue efforts gather pace
June 24, 2013
1,000 dead; rescuers focus on Badrinath
June 23, 2013
Uttarakhand death toll 550, 48 bodies found in Haridwar
June 22, 2013
Toll may be in several hundreds: U'khand CM
June 21, 2013
Toll touches 150, hundreds missing
June 20, 2013
Rain fury: 131 dead, 500 missing
June 19, 2013
PM inducts 8 ministers; Kharge gets Railways
June 18, 2013
JD(U) parts ways with BJP
June 17, 2013
Party to decide on JD(U): Rahul
June 16, 2013