Colourful canopies
Earlier limited only to the dowdy black umbrella made of polyester and supported by an aluminium frame, the chic and hardy brolly has become a fashion statement
Sonali Seth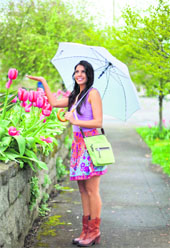 In a rainy day have you ever felt embarrassed to see your grubby umbrella stand next to a set of very elegant ones in the office? Ever encountered that awkward moment when your umbrella flipped in a strong gust of wind and rain? Many of us have experienced such moments and hoped that we had better umbrellas.
In earlier times during monsoons, the last priority was style. After all, an umbrella was only meant to be tough and durable and protect you from the elements. Whoever cared about how it looked? When the rainy season arrived, the old and weather-beaten umbrella (quite literally) was pulled out and dusted and was ready to be used again.
Look how times change. Today, an umbrella has become a fashion accessory, which is stylish first and functional later. Leading brands though are offering both — those that are, at once, chic and hardy. Trends are fast changing with a wide range of umbrellas in different colours, shapes and styles arriving in the market. As in couture, monsoon heralds its own fashion and selecting an umbrella that goes with the outfit and one's personality is a new-age priority.
Designer umbrellas
Choosing the right kind of rain protection gear is becoming very important for trendy people. Previously limited only to the dowdy black brolly made of polyester and supported by an aluminium frame, many designer umbrellas today are works of art. There are umbrellas shaped like clouds, others designed as a bouquet of flowers, as pagodas, butterflies, etc. Then, there are colourful umbrellas that come with funky prints to brighten up gloomy, grey days with a hint of pizazz.
World's leading fashion houses like Emporio Armani, Gucci, Burberry, Balenciaga, Bvlgari, Christian Dior, Polo Ralph Lauren and others bring out designer collections season after season and fashionistas think nothing of spending a small fortune to snap them up. Italian luxury brand Billionaire Couture's 2013 collection includes a crocodile skin umbrella that costs an eye-watering $50,000 (Rs 27.50 lakh).
Lifestyle product
The Indian umbrella industry, too, is undergoing dramatic changes. A number of companies have started making designer umbrellas in the past few years. The segment is dominated by emerging players like Popy, which is one of India's largest umbrella manufacturers' accounting for more than 2.5 million umbrellas a year made in its factory in Alappuzha in Kerala. Blending craftsmanship with style, the company is busy putting the trendy umbrella in the wardrobe of well-heeled Indians by making it a lifestyle product.
Popy is not alone and the choices are enormous. Online fashion retailer indiacircus.com, too, has unveiled a collection of umbrellas in rainbow colours and prints this season. Its Jalebi umbrella series features various icons of the Indian cityscape, from bicycles and rickshaws to grandiose monuments and in essence captures the quintessential emblems of life in India. The Neo Nawab collection, too, is enigmatic as it resurrects the glory of the Mughal era. There are also the colourful Tamara and Kuheli collections. Most of these umbrellas are priced at Rs 1,299.
Then, there is the 150-year-old Ebrahim Currim & Sons, which claims to have 'taught the people of India to switch from palm leaves to umbrellas'. Its Stag brand of umbrellas has been popular ever since it set up its unit in 1860. Today, it has facilities in Mumbai, Chennai and Calicut and makes umbrellas in a variety of styles, colours and designs.
Children's brands
Like Ebrahim Currim & Sons, the Sun brand of umbrellas, too, has been in the business for more than 125 years. Its factory at Mysore has a capacity of manufacturing 1,20,000 umbrellas a month. Though it makes umbrellas for men, women and for promotional purposes, it's children's brands like Kandy, Jadoo, Robo, Twinkle, Diamond and Cool Kids are particularly popular with children.
In the last few years, the Indian umbrella industry has grown at an unprecedented rate attracting many other players like Delhi Tirpal House, Mumbai-based Paras Umbrella Factory, Pune-based Anchor Umbrellas and Leo Umbrella Industries in Rajasthan.
To the advantage of the Indian buyer, the entire market has been divided into two main segments — premium and economy, of which the latter accounts for a big part of the customer's wallet. While companies like Popy, Sun and Ebrahim Currim have a major share of the umbrella pie, ironically these players cannot rest easy as their biggest challenge comes from the unorganised sector, especially in the economy section at eminently affordable prices ranging from a low of Rs 50 to Rs 200 though with hardly any degree of guarantee and durability.
Interestingly none of the well-known overseas brands like Haas-Jordan, Cloud9, Windbrella, Fulton, Burberry Lisbeth Dahl and others have entered India though there are reports that some of them are seriously considering setting shop looking at the burgeoning demand. Once they make an entry, there will be an abundance of options for the Indian consumers.
As of now, there is more than enough for everyone in the economy section. However, the big fight is emerging in the premium section where the umbrella has ceased to be just a commodity and has transformed into an 'aspirational' product with fashion, style and elegance fast becoming as important as sturdiness and safety for the globetrotting Indian.
LISBETH DAHL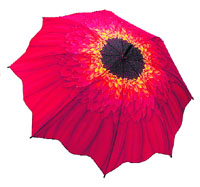 This collection of umbrellas by Danish brand Lisbeth Dahl is simply gorgeous with its flower-shaped canopy, wooden crook handle, stem, top ferrule and spoke tips. These flower umbrellas are 35 inches in diameter with 41 inch canopy width and add to the fashion quotient of a lady.


Price: Rs 2,430
BURBERRY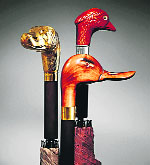 The stunning duck handle umbrellas from Burberry are a high fashion statement. Though these can be used for protection against the elements, people prefer to use these as stylish walking stiks. Handcrafted and painted, these heirloom pieces encompass unique character of their own.



Price: Between Rs 46,750 and Rs 71,500

POLO RALPH LAUREN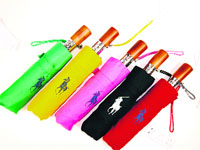 Screen-printed with the Ralph Lauren iconic Big Pony logo, these compact umbrellas in different colours, with a matching case, make a bold fashion statement. A percentage of sales from all Pink Pony umbrellas supports programmes for cancer screening, treatment and research.
Price: Rs 7,425
LONDON UNDERCOVER

Stand out in a sea of black with London Undercover's bright orange umbrella. With a bamboo cane handle that makes it look like a walking stick when the weather clears up, this foldable umbrella fuses practicality with flair. Best of all, it is compact enough to fit in a briefcase or bag.
Price: Rs 7,200
EMPORIO ARMANI

The compact black umbrella from Emporio Armani is just the right size to fit into a handbag or a briefcase. Each panel features a subtle black logo and a contrast white trim logo at the bottom. The wooden handle has a carved Armani eagle logo and features a quick release button.
Price: Rs 5,400
MIZUNO TWIN

This canopy umbrella is an all-year-round accessory that provides protection from rain and is also a walking companion. It features a double canopy allowing the wind to pass through the umbrella without turning it inside out. The handle is ergonomically designed to reduce hand fatigue.
Price: Rs 3,150
TRAY 6 SPRIG

This is a portable folding umbrella that will turn heads as you stroll through the rain. The 42-inch diameter umbrella by American company Tray 6 combines fashion and functionality and will protect you from the hardest of rains while adding an element of style to your personality.
Price: Rs 2,475
GUCCI

The Gucci self-folding umbrella is made of nylon fabric with beige and ebony trim. It has nickel metal accessories and a wooden handle with press stud fasten function. The Gucci logo is embossed prominently and the 42-inch diameter umbrella comes with a smart branded cover.
Price: Rs 25,650
BALENCIAGA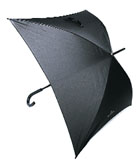 Spanish fashion house Balenciaga gives a new spin to the shape of the umbrella. According to the company, the large square shape of the umbrella gives better protection than a conventional one. It has a metal logo detailing, long ferrule, bottom spring and a velcro fastening.
Price: RS 9,400





KIDORABLE
Kidorable has transformed the umbrella into beautiful natural objects. This colourful butterfly umbrella has the appearance of a butterfly springing to life with wings that pop out with an antennae. It has a curved plastic handle, steel shaft and frame and is child-sized for those little hands.
Price: Rs 770
BROWNING

British company Browning is known for its umbrellas, which are popular with people who go fishing. The large, burgundy fishing umbrella in conventional design is PVC-coated and secures the user against the vagaries of the weather especially during fishing trips to the river or sea.
Price: RS 4,850
MARC BY MARC JACOBS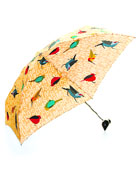 Shield yourself against the elements this monsoon with this stylish Marc by Marc Jacobs' umbrella. The jumbled birds umbrella features bird graphics and a bird-shaped handle. It can be carried by the handy strap or fitted in a handbag. The playful design will bring an instant pop of colour to the rainy days.
Price: Rs 2,640
HAAS-JORDAN

This classic golf umbrella features a deluxe wood shaft and crafted wood handle. This sturdy umbrella also stands up in strong gusts on a golf course due to its double-ribbed unichrome plated steel frame and windproof design that can be easily reversed if blown inside out.
Price: Rs 1,430