ARTS
A fair act
Theatre has remained a male bastion for ages but, of late, there has been a change. Today women are not only writing plays but also running their own theatre groups. They are producing, directing and performing significant plays across the world
Shoma A. Chatterji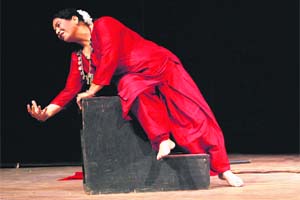 A still from Antaryatra, which has been designed and performed by Usha Ganguly. The play uses the strategy of monologue to journey through a mélange of historic characters to portray the psyche of woman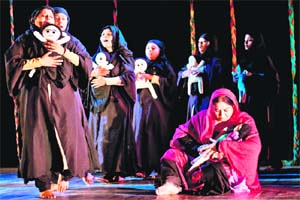 Hum Mukhtara celebrates the universality of women who have the courage to fight against every kind of violence and injustice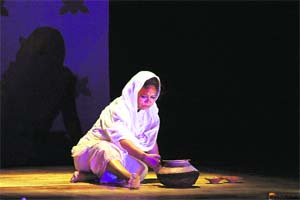 Seema Biswas performs in Anuradha Kapoor's Hindi interpretation of Rabindranath Tagore's Jeevit-Ya-Mrit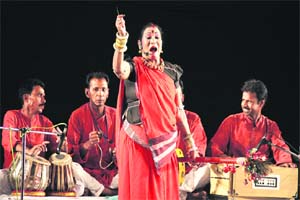 Teejan Bai of Chhattisgarh became the first ever female performer in the Pandavani style
LIKE every art movement, theatre has always been dominated by men. This reflects the patriarchal world where women need to put up a persistent struggle to be heard, seen and recognised. But the struggle goes on because for women, to be involved totally in is not easy and is still an uphill struggle.
However, today women are not only writing plays but are running their own theatre groups, producing, directing and performing significant plays not only within the country but across the world.
According to Dr Anuradha Kapoor, Director, National School of Drama, "Earlier, theatre was considered a hobby at best but today people are more open to making a career out of it," she says, adding, "though there isn't a substantial reduction in obstacles that theatre faces in India, there is now a parallel narrative that says one can survive in the art. Students, who are driven by passion, still have to fight their way into joining a theatre group or an institute like the NSD.
The art is still considered a soft order, however, people are becoming more alert about it and are slowly beginning to recognise theatre as a profession. One can say we've now got a foot in the door.
Triumphantly striding a patriarchal world are Neelam Mansingh Chowdhary, Geetanjali Shree, Tripurari Sharma, Usha Ganguly, Saoli Mitra, Swatilekha Sengupta, Sohini Sengupta, B. Gauri, Sarita Joshi, V. Padma, Poile Sengupta, Sulabha Deshpande, Suhas Joshi, and many others. Dr Kapoor was conferred with the Sangeet Natak Akademi Award for Direction in 2004. A small glimpse into some recent plays produced, directed and performed by women would throw up an interesting collage of universality of these works.
Designed and performed by Usha Ganguly, Rangakarmee's Antaryatra is a unique blend of the personal, the retrospective, literal and political. Ganguly uses the strategy of the monologue to journey through a m`E9lange of historic characters to portray the psyche of the woman and interweaves into this larger framework, snippets of her own life and experience as a woman who has chosen theatre as her way of life. In so doing, through the aesthetic and imaginative use of minimalistic props like colourful geometric shapes of the circle, the square, the triangle used in different ways, she brings to life historic characters like Nora from Doll's House, Sanichari from Rudaali, Himmat Mai (Mother Courage and her children) based on Bertolt Brecht's famous play written in 1939, Kamla from Vijay Tendulkar's play and so on.
Teejan Bai of Chhattisgarh has been performing different episodes from the Mahabharata in her unique Pandavani style over the past three decades. She broke tradition by becoming the first ever female performer in the Pandavani style that was an exclusive domain of male performers. Though at 71, she tires easily, her grit and determination triumphs as she takes the stage by storm, singing in her guttural voice, performing different characters from the episode of Draupadi Vastraharan to a spellbound audience. Instead of performing seated as per the Pandavani tradition for women performers, who would only sing, Teejan Bai strides her performance into a celebration.
Rabindranath Tagore's Jeevit-Ya-Mrit is said to be his most outstanding short story about Kadambari, a widow who came back from the dead only to die again because everyone thought she was a ghost. Anuradha Kapoor's Hindi interpretation performed by Seema Biswas is a big hit among audiences from different linguistic and cultural backgrounds. Kapoor takes away the third-person author's voice to replace it with Kadambari's first person voice. She wakes up in the crematorium, unsure of whether she is dead or alive. The play is presented by Vivadi of Delhi. Seema Biswas rants and raves, questions and critiques the society that left her for dead and when she returned alive, refusing to accept her statement that she was alive.
Biswas effectively shifts from one character to another, intercutting it with Kadambari's questioning, scathing and incisive voice soaked with an electric chemistry and an energy challenging for a character — submissive, surrendering and affectionate when alive. It is the boldest and most radical interpretation of Jeevit-Ya-Mrit that gives the audience a different reading of a classic and universal story. The props, setting, lighting and the 'look' Kadambari is given invests the ambience with the pall of death which creates from within itself, the anguished cry of a woman begging the world to let her live.
Hum Mukhtara has a historic-political backdrop. In June 2002, a Pakistani woman from the impoverished village of Meerwala was gangraped by six men on orders of the seniors belonging to a local clan known as the Mastoi. In this case, the rape was meted out as 'punishment' for a fictitious allegation against her kid brother Shaqoor about his having taken advantage of a Mastoi girl. Unlike hundreds of women who accept this violation of their bodies silently, Mukhtar Mai chose to fight back.
Hum Mukhtara represents the globalisation of women's protest through performance. The incident is sourced from Meerwala in Pakistan that happened to an unlettered, rustic, unmarried Muslim woman. Rajasthani director, Usha Ganguly, who produces Hindi plays in Kolkata, wrote, directed and presented the play. The Greek chorus is sourced back to Greek classical theatre. The use of mask in theatrical performances to hide and/or to protect began in Greece and Italy. The background music is chosen by Ganguly herself from some Tchaikovsky overtures. The play is in Hindi with a collage of actors, technicians and crew belonging to different parts of India.
Hum Mukhtara is like the proverbial ray of sunshine at the end of a dark tunnel. It spells hope instead of anger. It celebrates the universality of women who have the courage, patience and determination to fight against every kind of violence and injustice but fail to get it within the patriarchy that resides within the social, economic and judicial system across the world.
The name Hum Mukhtara points out that women across the world are Mukhtaras because "all women have been abused, violated, victimised, humiliated and oppressed at one time or another not only by men, but more importantly, by family members, society and the legal and judicial system of each country that holds man as supreme and woman as one who should be controlled by man," says Usha Ganguly.
broad brush
a spectrum selection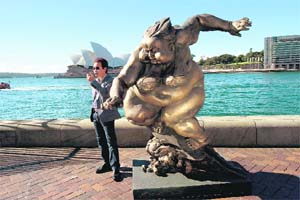 Chubby women
Chinese sculptor Xu Hongfei stands next to one of his creations displayed during an exhibition in front of the Opera House in Sydney. Xu displayed 10 out of 18 larger- than-life works from the Chubby Women collection at a solo exhibition which ran from June 18 to 26. Photo: AFP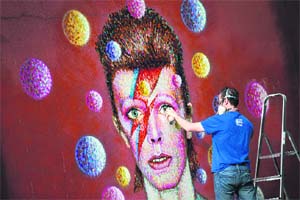 3D art
Australian street artist James Cochran, also known as Jimmy C, puts finishing touches on a large 3D wall portrait of British musician David Bowie in Brixton, South London. The artwork is based on the iconic cover for Bowie's 1973 album, Aladdin Sane. Photo: AFP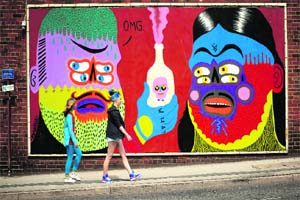 Spray time
Two girls walk past a mural painted on a wall in Blackpool, northern England. The mural is part of the "Sand, Sea and Spray" outdoor art festival, which has seen 40 urban artists paint murals on buildings across the town centre. Photo: Reuters