M A I N N E W S
Tribune Exclusive

Global firm in talks with Indian agencies for in-flight connectivity
Lawful Interception The system will allow security agencies to legally 'tap' calls, data mid-air, if the need arises
Man Mohan
Our Roving Editor
New Delhi, June 30
On October 5, 2011, a foreign airliner was cruising over the Atlantic Ocean above 30,000 ft. The flight was routine with one exception: A team from the National Technical Research Organisation (NTRO), India's only technical intelligence gathering agency, was conducting an experiment thousands of kilometers away in India to intercept real-time conversation and data (web surfing etc.) between a passenger on this flight and a 'user' on Indian soil.
The NTRO was satisfied that the data stream it was receiving was consistent with Indian standards. The experiment was part of a live demonstration that was arranged by an Indian internal security and technology firm, Cogence Advisors.
The system that the NTRO evaluated was offered by Panasonic Avionics Corporation (PAC), California. The PAC is a leader in the multi-billion dollar in-flight entertainment, connectivity and communication industry, a critical element of the global airlines' commercial success.
Strangely, India does not allow in-flight Wi-Fi Internet and GSM-based services in any aircraft, whether domestic or foreign, flying over its airspace. And India is yet to procure the 'interceptor' which was tested by the NTRO.
Currently, Indian security agencies do not have the capacity to intercept communication traffic (phone calls and e-mails) over its airspace or between India and a jet flying at 800 km per hour at an altitude of 10 km in any part of the world. Aircraft in Indian airspace that are equipped with the PAC system would allow the Indian agencies to legally 'tap' into the traffic if the need arises.
The PAC has been in extensive consultations with Indian government agencies, since 2008 to obtain permission to operate its in-flight services in Indian airspace. In return, the PAC is offering a state-of-the-art 'Lawful Interception' solution free of charge.
NC Padhi, former Secretary (Security), told The Tribune that "almost all countries allow in-flight GSM, SMS and Internet to passengers over their airspace as long as security agencies have lawful interception facilities made available to them. Why should India be an exception and earn ridicule of international passengers over flying Indian airspace? When the facility was introduced a few years back, India was among the first countries to permit it but is now perhaps the only country which is denying it."
India had earlier permitted 'provisional' operation of a similar service called 'Connexion' by American firm Boeing in 2005. But Boeing ceased commercial operation at the end of 2006 due to its non-viable potential and extraordinarily costly regulatory mandates.
"Indian security agencies can enhance their interception capabilities with the introduction of such services. Consumers will gain and the telecom service providers will benefit as they earn premium international roaming revenues," said Manish Gupta, director and co-founder of Cogence Advisors.
The Federal Aviation Authority, USA, and the European Aviation Safety Agency have certified the PAC system as safe since there is no interference with aircraft navigation or aeronautical communications.
David Bruner, US-based vice-president of Panasonic Avionics Corporation's Global Communications Service, said: "We have been working with the Indian agencies, including telecommunications, civil aviation and security, to facilitate the long-term operation of global in-flight connectivity. The Indian officials fully understand the importance of seamless global coverage in the international aviation context."
It is not clear whether a formal action by the Department of Telecommunication (DoT) is required. The DoT is handling the issue under an old law - Indian Telegraph Act, 1885. "In a letter on January 3, 2013, we informed Panasonic Avionics that its proposal for in-flight connectivity is under examination," a senior DoT official said. But he refused to talk about extraordinary delay despite security agencies' keen interest in procuring 'interception facilities' in this process.
Once, the DoT claimed that the satellite services operating in Indian space require a local gateway earth-station to comply with security regulations. An aviation expert explained that the in-flight communication services cannot connect to any ground-based stations as the signal levels are confined to the aircraft cabin. Indian telecom service providers would not lose any revenue, if in-flight connectivity facilities are permitted.
There are no formal regulations governing in-flight communication services in most countries. Nations without explicit regulations have either expressly confirmed they do not object to the operation of the in-flight communication systems or have otherwise declined to exercise jurisdiction over the operations.
More or less, all the nations simply conclude that consistent with legal principles governing international aviation, certification and authorisation by an airline's registering nation and compliance with international standards are sufficient.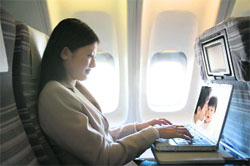 Lagging behind
* India does not allow in-flight Wi-Fi Internet and GSM-based services in any aircraft, whether domestic or foreign, flying over its airspace
* Indian security agencies do not have the capacity to intercept communication traffic (phone calls and e-mails) over its airspace or between India
* California-based Panasonic Avionics Corporation has been in extensive consultations with Indian government agencies, since 2008 to obtain permission to operate its in-flight services in Indian airspace