Health Notes
Pneumonia risk factors higher in modern urban apartments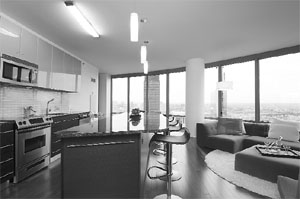 A recent study in China has found that the risk factors of pneumonia are still higher in modern cities. The report, which was a part of the China, Child, Home and Health (CCHH) project, has defied the old belief that the deadly disease is caused by the use of coal or wood as cooking fuel, especially in rural areas. This study investigated the association between childhood pneumonia and indoor environment factors in modern homes. It suggests that lack of ventilation, gas as cooking fuel, dampness, new furniture, "modern" floor and wall covering materials showed significant associations with the incidence of pneumonia. Other factors such as family allergy, childcare by non-parents, and other respiratory diseases were also reported to be associated with pneumonia. In summary, modern lifestyle and home environment play an important role in developing pneumonia infections among children in Nanjing. A total of 6,461 questionnaires were distributed and 4,014 properly filled-out questionnaires were returned, giving a response rate of 65.7 per cent. The response rate was 61.8 per cent, 68.4 per cent and 82.0 per cent for kindergartens in urban, suburban, and industrial areas, respectively.
New target for therapy found in brain tumours
Researchers have found a potential target for therapy in a kind of adult brain tumour that promises to pave the way for treatment of other type of cancers as well, says a study. Glioblastomas are the most common form of brain tumour in adults - and the most aggressive. Because of the way the tumours invasively infiltrate the brain, spreading like ivy, they cannot be removed fully by surgery. There is no cure, and few patients survive more than two to three years even with aggressive treatment. The University of Virginia Cancer Center researchers, however, have identified a potential target they believe is essential to the glioblastoma cells. This vital enzyme, they believe, regulates cancer cell survival, proliferation, and tumour formation. Inhibit the enzyme, their work suggests, and the cancer cell dies, reports Science Daily. "This is an exciting new target in cancer," said UVA's Benjamin W. Purow, M. "It seems to have potential not just for brain tumours but for other cancers as well. We think it has activity on its own, but also in combination with other cancer therapies." — Agncies
Combination of two carcinogens doubles cancer risk
Low doses of arsenic and estrogen together - even at levels low enough to be considered "safe" for humans if they were on their own - can cause cancer in prostate cells, a new study led by an Indian-origin researcher has revealed. According to Kamaleshwar Singh, an assistant professor at The Institute of Environmental and Human Health (TIEHH) at Texas Tech, the findings could have an impact on health regulations regarding the "safe" doses of these chemicals and others.
Singh said that unlike stronger chemicals that do major damage to the DNA in a cell, such as benzene, arsenic and estrogen are not major mutagens.
Instead, their presence tends to stop certain genes from expressing. The process is called DNA hypermethylation.
In the experiment, human prostate cells were treated about once a week for six months with arsenic, estrogen and a combination of the two. Many of the tests involved levels of arsenic, estrogen or both at levels considered safe by the Environmental Protection Agency.
Singh's doctoral student, Justin Treas, said the two chemicals stopped the MLH1 gene, which is responsible for sending the signal to start the self-destruct sequence when a cell is damaged.
Because the self-destruct couldn't activate, the cells became cancerous after exposure.
It was found that with the lower dose not killing the cell, it's causing damages that go under the cell's radar.
The research suggested that when you have two compounds together, lower doses could be more serious problem.
The study was published online in the peer-reviewed journal The Prostate. - Agencies