LIFE+STYLE

CHANDIGARH

LUDHIANA

BATHINDA

JALANDHAR

AMRITSAR TRIBUNE

JALANDHAR TRIBUNE

BATHINDA TRIBUNE

JAMMU TRIBUNE

KASHMIR TRIBUNE

DELHI

DEHRADUN

DEHRADUN PLUS

Railgate: Bansal is CBI witness
New Delhi, July 4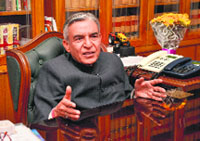 Former Union Railway Minister Pawan Kumar Bansal, whose nephew Vijay Singla and nine others have been chargesheeted by the CBI in the Rs 10 crore cash-for-post bribery case, has been named as a prosecution witness.
Ishrat case guilty must be punished: Shinde
New Delhi, July 4
A day after the CBI told a court in Ahmedabad that it is probing the role of IB officers in Ishrat Jahan case, Home Minister Sushilkumar Shinde today said those guilty of carrying out the alleged fake encounter should be punished. "Facts are facts. Guilty should be punished," Shinde said when asked to comment on CBI's submission to the court.


A fake encounter (Details on EDIT page)
3 die in Mumbai godown collapse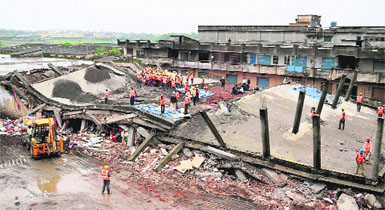 Rescue workers at the site of the building collapse in the Narpoli area of Bhivandi, Mumbai, on Thursday. — PTI

Three persons were killed and 24 injured after the five-year-old structure, a portion of which was under construction, came down. At least eight persons were suspected to be still trapped.


This is the fourth such incident in the Mumbai metropolitan region over the past three weeks. At least 27 persons have died in similar cases at Mahim, Mumbra and Dahisar. — IANS
OTHER PAGES

PUNJAB: Youth dies as police opens fire to rein in clashing supporters


HARYANA: DC orders survey of Panipat village


J&K: One injured as locals clash with CRPF at Baltal base camp


HIMACHAL: Govt rethinks on DGP from other state


CHANDIGARH: 4 convicted of CA's murder


LUDHIANA: Residents go powerless for 6 hrs


DELHI: Delhi poll info just one SMS away


Business:

Cobrapost expose: Action against more banks likely, says RBI

OPINIONS: A fake encounter

SPORTS: Lisicki labours, Bartoli breezes into final

WORLD: Top judge at the helm in Egypt


The tribune guide to best colleges

Budget
2013-14

INDIA CHINA WAR 50 YEAR LATER

YEAREND SPECIAL: 2012

Year of survival

The tribune 130 years
a witness to history
book released by prime minister manmohan singh

Guide to best colleges

Results of Punjab Assembly Polls 2012

HIMACHAL VOTES 2012

EARLIER FEATURES

Land acquisition: Pay Rs 9 lakh/acre more to Manesar landowners, SC tells Haryana
New Delhi, July 4
The Supreme Court has directed the Haryana Government to pay additional Rs 9,24,644 per acre to landowners in Manesar, Gurgaon, for the acquisition of 771 acres of land in 2002 for the second and third phases of the Industrial Model Township (IMT).
(Details on NATION page)
Ajit meets Sonia, denies talk on Jet-Etihad deal
New Delhi, July 4
Civil Aviation Minister Ajit Singh today met Congress president Sonia Gandhi, apparently to register his protest over the way his role had been portrayed by the PMO in the controversial Jet Airways-Etihad Airways deal.

China hosts Sharif, Antony in a rare diplomatic tango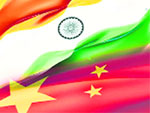 Beijing, July 4
China today hosted Pakistan Prime Minister Nawaz Sharif and India Defence Minister AK Antony in a rare diplomatic tango between its all-weather friend and emerging strategic partner, India. As both Sharif and Antony arrived here, state-television projected it as a rare diplomatic event by China hosting top leaders from both the countries, setting off a new phase with cordial ties with them.


Chinese General warns India against 'new trouble'
Maoists kill SP, 5 cops in Jharkhand
July 3, 2013
U'khand gets rehab authority
July 2, 2013
As toll estimates mount, states asked to verify their missing
July 1, 2013
Toll now put at 3,000; NDMA says 2,300 villages still cut off
June 30, 2013
Rs 1 lakh crore infra projects under PPP mode in 6 months
June 29, 2013
Cabinet go-ahead for CBI autonomy
June 28, 2013
PM, Sonia flag off first train to Kashmir Valley
June 27, 2013
Manmohan, Sonia in J-K vow to fight terror
June 26, 2013
Militants strike again, kill 8 jawans in Valley
June 25, 2013
Rescue efforts gather pace
June 24, 2013
1,000 dead; rescuers focus on Badrinath
June 23, 2013