Return of the jhumkas
The droopers have invaded the jewellery boxes of celebrities as well as the girl-next-door. Ear-splendor, which defined fashion during the 1970s and 1980s, is once again catching the fantasy of women and is taking endemic proportions
Surekha Kadapa-Bose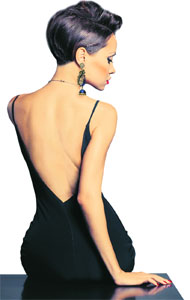 Peacock splash
Designer Anindita from Utsavfashion.com has used meenakari in royal blue white to enhance the white stones studded in the peacock motif. Young girls would love to wear for a special occasion. price RS 3,600
They say fashion trends always complete a 360ş cycle and come back to haunt Gen Next. And that is the reason why grandmas sarees, dupattas, jewellery should never be discarded. The latest to complete this circle of trends and has taken an endemic proportion is jhumkas.
Ear-splendor, once restricted to the four southern states of India, especially during the late 1970s and 1980s, has suddenly caught pan-India attention. From models, celebrities, politicians, sportspersons, professionals, housewives, maidservants, and just about any and every Indian woman irrespective of the region they belong to, are donning jhumkas.
And according to wallet sizes, jhumkas are found in all price ranges. Right from Rs 5 to several lakhs, we find earrings being sold from footpath vendors to jewellery shops to high-profile jewellery designer boutiques. The material used ranges from terracotta, white metal, aluminium foils, silver, gold embedded with glass beads, pearls, crystals, semi and precious gems, kundan, diamonds and whatever else one can think of to enhance the beauty of these earrings.
The popularity of these can be gauged from the fact that these have invaded the jewellery boxes of our filmstars. So now you won't see only Rekha, Hema Malini, Vidya Balan in a Kanjeevaram sari, mogra flowers and, of course, the jhumkas but you will also find Rani Mukerji, Preity Zinta, Sonam Kapoor, Kareena Kapoor and others also in the South Indian jewellery piece whenever they don the traditional attire.
The beauty of jhumkas hasn't escaped the interest of our creative team, especially the Hindi film lyricists. Every generation from the 1950 to 2010: from Shailendra's "Mila hai kisi ka jhumka" (1960) to latest Anvita Dutt Gupta's "Oh! Radha tera jhumka" (2012) have extolled the beauty of this dangler earrings which has a top to clip on the ear and a semi-circular jhumar hanging off a small chain from the top.
When you think of jhumkas, the popular songs that come to the mind are — Sadhana in her Lambani attire singing "Jhumka gira re Bareli ke bazaar mein" from the film Mera Saaya or Amitabh Bachchan serenading Jaya Bahaduri with "Tera jhumka re aye hai" in the film Abhimaan.
"When we display jhumkas to our customers from in our shop, they always ask for jhumkas to be made the way actor Vidya Balan or Rekha wore either in a particular film or an event," says Delhi-based jewellery designer Mira Gulati of the Mirari group.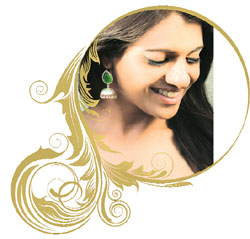 In one of her interviews, Vidya Balan, a South Indian settled in Mumbai and now married to a Punjabi, had said, "I never leave a chance of buying a pair of jhumkas. From the most expensive to the ones I bought on Mumbai local trains for Rs 5, I have all of them. At times, when I lay out my entire collection of jhumkas, I feel a complete woman!"
Of course, we can't attribute the universal interest in jhumkas only to the popular South Indian filmstars. The fact is that jewellery designers have now realised the beauty of this piece and have started innovating in it keeping the basic design intact.
Joining the bandwagon of designers of this piece are even fashion designers like Manish Arora, Sabyasachi Mukherjee, besides others. Sabyasachi's jhumkas are very heavy and large — more than 80 gms of gold plus pearls and gems stones. Actor Anushka Sharma and, of course, his muse Vidya Balan are always seen in this. Manish has teamed up with Amrapali and designs in gold-plated silver jewellery.
According to designer Chetna Nanda of Chitih Sparkling Gems, "Typical South Indian jhumkas were very heavy and required a kana (thin gold chain from behind the clamp of the jhumka to be clipped on the hair to take away the weight from the ear). These had a lot of metal. This made the jhumka very heavy and painful. But we have redesigned this item now."
Using gemstones and pearls don't make jhumkas as heavy as the traditional ones. The lightweight jhumkas made in casual substance like wood, terracotta, white metal and others has made it possible for collegians to wear these on casual attire like jeans and T-shirts also. Tribal jewellery makers have also joined in.
Designer Anindita (www.utsavfashion.com) sums it up, "Jhumkas are a beautiful blend of the traditional and the trendy. These can be adorned with salwar kameez, saris, shararas, kurtis etc... These present an image of ethnicity with modern sensibilities."
Gift a jewel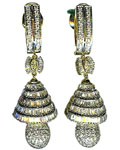 This Vaihi jhumka is made in 18ct gold. Rows of baguettes round brilliant cuts and the marquee in the centre combine together to make it a very sassy piece. The gross weight is 35gm. Gift it to your girlfriend or wife on her birthday or anniversary and watch for rapt attention.




Price: Rs 2,60,000
Diamond delight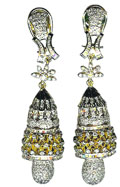 These jhumkas by Diagold are made in 18ct gold. These are accentuated by studded round diamonds with the baguette bracket and round diamond motif in the centre suspending the jhumka. The gross weight is 40gm. These are definitely for a very special occasion.




Price: Rs 2,00,000




Festival special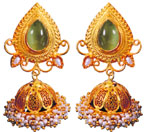 Made in 92.5 silver used as base metal covered with 22 ct gold plate, this jhumki from Anantam looks great for a special occasion. The semi-precious green jade, as a central stone, gives one a festive look. Embellished pearls, which are knotted together in gold-plated silver wire, this could be easily mistaken for a gold piece, except for the weight and cost.
Price: Rs 10,500




Tropical exuberance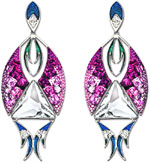 With their vibrant colors, this oversized pair of rhodium-plated Tangara pierced earrings is ideal for summer. Each one features a large, triangular clear crystal with details in Swarovski's exclusive Pointiage® technique and metallic epoxy.


Price: Rs 22,500





Majestic appeal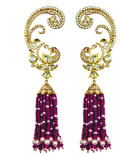 Inspired by the Mughal rulers, this ruby seed pearl jhumka takes flight to create an utterly contemporary execution of that design intensive era. A unique and royal piece, it is the height of luxury for any modern bride. The beauty of this piece is enhanced by the majestic peacocks finely crafted using old cut diamonds in a setting that simulates the traditional kundan style.


Price: RS 16,31,000




Tribal trance

Simple and typical tribal motif. These flower-shaped jhumkas in silver from Amarpali will look good both on western as well as Indian attire.



Price: Rs 3,400




Contemporary classic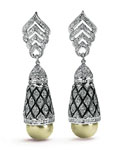 These jhumkas by Ghanasingh are a contemporary adaptation. Crafted in 18K yellow gold with a white rhodium finish, these feature delicate black enamel around pave set round brilliant cut diamonds. The beauty is further enhanced with South Sea pearls and diamond baguettes set in prong and channel styles.


Price on request




A touch of tradition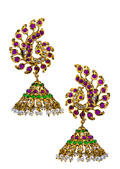 The manga malai, literally a piece of mangoes, is uniquely South Indian and its antiquity can be traced to the Chola period. The jhumka is a modern take on the traditional manga malai, giving it a unique touch with modern techniques while keeping the feel and the look of traditional jhumkas. Cabochon Burmese rubies, Cabochon emeralds, old cut and brilliant cut diamonds have been used in an open back modern setting instead of foil backs to reflect the modernity in design.

Price: Rs 7,30,000




Decorative danglers
Sterling silver-plated with gold in their tribal collection, Amrapali has small white beads dangling from the jhumka, which is topped by a red decorative glass. Why a tribal? Even an urban lass would look great.



Price: Rs 5,500




Heritage revisited

The glass on kundan on top, the red Jaipuri chatai enamel in the middle and traditional flora Nakashi patterns in the outer ring complete this regal and beautifully layered pair of earrings from Tanishq Glam Gold collection.




Price on request




Designer blend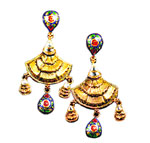 In this pair of earrings from Tanishq, a lone tourmaline is encased by a floral border of blue and green enamel. The blue, red and green enamel add a riot of colours, which displays an intoxicating blend of new and old designs.



Price on request




Exquisite workmanship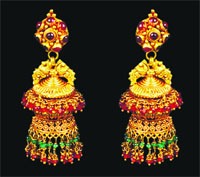 The beauty of these ethnic earrings lies in them being hand-crafted and traditional. Nothing befits Indian ceremonies more than the auspicious colours of red and gold. These jhumkas exude a ceremonial air, studded with large spinels, which look like scattered pomegranate seeds. Reflecting exquisite workmanship in gold and delicate filigree work, the earrings are sprinkled with clusters of ruby and emerald beads in tiers, edged with shimmering gold beads.
Price: Rs 80,000


Zircon magic

This gold-plated sterling silver with cluster of cubic zircons at the top makes it to special occasion or festivals. Benaazir Mukherjee of moodswings.in had designed these in just 25 gm which makes it easy to wear.



Price: Rs 8,800




Carnelian catch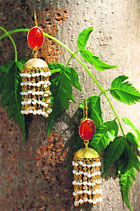 These lightweight jhumkas look good on special as well as casual occasions. The gold-plated sterling silver jhumkas by Benaazir Mukherjee of moodswings.in has carnelian stones and pearls adding a touch of beauty to the wearer.





Price: Rs 7,500



Pearl finish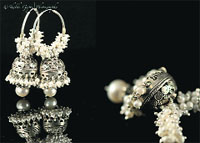 This handmade piece in 92.5 pure silver with pretty white small pearls dangling from the jhumka looks absolutely pretty and delicate. Use of pure south Asian pearls add a dainty touch to these earrings by Anantam.



Price: Rs 5,000