Too many turning points
The narrative does not follow a chronological order but continuously tosses back and forth. It also contains some pen-portraits of places and events and people that played a role in Habib Tanvir's life
Reviewed by Suresh Kohli
Memoirs: Habib Tanvir
Translated from Urdu by Mahmood Farooqui
Penguin Viking. Pages 345. Rs 599.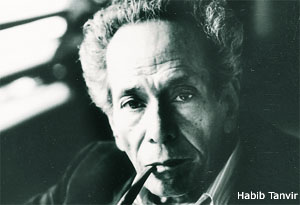 There is nothing in Mahmood Farooqui's Introduction to indicate what has been left out of Habib Tanvir's Memoirs that he began to write in Urdu in 2004 at the ripe age of 82, and which was planned as a "Three-part autobiography," but ended with the first part itself… events coming to a halt in 1954. But what we do learn from it is that he "looked aristocratic and cosmopolitan, yet he thrived by doing plebian theatre." Besides, "he was quite a ladies' man"; and remained constant in his vices, right to the end," and further adds: "His most salient quality was his inexhaustible zest for life."
Despite blemishes and flaws, it is irresistible reading from beginning to the end; meticulously, almost lyrically translated, retaining the fabric of the original to the extent possible. The main flaw (ultimately excusable) is more than a hundred pages have been devoted to growing up years that one now finds indulgent. Early infatuations, indulgences in prohibited games and sport, theatre and cinema etc, and later love for poetry and assorted writing. With that one also learns a thing or two about Muslim culture as practised in small towns of interior India in the early 20th century when "pukka grave was akin to committing idolatory."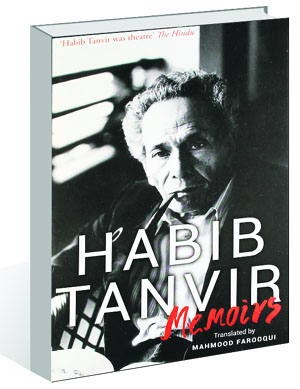 His descriptions of people, places and things are elaborate, colourful. For instance, while referring to a generally unheard of poet, Abdus Salim 'Kaif' he writes: "Of average height and heavy build, dark complexioned, with large eyes – a thick pair of glasses covering them – puffy cheeks, he used to wear an English-style shirt, a light-coloured English-style coat on top, a shortish pyjama, a red Turkish fez on his head, socks and shoes, and carried an umbrella in his hand…" What is unknown and unheard of is that Tanvir also indulged in Urdu verse: "I often composed ghazals and occasionally other poems. Most of the ghazals I wrote at that time are lost. They weren't good enough…"
His arrival in Bombay and reflections on cinema and the literary scene are even more engrossing, an eye-opener in many ways. His comments on the silent era, and the early talkies; revelation that Saigal was actually 'bald' and sported a wig; converting black and white classics into colour; bits and pieces on many forgotten stalwarts that Tanvir brings to light shows how little one knows about the evolution of Hindi cinema. Commenting on Bollywood he observes: "Our film industry is often obstinate in the way it uses its actors. It destroys their independence and stereotypes them in accordance with the success of their films and the money this generates." Especially in the context of Balraj Sahni, Motilal, and Pran.
He is candid enough to confess: "My first lessons in acting came from cinema." And goes to some length to analyse them in detail: the works of Mehboob Khan, the films of Sohrab Modi, Prithiviraj Kapoor and their theatre background; Ashok Kumar's acting prowess and Kishore's melodious voice; the evolution of Amitabh Bachchan as a complete actor, and Naseeruddin Shah who successfully graduated from theatre to cinema; and the impact and necessity of melody and how different composers like S D Burman improvised on folk tunes.
Memoirs doesn't follow a chronological order. Instead, it continuously tosses back and forth. It also contains some pen-portraits of places and events and people that played a role in his life. These include the one on Mulk Raj Anand about whom he errs on several aspects, some of which have been put in right perspective by the translator – to the extent he could. Others featuring in the privileged list include Sajjad Zaheer, Makhdoom Mohiuddin, Josh Malihabadi, Yashpal, Romesh Thapar, Mirji, Manto. Then there are comments on IPTA days, the Progressive Writers' Movement, Partition. His various loves: Kamla, Dina (Gandhi) Pathak, his wife
Moneeka Misra, et el. It concludes with excerpts from his interview given to Seagull Theatre Quarterly, Kolkata in June 1996. What is sorely missed is an Index because there are references to hundreds of other names, situations and events that impacted not only the author and his association with them. Details of his accomplishment with plebian theatre are missed. He might have reserved these for the two volumes that were not to be.