Eco-sensibility
As high fashion goes green, from its techniques to the warp and weft of the organic fabric, we try and find out how India's ace designers are promoting sustainable fashion in their own way
Swati Rai



Anaka Narayan's Brass-Tacks promotes natural fabrics with focus on traditional textiles. The silhouttes are cosmopolitan and well-tailored
Eco-friendly is more than just a password to the exclusive club or a mere fad for some designers. With their avant garde ideation, metods of production, sourcing and ethical eco-friendly practices, these designers and houses are clearly a sign of the changing times.
Internationally acclaimed designers duo LecoanetHemant'slatest brainchild is LH Cares, a new line of organic clothing, called Ayurganic. Emphasising 5,000 years of Vedic healthcare, the garments or Ayurvastra are permeated with special herbs and oils, making it free of synthetic chemicals and toxic irritants. Hemant says, "The Ayurganic collection is not a fashion line, including these garments into a fashion register is a mistake." They claim that wearing these garments helps restore balance within the body and strengthens the immune system by protecting the body from harmful chemicals.
Talking about his inspiration, Hemant who is also associated with charity work such as adopting six children for schooling and education in Karnataka, says, "The inspiration for this eco-friendly line came from the fact that the body needs to be shielded from the harmful effects of pollution with a material that can not only protect but also nourish the body."
Elemental attraction
'Fashion for the EARTH,' where E stands for Elements, A for Art, R for Revolution, T is for Technology and H for the Human Hand, is Bengaluru-based designer Deepika Govind's design philosophy. Deepika upholds the values of eco-fibre and hand-woven textiles and uses fashion as a medium to voice her concern for the environment. The concept of patchwork in her garments has emerged out of her strong urge to preserve and reuse limited resources. Along with a deep respect for the earth, the human touch and meditative thought of the weaver is a sacred sphere for Deepika. A strong advocate of organic, natural fibres, innumerable pure fabric blends created by her, organic dyes and cottons are high on her list of favorites.
Substance and style
The fashion market is cut-throat and to make a success of eco-friendliness substance has to be married to style. Chennai-based Anaka Narayanan of Brass- Tacks has done so. "The idea behind my label is to use all natural fabrics, with a strong focus on traditional textile crafts- and to translate them into silhouettes that are cosmopolitan, well-cut and well-tailored." The only synthetic fibre used in her line is around four per cent lycra. The rest of fabrics used are of natural origin where the fabrics are not dyed with dyes that are highly polluting and also cancerous. A large per cent of her line includes hand-woven fabrics, which aside from using natural fibres are also made with a negligible carbon footprint. Anaka adds. "We also are proud producers of cool coolneem and Mashrufabric clothing." In short, Brass-Tacks clothes are better for the environment because the fabrics are all natural (no polyester, rayon, etc.), the dyes are safer for the environment, and the hand-woven fabrics and hand-block printed fabrics use less energy (electricity) because they're done by hand. There is no carbon footprint there."
Sustaining arts and artisans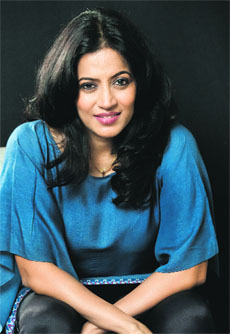 Deepika Govind uses fashion as a medium to voice concern for the environment
Mumbai-based, Anita Dongre's eco-conscious label Grassroot made its debut in 2007. With the help of the NGO, Shop for Change, Grassroot has been supporting the fair trade of the organic cotton movement where support is lent to the handlooms and handicrafts that support farmers and artisans. "I use textiles made from techniques that do not harm the environment. I use cellulosic or other organic fibre like viscose, modal, bamboo jersey and fabrics that are recyclable." shares Anita. Sourcing these fibres and fabrics from eco-certified manufacturers Anita promotes the use of organic fabrics that are anti-bacterial, chlorine-free and hollow flat super absorbent, which cause less damage to the environment.
The concept of sustainable fashion per se means different things to different designers with its essential ingredient being inclusivity and utilising available resources to conserve them for the future.
Inclusive fashion

Ayurganic collection by Lecoanet and Hemant is organic clothing that is supposed to restore balance in the body
Ritu Kumar, founder and creative director, O'Layla says, "Sustainable fashion to me is inclusive at its core. By designing urban products that require skilled village artisans more than machines, we create employment at the ground level. Fair trade wages help avoid the migration of these craftspeople to the cities, where they only get work as daily waged labourers." Sustainbale fashion is not merely a passing fad or a fancy it is a way of working ethos that many top brands are adopting in India.
Going green
Top leather accessories' products from Hidesign's Green Factory in Pondicherry, where no polluting asbestos is used is surely a sign of adopting eco-friendly practices at high-fashion factories. Use of minimal paint, only solid raw brick fired from local earth by Ray Meeker, the well-known low-cost ecological building expert, the factory as well as the products are green. This reflects the brand's eco-friendly practices. Moreover, all the waste water from the tannery is filtered using RO before it is let out. In their products, Hidesign use only vegetable extracts for tanning as far as possible. All waste material is separated and reused or sold for reuse, more importantly, nothing is burnt in the factory. Another green initiative from the brand is that of their "Art of Reuse", which is an engagement project to support and encourage the practice of upcycling used materials, which one discards as waste or redundant goods into new materials/products of better quality with a higher environmental value.
Fashion with a soul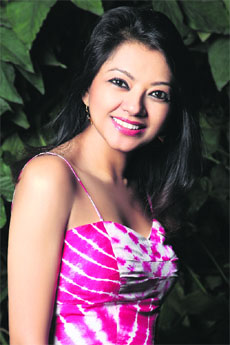 Anupama Dayal's forte is revival of forgotten techniques of hand-printing and needle craft
Anupama Dayal of Anupamaa, was awarded the Designer of the Year by Cosmopolitan Fun Fearless Female Awards in 2011. The raison d'etre of Anupamaa is its essential philosophy which is organic. The revival of the ancient, almost-forgotten hand-printing and needle-craft techniques of India is her forte.
For the ancient art of block printing, she employs dyes that are made by using vegetables and organic fusion by expert colour masters.The wooden blocks are carved by hand, based on Anupama's hand-drawn sketches. The fabric is then coated with clay, rolled along with parchment and steamed in an oven for a few hours; post steaming she waits for a day of crackling sunlight to wash the fabric. The sunlight oxidises the colours and makes them dazzle.
Vegetable leathers at Hidesign are made from oils and extracts from the barks of trees and seeds. It takes almost 30 days to cure these leathers while chemically treated chrome leathers are made in four to five days.
Global fashion sense
Sustainable fashion as a design ethos is growing by the day the world over. Its aim is to generate a fashion practice that can continue so far as social impact and environmentalism is concerned. According to Earth Pledge, a non-profit organisation, "At least 8,000 chemicals are used to turn raw materials into textiles and 25 per cent of the world's pesticides are used to grow non-organic cotton. This causes irreversible damage to people and the environment, and still two thirds of a garment's carbon footprint will occur after it is purchased." Besides being conscious of the 'carbon footprint' of the manufacturing process and material,this eco fashion sense is also cognizant of the social impact that it has on a macro level. In the West, there are some organisations such as the National Association of Sustainable Fashion Designers that promote this trend, with its founding chapter in New York. The organisation's mission is to create social change through design and fashion-related businesses by providing education, training and programmes that are transformative to the industry and to cultivate collaboration and economic growth. In May last year, the world's largest summit on Fashion Sustainability was held in Copenhagen that saw key players discuss the importance of making the fashion industry sustainable. Since the summit, efforts