Does education make you a better entrepreneur?
D.S. Cheema
I have been within the four walls of school and I have been on the street. I can confidently tell you that street is tougher, challenging, daring, exciting and more rewarding. In school, you play alone. But on the street, you play with the big boys.
— Ajaero Tony Martins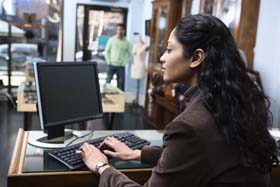 College can provide the vision and ability to integrate acquired knowledge with skills one needs in business. — Thinkstockphotos
THE debate whether college degrees or academics help one to become more successful in life has been going on forever. Anyone who cares to share his views would say 'yes' or 'no' when confronted with this question. But all agree on one issue, that success is generally measured in terms of millions or billions one makes, and it may not be related to satisfaction or happiness one gets out of life.
There are many examples of men who took the bull by the horns and built successful business enterprises despite having dropped out of school or college. They could not be held back because of a lack of formal education; they found their entrepreneurial spirit and surmounted the toughest of business challenges to succeed and build business empires which are the envy of pass-outs from Harvard, Oxford, Massachusetts Institute of Technology or Cambridge. Some business tycoons dropped out of school or college at the age of 16, made their own rules of the game of entrepreneurship, made billions and became legends in their own life times. Larry Ellison, co-founder and chief executive of Oracle Corporation, says, "I have had all the disadvantages required for success".
Thomas Edison, the greatest inventor who was labelled dumb and scatterbrain by his school teachers, went ahead and founded Generic Electric, one of the most powerful companies in the world. Steve Jobs, the technology pioneer who co-founded Apple Inc., had dropped out of Reed College. The legendry Bill Gates of Microsoft and Marc Zuckerberg were Harvard dropouts. Walt Disney who created the Disneyland dropped out of the school at the age of 16. Similarly, billionaire Richard Branson, the founder of Virgin Atlantic Airways, dropped out of school at the age of 16 and Michael Dell of Dell Computer Inc. dropped out of college at 19.
We can talk about Ted Turner, the founder of CNN, Giorgio Armani of fashion brand Armani, John D. Rockefeller, the American oil magnate, Dale Carnegie, Ford, and so on. Of course, our own greats like Sir JJ, Gujarmal Modi, Dhirubhai Ambani, the founder of Reliance and father of Mukesh Ambani and Anil Ambani, Subhash Chandra of Zee, Gautam Adani of Adani Group, etc., who created history, have one thing in common — they lacked any formal education or training.
The point is, whether education should be acquired for knowledge sake to become a better person who can enjoy the luxury of learning, reading, writing, calculating, evaluating analysing. Entrepreneurship should not be used an excuse for not going to school or college. There are unfortunate people who may not be able to attend school or college due to circumstances beyond their control, but those who can, must attend.
There is a general rule that anyone equipped with education is more likely to succeed than the one who is not. Gone are the days when only 'half-educated' persons took up a business activity. Also, who knows these greats could have touched greater heights in business had they been better equipped with education, more knowledge and better skills.
However, the problem with our education system is that it does not attempt to develop the spirit of inquiry in the learner and then allow him to learn more about the specific area of his/her interest from parents, teachers, books, Internet, friends or any other source of knowledge. If this loophole is plugged, we can definitely produce world-class entrepreneurs. No doubt, our education system does not provide all that may be required by any individual to become a successful businessman, but the fact is that no school or college can do that. What the college can do is to provide the vision and the ability to integrate acquired knowledge with skills one needs in business, and many good institutions do that.
This is also a fact that school/college teaching and any formal training can never replace the inherent genius of individual learning from their grooming and from the 'operating environment'. It is quite likely that the great names in business world across the globe could have reduced their 'hit and trial' learning period and could have achieved what they did in the same or lesser time, if they had had the advantage of education. An entrepreneur is not a unique and rare character, and entrepreneurship is not restricted to those who are gifted with certain qualities. But entrepreneurship can always be learned; all one needs is to have basic education.