Southern heroes rock Bollywood
Aradhika Sharma
South Indian heroines have danced their way into the hearts of audiences in the North but it has not been so easy for the heroes. Change is in the offing as heroes and directors from the South create waves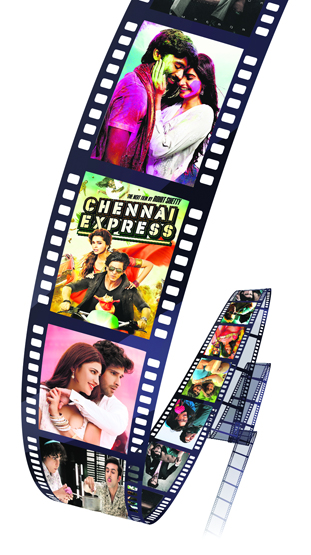 When movies like Chennai Express and Madras Café can create the excitement and generate the buzz on boxoffice, then it's time to sit up and take notice. Could it be that the Hindi film viewer has finally become global enough to accept the South on celluloid? While Mumbai filmdom has accepted heroines from the South with open arms, and, to some extent, the music directors and filmmakers, who are behind the scenes, it has not yet allowed the South to either prevail as an entity on screen; nor has the South Indian hero really been accepted.
Some of the major names doing the rounds in Hindi filmdom these days are Dhanush, Prabhudeva, Balki, AR Rahman, Rohit Shetty, Prabhudheva, Suriya and Rana Daggubati. South Indian names and flavours! The surprise aspect is that these southern sensibilities are calling the shots, colouring emotional and artistic and monetary responses in the Hindi film industry, which has so far, been predominantly and quite unashamedly, North Indian. Are things changing then? Are we likely to see more Southern influence than has been allowed to prevail than in the past?
No A-listers in B-Town
Considering that many of the glam girls of Hindi cinema have been from the South, the men have, even if they were prevailing superstars of the South, have, at best been one-film wonders in the North. The North Indians may roll over laughing at the latest Rajnikanth joke, but the actor, who South Indians worship, never really had a hit to his name in Bollywoood, except Andha Kanoon, also starring Hema and Amitabh.
Similarly, the immensely talented Kamalahasan had a fantastic debut in Ek Duje ke Liye with newcomer Rati Agnihotri but could not sustain in the parochial environment of Hindi filmdom. He did make an appearance in some other good films — Chachi 420, being a hit, but that was more for the fun element rather than appreciation for the actor. After the failure of the ambitious Hey Ram! Kamalahasan decided to not have too much to do with Bollywood. Stars like Nagarjuna, Chiranjeevi and Venkatesh also tried their luck, but, having failed to win audiences in the North, retreated to the South. Madhavan tasted a fair amount of success, (3 Idiots, Tanu weds Manu, Rang de Basanti) but has mostly remained on the periphery.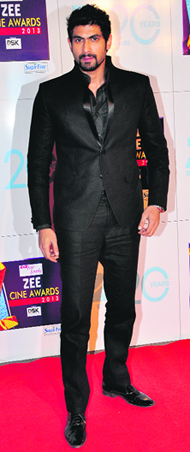 Dhanush is not the only one who has made waves in Bollywood. Telugu star, Rana Daggubati, of Dum Maro Dum fame, was recently seen in a cameo appearance in Yeh Jawaani Hai Deewani, where he convincingly held his own

The only South Indian to have made it big, but not as a hero, technically, was Mehmood, the erstwhile comedian, who became a big threat to the heroes because he commanded almost as big a role in the film as the star did. Funny, funky, sometimes ridiculous, and sometimes even debonair, he explored roles that heroes then, did not dare to do, and in his "Hum Kale Hain to Kya Hua Dilwale Hain" style, had the audiences rooting for him wholeheartedly.
Unfortunately, his act spawned masses of wannabe funny men, with exaggerated 'Madrasi' accents, who did no service to the image of the South Indian star in Hindi filmdom.
Sexy sirens
The women, on the other hand, have always been feted and celebrated. Waheeda Rehman, Vyjyanthimala ruled the silver screen with their beauty and their talent. Hema Malini, danced and dimpled her way into the heart of not just the handsome Jat from Punjab but the millions who fell in love with her. Sridevi was Miss Cuteness personified and gave hit after hit with Jitendra as her leading hero as did the beauteous Jaya Prada, who was the queen of domestic dramas. Meenakshi Seshadri had her place in the celluloid sun too, as she allowed her Hero to romance her. More recently, Asin and Genelia D'Souza delivered hit films and are popular as product endorsers. Tamil actress, Kajal Agarwal was recently nominated for best debut for the hit film Singham, as was Telugu heroine, Ileana D'Cruz for last year's grosser, Barfi.
Acceptance, after all
Things seem to be on an upswing, with filmmakers, music makers and actors calling the tune in Bollywood. Prabhudheva has emerged as a major producer with his Wanted, Rowdy Rathore and ABCD breaking records and raking in millions at the boxoffice. In the offing are Ramiya Vastavaiya and Rambo Raj Kumar. Rohit Shetty is the only Bombay-based director with three 100-crore grossers to his credit, and is ready with his next film to be released in August, Chennai Express, with both Shah Rukh Khan and Deepika Padukone doing a South Indian turn, complete with authentic accents. Priyadarshan is the master of South Indian remakes, Hungama, Hulchul, Viraasat, Garam Masala, to name a few, bringing the South Indian film sensibility into the Bombay film industry.
The list, of course, cannot be complete without Mani Ratnam, the ace director who made Tamil and multi-lingual films like his terror trilogy (Roja, Bombay and Dil Se), Guru and Ravan. His gift(s) to Indian entertainment were not just theses excellent and acclaimed films, but also AR Rahman, whom he 'discovered' in an awards function, where Rahman received the award for Best Jingle Composer. Together, they gave the audiences some of the best film music from 1990 onwards, blending the North and the South; the local and the global values in film and music.
Hitting the target: Dhanush

Left: Prabhudheva held his own in Rowdy Rathore and ABCD; and Rohit Shetty is the only Mumbai-based director to have three 100-crore grossers to his credit

A few weeks ago, one would not have imagined that an ordinary looking, dark-skinned boy from South India, could have the whole of North India, laughing and romancing; singing and sighing with him in the recent blockbuster film, Raanjhanaa.
Born Venkatesh Prabhu Kasthuri Raja, the superstar of the South, who happens to be Rajni Saar's son-in-law is no mean achiever in his own right, having won the National Film Award for Best Actor for the Tamil movie Aadukalam in 2011. The same year, he had the whole of India swinging to his super hit, iconic song, Kolaveri D, a fact he is still a little bewildered about.
When one heard of the pairing, one was not convinced that the oh-so-delicate and quintessentially North Indian, Sonam Kapoor would make a likely pair with Dhanush. But so perfect was the actor in his turn as a Banaras ka launda that he came out winning over the audience with an easy insouciance. Taking on the handsome and talented Abhay Deol in a movie based in the North and the Southie, Dhanush, comes up aces. Could it be that South Indian stars, male ones, are finally ready to spread their wings and head to B-town and even deliver hits? Or is it a one-time phenomenon like that of Kamalahasan, Nagarjuna, Rajnikanth and Venkatesh?
However, Dhanush is not the only one who can make waves in Bollywood. Telugu star, Rana Daggubati of Dum Maro Dum fame was recently seen in a cameo appearance in Yeh Jawaani Hai Deewani, where he convincingly held his own against the darling of the audiences, Ranbir Kapoor. that by itself is no mean feat! The clinching marker of the turn of the tide towards the acceptance of the South Indian stars in Bollywood is Apoorva Lakhia's surprising decision to cast Telugu actor, Ram Charan Tej, as the lead in Zanjeer, instead of the hunks of Bollywood, fully capable of playing Amitabh's angry young man role.
Perhaps, this is what it will take to break the jinx of the acceptability of these talented stars in Bollywood, and subsequently, the national screen, bringing not only new faces, but also experimental styles of filmmaking. While it is too soon to tell if the union will continue at a brisk pace, the audiences are waiting to watch.
Get- Set- Go!
Ram Charan, Chiranjeevi's son, has been chosen to do Amitabh's role in Zanjeer, opposite Priyanka Chopra. All eyes are on the Tollywood megastar. Not just does he have an extremely tough act to live up to but the film has cost a whopping 75 crore.
Diganth's, the Kannada star has been signed to star in Vikram Bhatt's horror film, 1920: London, in which he is being paired with Meera Chopra.
Shrava, the Tamil filmstar, who was spotted doing a soft drinks ad with Chiranjeevi, is slated to make his Bollywood debut with Ram Gopal Varma's, Satya 2.
Mollywood star Prithviraj, who bared his torso in Aiyya, was appreciated the Yash Raj film, Aurangzeb, which featured Arjun Kapoor in a dual role. Reports say that he has been signed on to play one of the three main leads in Farah Khan's, Happy New Year.
Tamil filmstar, Siddharth Narayan's recent Hindi movie was David Dhawan's remake of the comedy, Chashme Baddoor, where he shared screen space with Ali Zafar and Divyendu Sharma. Before this, he had also acted in the blockbuster, Rang De Basanti. He had also done Vishal Bhardwaj's short film on HIV-AIDS called Blood Brothers.
Kannada superstar Sudeep, who debuted in Ram Gopal Verma's Phoonk, was recently seen in the (dubbed) film, Makhi, which earned revenues in the North.