M A I N N E W S
Telegram, harbinger of good & bad news, dies at 163
Vibha Sharma/TNS


Last telegram sent to Rahul
Just 15 minutes to midnight, the iconic telegram breathed its last in the national capital with the last message sent to Congress vice-president Rahul Gandhi

The telegram counter closed at 11:45 pm and the revenue collected was Rs 68,837 as the country bade adieu to the harbinger of news for generations of Indians

The last telegram was booked at the counter of Central Telegraph Office Janpath by one Ashwani Mishra, who sent messages to Rahul Gandhi and Director General of DD news SM Khan
New Delhi, July 14
For many who thronged the small room in the Central Telegraph Office at Janpath here on Sunday, it was their first and last chance to send a message to their loved ones using the 163-year-old service, the high-speed carrier of good and bad news for generations of Indians before the telecom revolution.
Started in 1850 on an experimental basis between Kolkata and Diamond Harbour, the telegram service opened for the public first in 1854 will not be available from Monday.
Rajiv Gupta, a government employee who came to Central Delhi all the way from Vaishali in neighbouring UP with wife Shveta and children Sanjal and Shaurya, wanted to collect a souvenir of a passing era. For relatively older Jagjit Singh, who willingly guided first-timers filling the telegram form, it was a nostalgic last goodbye while for Ravi Ranjan Singh, it was a last attempt to save the dying messenger by collecting signatures on a 'Survival of Telegraph' petition.
"Whatever the government may say, the telegram service is still viable. I sent around 15 to 16 telegrams last year and there are others who use it extensively. The legal sanctity of a telegram in a court of law is well known. They are registered under the Indian Evidence Act and can be presented in the court," said Ravi Ranjan.
Similar scenes were witnessed across the country, as nostalgia drove people to brave long queues at obsolete telegraph centres on a lazy Sunday afternoons to send one last telegram.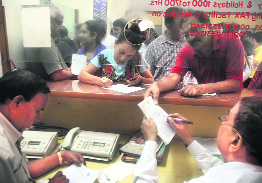 A telegraph office in New Delhi on Sunday. Tribune photo: Manas Ranjan Bhui

Telegrams were not always the carriers of good news. In fact, most Bollywood movies used a telegram to signal a bad happening -- "mother ill come soon" -- while members of the Armed Forces used the service extensively to seek leave or to give transfer or joining reports. In all, it was a quick mode of communication in the days when letters would take four to five days, or even more, to reach their destination. An important mode of communication in pre-Independence era, revolutionaries often snapped telegram lines to stop the British from communicating.
Old-timers remember using the service to announce a wedding, an impending visit or the arrival of a new-born. Some areas in rural India still use the service in its traditional form, but with the advent of technology and newer means of communication, its utility decreased.
Youngsters Vikas Arvind and Kanika Tewari, who signed Ravi Ranjan's petition to resuscitate the dying messenger, have in fact never sent or received a telegram. Says a senior journalist who remembers using the service to file innumerable stories: "With modern technology, who needs the humble telegram? The Central Telegraph Office (CTO) used to issue a Press card, giving reporters the authority to file their stories using the telegram service. I remember using it extensively while on outstation assignments."
For employees of the CTO, who watched the passing of an era with sadness, the observation that the service had outgrown its use is not true. Bimal Roy agrees that the rush to send a telegram in the past few days has been unprecedented. Around 1,000 persons visited the office everyday to collect their piece of what would now be history, he says. But contrary to general belief, the office was dealing with 100 to 200 regular telegrams on a daily basis.