Bag it
Top luxury brands are giving the humble carry bag a designer makeover
Vaishali Chadha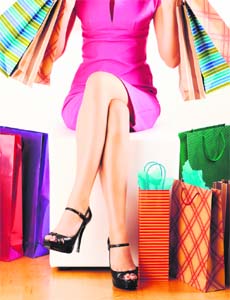 HOW often do you shop at a designer store and actually buy the carry bag? "No, never. I don't remember ever buying one. A carry bag is always free with most of the stuff that I buy. In fact, it's my right to get one," is the refrain most likely to be heard.
India is one of the many countries where carry bags are free and are offered automatically with the purchase. Most of these are made of ordinary paper, plastic or polythene sacks which are handed out gratis with the stuff you buy.
Designer makeover
But times they are a-changing. A quiet and a new revolution is sweeping the branded consumer goods and apparel market and the humble carry bag is getting a designer makeover. Though it may still be a free giveaway with a purchase by most leading stores but there are some brands that have started charging money for their creative efforts.
However, the emphasis here is not on the cost but the changing face of the carry bag. From the dull and plain shopping bag, it is now metamorphosing into a sleek and captivating carrier that is fit to be flaunted. It complements the buyer's style and personality making him or her look trendy and stylish.
Today, these bags came in a variety of designs, sizes and hues. The material used can range from imported art paper to eco-friendly jute, cotton, compostable bio-plastic material or even fabric recycled from alternate fibres. The difference here is that these are not crude variants of the earlier ones. A number of luxury brands invest a lot of design, thought, time and money into creating the exclusive bags, some of which are so striking enough to be virtual works of art.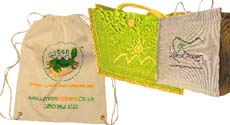 Many companies are going green and provide carry bags made of eco-friendly materials like jute, cotton, compostable bio-plastic material or even fabric recycled from alternate fibres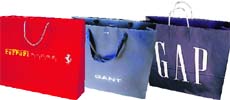 From the earlier dull and plain version, the carry bag has now become a sleek and captivating carrier in a rainbow of colours and designs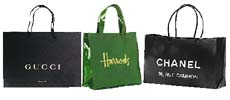 Expensive proposition
Though the customer may get these for free, these designer bags are an expensive proposition for the company. "We are provided printed sheets of paper with the company's name and other elements of design. These have to be folded and glued in the shape of paper bags," says Siddarth Pandey, programme manager with Centre for Urban and Regional Excellence (CURE) that trains economically backward women in the art of paper bag making so that they can earn a decent livelihood.
The NGO charges its forwarding company between Rs 2 to Rs 2.50 for folding and gluing each paper bag. Pandey estimates that the end product may be costing the company Rs 10 to Rs 12 per bag though for many super luxury brands the expenses could be far more in excess of that. The cost includes paper, printing, folding and gluing. His NGO gives the final finish to carry bags of high-end brands like Nike, Marks & Spencer, Dominoes, Spark Shoes and many others.
Instant eye-catchers
However, most companies do not mind the expense. Apart from being instant eye-catchers, these carry bags are also a great source of advertising. "When customers walk out with a bag, it is a kind of an endorsement of the company's product. This brings positive attention to the brands. It's the best and most subtle product promotion," says Rahul Mankotia, a brand consultant, who advises clients on the kind of bags to design. The designer carrier bag is a recent phenomenon and has largely come in with the arrival of overseas luxury brands like Gant, Jack & Jones, Prada, Promod, Roberto Cavalli, Tommy Hilfiger, Sephora and others. Every company makes a statement of style and good taste, which is fit enough to be swung from the wrist.
However, now a number of Indian luxury retail outlets, too, have started designing bags for their high end customers. Names like Anokhi, Cottons, Kilol and other brands selling ethnic outfits are giving an eco-friendly twist to the carry bags by making their carry bags with environmental-friendly materials like jute, cotton and other biodegradable stuff.
Iconic brands
Visit any mall or upmarket shopping venue and you will see people carrying carrier bags of iconic brands. For some people such is the craze for these bags that it is reported that many leading global online retailing and auction sites are selling used shopping bags.
Though most of them are priced under $10 (Rs 60), but there are some exclusive ones that can go for higher prices. The buyers are mainly young people who may not be able to afford the luxury products these companies sell but would like to flaunt a carrier bag to portray an impression of wealth and sophistication. There is also a thriving market for duplicates of designer bags. And like other counterfeits these may have their flaws but they also have hordes of buyers because of their cheap price tags.
Counterfeit, used or original, the era of the designer carrier bag has arrived with a bang. Look around in malls, shopping arcades and popular market places and you will see people proudly swinging these bags which come in a rainbow of colours and designs.

Top five in-demand carrier bags
Gucci: This is another carrier bag that commands a high demand, because of its brand appeal. Its garment bag is retailing at ebay for over £45 (around Rs 4,000).

Harrods: The carrier bag comes in the top 10 desirable list because of its snob appeal.
Shopping at Harrods in London is still considered classy and sophisticated.

Chanel: Those who cannot afford to buy high-end couture and perfumes from the French luxury house are happy to buy its carrier bags online.

Armani: The global attraction of this chic Italian fashion brand has enhanced the appeal of its exclusive carrier bags which spell class and elegance.

Playboy: With its trademark Bunny design, the carrier bag of the men's magazine Playboy is in high demand and retails on ebay for around £8 (around Rs 700)

World's most expensive brown paper bag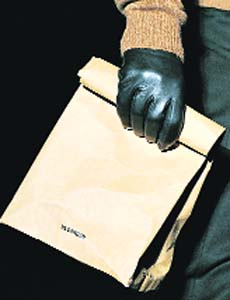 In the hands of leading German fashion designer Jil Sander, a carry bag is not a mere carry bag. It is a minimalist piece of art.
The lady is known worldwide to produce some of the most expensive designer paper bags which are in great demand in the swish circles, and especially the Hollywood celebrities.
Her 2012-13 Menswear autumn/winter collection included the Brown Paper Bag with her name which was priced at a whopping $290 (Rs 17,400).
Who in their right mind, you'd ask, would buy a paper bag for that kind of a price? Perish the thought. It was sold out from stores within days of its launch.